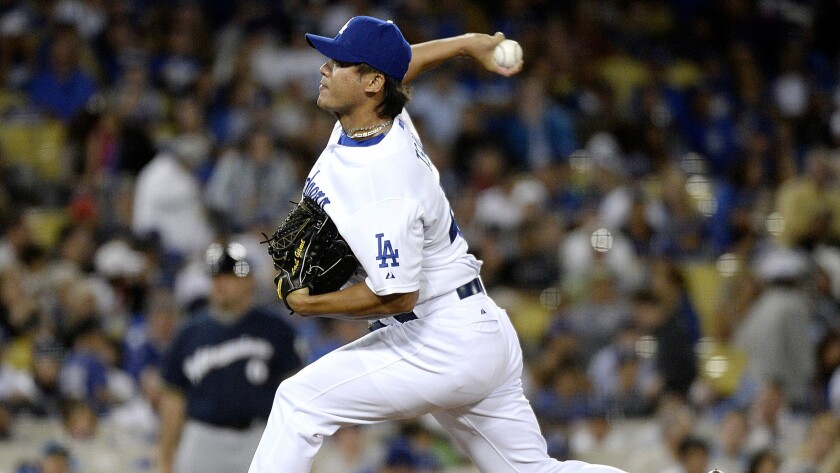 On May 11, 2005, Chin-hui Tsao, pitching for the Colorado Rockies, entered a game in the top of the ninth with a two-run lead. He surrendered three earned runs on four hits and one walk, blew the save and ended up with the win when his teammates rallied in the ninth for two runs. It was his fourth career win.
His fifth victory would not come for more than 10 years.
The first Taiwanese pitcher to ever make it to the majors, Tsao appeared in 21 games with the Dodgers in 2007. His ERA was 4.38. He had no saves and no wins.
Injuries plagued him from there, and he did not return to the big leagues for the next season. By 2009, he was back in Taiwan, playing for a professional squad. But he only made it one year there, as accusations of game-fixing arose following the season. While he was never indicted, he was nevertheless banned from Taiwanese baseball.
Over the next several years, Tsao bounced around the world, pitching on the side while running a restaurant.
"I did not pitch every weekend, but I did train every day," he said. "Although I opened the restaurant, I did not forget how to train myself."
Even the restaurant business brought controversy, though. In 2014, his then-girlfriend accused him of embezzling $50,000 from their business. She sued him, he sued her back, but neither case was resolved.
Also in 2014, Tsao attempted to sign with an Australian professional club, but he was suspended after Taiwanese and Major League Baseball officials spoke to the league office.
At that point, Tsao might have called it quits on his baseball career. He said he almost did.
"I just felt uncomfortable, being suspended by the club," he said. "I tried to train myself, and I started to train myself. I was feeling better and better, and that's when I decided to try to make it back. But I didn't know if I would make it or not."
Finally, in 2015, the Dodgers re-signed him to a minor league contract, and MLB ruled Tsao would be allowed to play. After being promoted from double-A Tulsa to triple-A Oklahoma City, he was called up to the big leagues Wednesday, a full 12 years after his major league debut.
Then, on Friday night, Tsao entered the game in the seventh inning in relief of Mike Bolsinger with the Dodgers down, 2-0. He induced a grounder, then gave up a single. While he was working on the next batter, the baserunner took off for second, only to be gunned down by Yasmani Grandal. Tsao allowed another single before striking out the pitcher to end the inning.
In the bottom of the seventh, the Dodgers scrapped together four straight baserunners with two outs, scoring three runs to take the lead for good. And when Kenley Jansen retired the side in order in the ninth, Tsao had his fifth career victory.
"The teammates and the manager were very happy that I came back to baseball, and after the win, everyone congratulated me," Tsao said.
How long Tsao will remain with the Dodgers is unclear. Brandon Beachy is returning to start Saturday after a 23-month stint dealing with Tommy John surgery. After the All-Star break, starter Carlos Frias will probably be ready to come off the disabled list. And on Friday, the Dodgers claimed right-handed reliever Preston Guilmet from the Tampa Bay Rays and put him on their 40-man roster.
But in the meantime, Tsao still has that fifth win.
"It's a very big difference between this win and the last one," he said. "After coming back, after everything, this win is very meaningful to me.
"I feel like I'm dreaming. I don't know how to describe the feeling."
---