To Dodgers, Adrian Beltre is the Hall of Famer who got away
Inside a ballpark 1,400 miles east of Dodger Stadium, Adrian Beltre let a memory wash over him. He has played 21 seasons in the major leagues, but few move him like 2004. As he hearkened back to that summer in Los Angeles, when he threatened to homer with every swing and fans greeted him by chanting "M-V-P," his voice softened.
"I will never forget that," Beltre said as he sat by his locker at the Texas Rangers' Globe Life Park in Arlington. "I will never forget that because when you come to the plate and hear those chants, that is so nice. They were great fans. They were great to me."
Beltre, the 39-year-old third baseman, thought he might spend the rest of his career in Los Angeles' embrace. He was wrong. Spurned by the Dodgers as a free agent after the 2004 season, Beltre moved to the American League. His fans in Los Angeles watched from afar as Beltre built a résumé that will deliver him to the Hall of Fame: more than 3,000 hits, four All-Star teams, five Gold Glove awards and a parade of teammates vouching for his joyous spirit and selfless resolve.
Beltre displayed those qualities, in sporadic stints, as a Dodger. The organization plucked him out of the Dominican Republic when he was 15. He made the city his home. When he flared like a supernova in 2004, he laid the foundation for his Cooperstown qualifications.
At 25, Beltre generated the most productive season by a position player in Dodgers history, according to FanGraph's version of wins above replacement. He hit 48 home runs and drove in 121 runs as he led the team to its first National League West title since 1995. At third base, Beltre was "the best I ever saw," former manager Jim Tracy said. Beltre finished the year with a 9.7 WAR, ahead of Jackie Robinson in 1949 (9.6) and Mike Piazza in 1997 (9.1).
It was the culmination of a decade of development, and it was also the end. Beltre never played another game as a Dodger. His departure left Tracy "devastated, devastated, absolutely devastated," he said. The Dodgers cratered in 2005. After a frustrating five years in Seattle, Beltre flourished into stardom in his 30s. He fulfilled all the promise he augured in Los Angeles — except he did it in Boston and Texas.
"It's one of those things where you wish he could have been a Dodger for his entire career," former teammate and current Dodgers manager Dave Roberts said. "The way the economics worked out, he wasn't. But he's always considered L.A. home."
When Beltre visits Los Angeles on Tuesday with the Rangers, it will mark his first game at Dodger Stadium since 2009. His return will resurrect a question that has puzzled fans for 14 years: Why did the Dodgers, under the leadership of owner Frank McCourt and general manager Paul DePodesta, let Beltre leave?
"I just don't think Frank and their ownership appreciated who Adrian was going to grow into," said Scott Boras, Beltre's agent.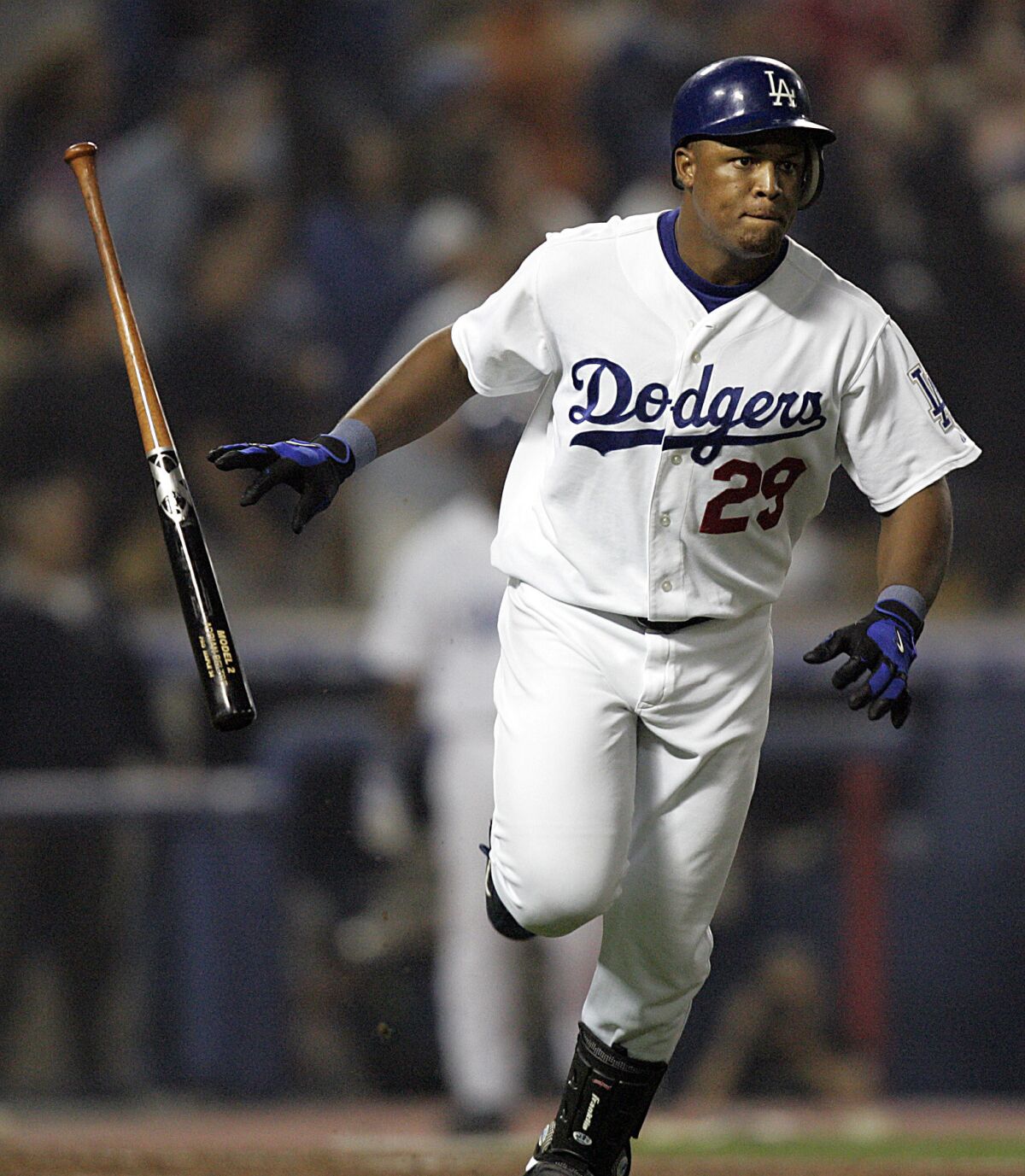 Beltre had a slightly different take. "I think it was more the GM than anything," he said. Beltre blamed himself for telegraphing that he didn't want to leave. "It was a mistake on my part to show it too much, that I wanted to stay back then," he said. "They wanted to use that against me in the negotiation."
The Dodgers discovered Beltre in 1994, when he was working out at their Campo Las Palmas complex in the Dominican Republic. His talent was impossible to ignore. During his first two full seasons in the minors — when he was 17 and 18 years old — he hit 52 home runs. He started 1998 in double-A San Antonio.
A freakish occurrence accelerated Beltre's arrival in the majors. Tommy Lasorda had recently taken over the Dodgers player-personnel decisions. In June 1998, when doctors removed a benign polyp from outfielder Bobby Bonilla's large intestine, Lasorda advocated for promoting Beltre.
In his first at-bat as a Dodger, on June 24 against the Angels at Dodger Stadium, Beltre clubbed a run-scoring double off Chuck Finley. "This kid's got talent, and he's got everything he needs to be here," Lasorda said that day.
Beltre hit only .215 as a rookie but he never went back to the minor leagues. He was 19. Two decades later, he credited Lasorda for stumping for his promotion and protecting him when he struggled.
Beltre endured the fate of the precocious, developing at the game's highest level. He established himself as the starting third baseman in 1999 and hit 20 homers in 2000. He could not make progress in a straight line; from 2001 to 2003, Beltre was a below-average hitter. He flung errant throws in the field and hacked with abandon at the plate.
"His first few years, he learned an awful lot about being a man and being a leader," Tracy said. "Believe me."
The failure ate at Beltre. After one tough outing, Boras sat with Beltre in the Dodger Stadium parking lot until 4 a.m. trying to boost his client's confidence. In the winter after 2003, as Beltre approached his free-agent season, Boras said he heard a series of criticisms from Dodgers management about Beltre. Boras filtered them back to his client: Beltre was a "5 o'clock hitter," incapable of translating batting-practice power into games. He allowed emotion to overwhelm him. "They also thought I was going to get fat," Beltre said, chuckling at his locker.
"Those comments made me realize, OK, I need to prove these people wrong," Beltre said. "Even though I don't need any more motivation to play baseball, if that's what they're thinking of me, then I'm going to show them that they're wrong."
As the 2004 season approached, the Dodgers underwent a franchise-wide upheaval. McCourt purchased the team from News Corp. in January. A couple weeks later, he installed DePodesta as the general manager. DePodesta came from the Oakland Athletics, where he played a supporting role alongside Billy Beane in baseball's sabermetric revolution.
Hired too late to reshape the Dodgers during the winter, DePodesta made a splash in the spring. Just before the season began, he acquired outfielder Milton Bradley. The trade meant Beltre would no longer hit in the middle of the lineup. On opening day, Tracy called Beltre into his office and held up a lineup card. Beltre would bat seventh, Tracy explained, but there would be 161 games after that.
"You want to hit third or fourth on this ballclub?" Tracy told Beltre. "You make me do it."
All you have to do is touch it. Put a good swing on it and touch it, and the ball is going to go somewhere.

— Adrian Beltre
Beltre soon absorbed something more debilitating. After a prodigious April in which he homered seven times and moved up in the batting order, Beltre started hobbling with bone spurs in his left ankle. He pushed off surgery until after the season. The trainers numbed the joint with cortisone.
The ankle hurt when Beltre made abrupt stops on the bases and it was agony when he whiffed on a pitch. Years later, his former teammates credited the injury for transforming Beltre as a player. He had always been a free swinger, but now his focus winnowed.
"I knew if I swung and missed, it was going to hurt," Beltre said. "Somehow, I was more concentrated on getting a good pitch to hit and not missing it."
As he studied how pitchers attacked him, Beltre noticed a pattern. He saw a slew of elevated fastballs mixed with sliders down and away. He chased the breaking balls, even though he knew he could not punish those pitches. When he decided to concentrate on pummeling fastballs, his strikeout rate shrank and his slugging percentage rose.
"All you have to do is touch it," he said. "Put a good swing on it and touch it, and the ball is going to go somewhere."
The baseball soared for Beltre all season. He hit 19 homers in the first three months of the season. He bashed 10 in July and 13 more in August. He slowed, somewhat, in September, going deep six times but still producing a .937 on-base plus slugging percentage for the month.
Beltre fell into an easy rhythm. During batting practice, he engaged in home-run derbies with veteran teammate Shawn Green. They rewarded points for distance and location, trying to crush baseballs to the opposite field. Afterward they retired to the clubhouse, where Beltre teamed with Jose Lima against Green and Paul Lo Duca in games of cards. The sides talked trash against each other — when Beltre and Lima weren't arguing in Spanish over strategy.
Both Green and Roberts recalled Beltre as a crucial part of the clubhouse's connective tissue. He hung with American players and Latino players alike. His energy was contagious.
"I can't think of a teammate I enjoyed playing with more than him," Green said. "He was like the perfect teammate."
As the trade deadline approached that summer, the Dodgers held a small lead in the division. DePodesta made a series of moves. Roberts was shipped to Boston. Lo Duca and Guillermo Mota went to Florida in a deal which brought Hee-Sop Choi and Brad Penny. Steve Finley arrived from Arizona, but the shakeup rocked the clubhouse.
"We had a worse team after the trade deadline," Green said. "I would say a significantly worse team."
I can't think of a teammate I enjoyed playing with more than him. He was like the perfect teammate.

— Shawn Green on Adrian Beltre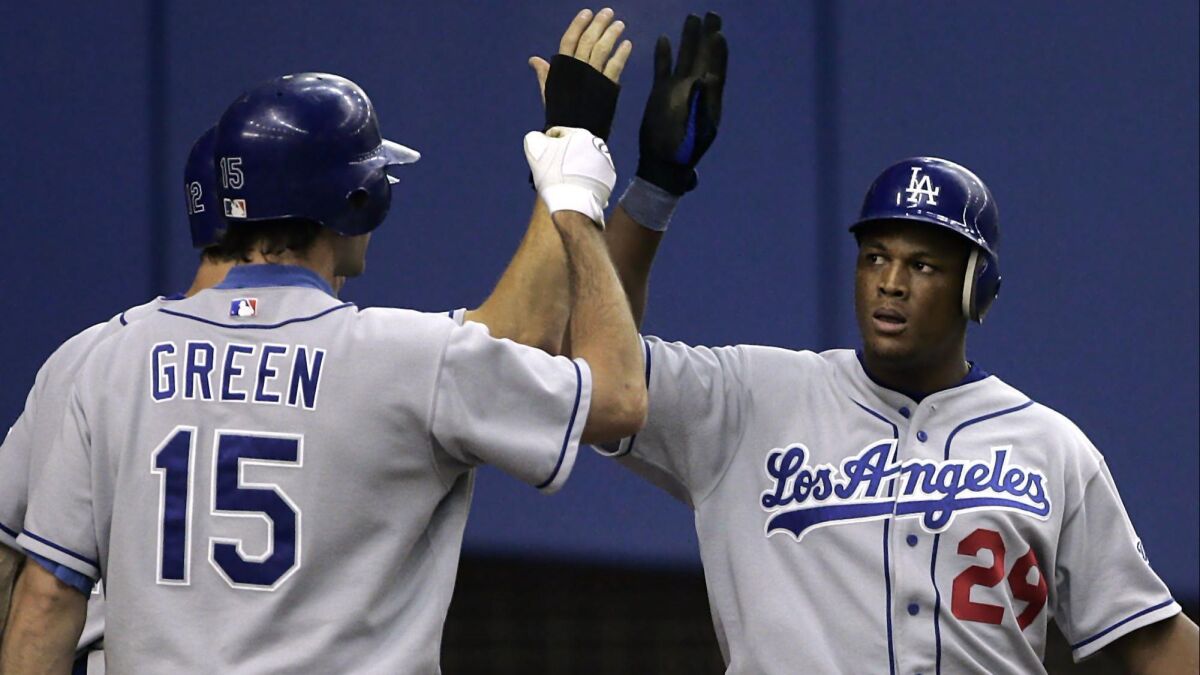 Yet the Dodgers captured the division. Beltre led the way. He was quiet during a first-round loss to St. Louis, but he finished second in the National League MVP voting that October to Barry Bonds. His manager did not view his season as a fluke. "You've got more than a cornerstone," Tracy said. "You've developed the side of a building."
When the offseason began, Beltre had modest goals. He figured he compared well with Oakland Athletics third baseman Eric Chavez, who had signed an extension which paid him $8.5 million in 2005. Beltre hoped for a contract that lasted three or four seasons worth $8 million a year. He wanted to sign early and remain a Dodger. Early in the winter, Beltre recalled, he and Boras met with DePodesta and McCourt.
"The conversation went well," Beltre said. "The owner said, 'Make sure you sign him.' That was early November, I think, and after that I didn't hear from them until late December. I think the GM tried to use the knowledge that he had against me."
Reached via email, DePodesta cited a contractual provision which prevents him from "speaking publicly about anything during my time with the Dodgers" and declined comment.
Beltre felt the Dodgers placed him on the back burner. As negotiations with Seattle intensified, Boras recalled trying to contact DePodesta and McCourt. Neither man picked up when Boras called, because they were dining with free-agent pitcher Matt Clement.
The Mariners offered Beltre a five-year, $64-million contract. The Dodgers eventually countered with a six-year, $60-million deal, The Times reported. Boras pegged the package at closer to $50 million in value. Beltre recalled an even lower figure: "The offer was half the years and very much half the money," he said. "As much as I liked L.A., as much as I wanted to stay there, I couldn't do that."
Boras declined to place responsibility on DePodesta. They maintained a productive relationship. Later that offseason, the Dodgers signed outfielder J.D. Drew to a five-year, $55-million contract and pitcher Derek Lowe to a four-year, $60-million contract. Both were Boras clients.
"We had great success with Paul," Boras said. "It wasn't really about him. I just think ownership wanted to spend their money elsewhere."
Beltre never hid his disappointment. He carried it with him to the Pacific Northwest. Back in Los Angeles, Tracy grieved over losing one of his favorite players. "What the hell are we doing?" he wondered.
In January, Green waived his no-trade clause to let the team send him to Arizona. "Had they kept Adrian," Green said, "I think I would have rejected a trade."
No one benefited from the dissolution. The Dodgers brought in veteran infielder Jose Valentin to replace Beltre; Valentin hit .170 and played in 56 games as the organization engaged in a yearly exercise in trying to find a regular third baseman. The team skidded to a 71-91 record, its worst since 1992. Tracy was fired after the season. DePodesta joined him on the unemployment line a few weeks later; he now works for the Cleveland Browns. When his finances unraveled, McCourt fell into bankruptcy and sold the Dodgers to Guggenheim Partners in 2012.
I just don't think Frank [McCourt] and their ownership appreciated who Adrian was going to grow into

— Scott Boras, Beltre's agent
By then, Beltre had bounced from Seattle to Boston to Texas. In his first year as a Mariner, he felt engulfed by the pressure of his contract. He hit only 19 home runs because "I was trying to do too much," he said. He remained a valuable hitter, even as the unforgiving environment at Safeco Field suppressed his power.
His renaissance began when he hit 28 homers and 49 doubles on a one-year deal with Boston in 2009. The performance convinced Texas to sign him to a six-year, $96-million contract. As the Rangers became an annual playoff contender, Beltre soaked up the spotlight. He played third base without a protective cup, he hated it when teammates tried to touch his head and he competed with shortstop Elvis Andrus to psych each other out on pop-ups. He was beloved for his persona and his performance.
"He had no weakness as a player," Green said. "And even now, at 40 years old, he's still an incredible player."
Beltre became the face of the Rangers' franchise. In 2013, the organization named him team captain. One day last weekend, the Make-A-Wish Foundation brought a young Rangers fan to Globe Life Park. Beltre took the boy on a tour of the clubhouse, then brought him into the team's first group for batting practice.
As Beltre sat with a reporter later in the afternoon, the boy came over to say goodbye. Beltre hopped out of his chair to shake hands. "Max, you leaving?" Beltre said. "Hey, it was nice having you, brother. You come back anytime, OK?"
It was the sort of role Beltre could have played for the Dodgers. It was the role he wanted to play for the Dodgers.
No longer does Beltre wonder about alternative history, how his career might have gone had the Dodgers tried harder to keep him. He has already lost too much time pondering the question, he admitted. He still lives outside Los Angeles. He sounded eager to take in Dodger Stadium this week. The pain of his departure has faded.
"I wanted to stay there forever," Beltre said. "But it didn't happen. But I don't regret any move that I've made my career. Everything happened for a reason."
Twitter: @McCulloughTimes
---
Get our Dodgers Dugout newsletter for insights, news and much more.
You may occasionally receive promotional content from the Los Angeles Times.