Brock Stewart prepared to endure another minor league odyssey in Dodgers' system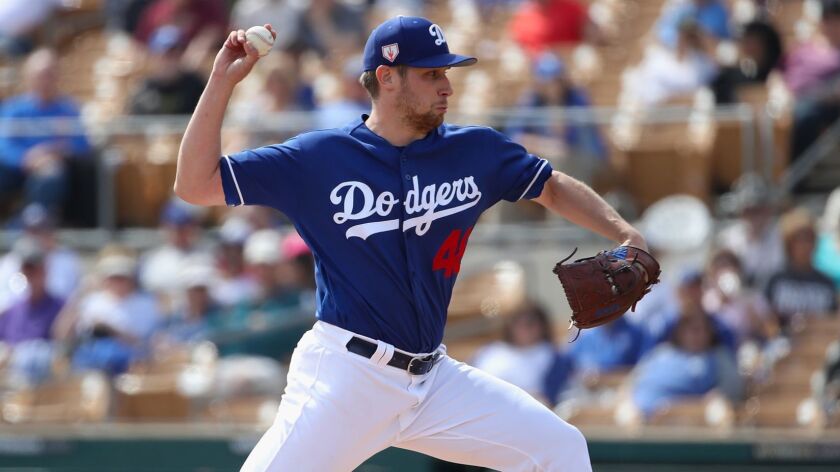 Reporting from Phoenix —
Brock Stewart got the call from his agent last November, and the news was not good. The Dodgers right-hander was under the impression he would be out of minor league options in 2019. He was not.
Stewart, 27, spent the past three seasons at the mercy of Major League Baseball's options system, wearing out the transaction wire as he shuttled between triple-A Oklahoma City, double-A Tulsa and the big leagues.
Since making his major league debut in June 2016, Stewart has received 15 in-season promotions to the big leagues and been demoted to the minor leagues 16 times, plugging holes in the Dodgers' rotation or bullpen when needed and getting shipped out when injured pitchers returned.
In one dizzying seven-day stretch from May 6 to May 12 last season, Stewart was called up to the Dodgers twice and sent back to Oklahoma City twice. About the only advantage to his nomadic lifestyle is that he has racked up so many frequent-flyer miles, "I'm pretty sure I can go to Hawaii and back for free," Stewart said.
Stewart, who has a 2-3 career record and 4.84 ERA in 33 big league games, 11 of them starts, had thought his living-out-of-a-suitcase days would end this season.
Players are given three minor league options once they reach the major leagues, each one allowing teams to shuttle players between the big leagues and minor leagues as often as they want for a season.
Stewart headed into the offseason thinking he was out of options, a status that would force the Dodgers to keep him on their big league roster, trade him or risk losing him to a waiver claim at the end of this camp.
But the players' association informed Stewart's agent of a little-known provision in the collective bargaining agreement that supplies a fourth option to players who have not logged five full seasons of professional experience.
This applied to Stewart, who has pitched five pro seasons but appeared in only 17 games for rookie-league Ogden, Utah, from June 22-Aug. 31, 2014. A player must be on an active roster for at least 90 days to constitute a full season.
As frustrating as the news was for Stewart, it helped that he had almost three months to come to grips with it before reporting to spring training.
"I mean, I was looking forward to being more stable, for sure," Stewart said. "Then I step back and think about how grateful and blessed I am to be pitching for the Dodgers organization and be competing for a championship every year.
"I definitely wouldn't rather be in any other organization. I get that some guys have to do what I've done the past three years, and if I have to do it for another year, I'm gonna do it. I'm not going to say I love it, but I'll do it."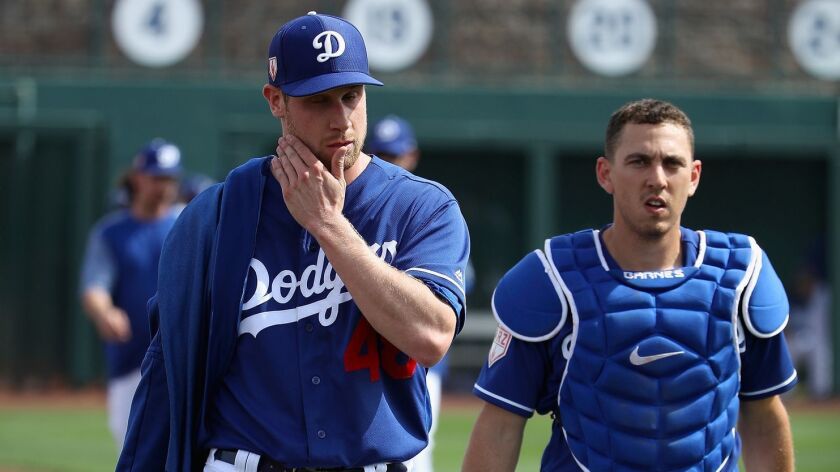 No matter what travel challenges Stewart faces this season, it will be difficult to top the grueling 36-hour, six-flight, two-country odyssey he endured in 2018.
Stewart was informed after a triple-A night game in Oklahoma City on May 5 that he would be needed by the Dodgers for the final game of a three-game series against the San Diego Padres in Monterrey, Mexico, the next day.
Stewart boarded a 7 a.m. flight from Oklahoma City to Dallas on May 6, but 20 minutes into the trip the plane was forced to return to Oklahoma City because of landing-gear issues. He took another flight to Dallas and, after a 2½-hour layover, flew to Monterrey.
"I landed in the top of the fourth inning, got to the field in the top of the sixth and pitched the eighth," Stewart said of the one-hit, scoreless inning he threw in a 3-0 loss to the Padres.
"I flew with the team to Los Angeles after the game and was told when we landed that I would be optioned back to triple A. I took two flights back to Oklahoma City the next day. It was pretty exhausting, for sure. That was nuts."
Short hops
Clayton Kershaw (shoulder inflammation) extended his throwing program to 120 feet Wednesday and finished the session with several higher-intensity pitches from 60 feet. There is still no timetable for the left-hander to throw off a mound, but he's throwing every day. "We're going to continue to stretch him out," manager Dave Roberts said. "For him to ramp up that intensity and to recover the next day and still feel good, that's a good thing for us." … Shortstop Corey Seager, who is recovering from elbow and hip surgeries, was not in camp Wednesday because of an illness. … Walker Buehler threw off a bullpen mound Wednesday for the third time this spring. The right-hander is scheduled to throw live batting practice Saturday and should pitch in an exhibition game by next week.
Sign up for our daily sports newsletter »
---
Get our Dodgers Dugout newsletter for insights, news and much more.
You may occasionally receive promotional content from the Los Angeles Times.