Column: Championship-caliber Dodgers team keeps showing it is the real deal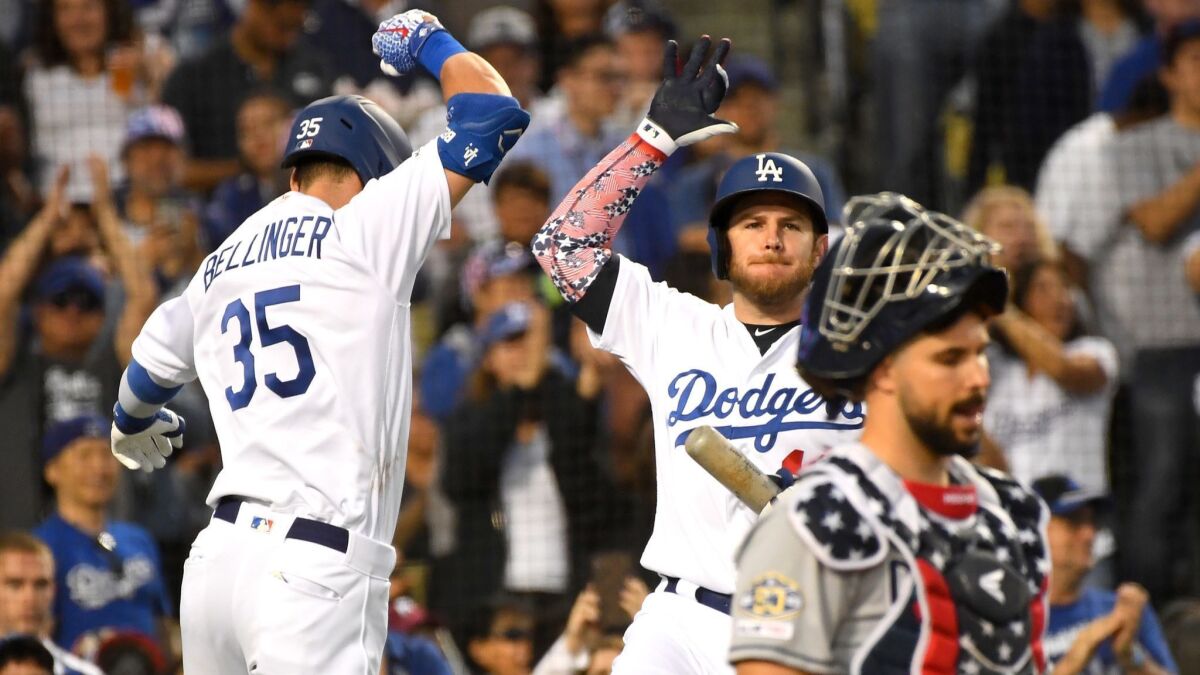 It began the moment the best pitcher in the National League took the mound.
"Korean Monster is coming to play!" shouted the rapper Jed, and out walked Hyun-Jin Ryu, and soon Dodger Stadium was roaring with each delivery of disappearing smoke.
It ended six innings later when the best player in the National League left the yard.
Cody Bellinger found a fat slider off the left hand of San Diego Padres pitcher Logan Allen, flicked it into the right-field pavilion like he was swatting a fly, the breathless crowd jumped to its feet, and the Padres crumbled amid the cacophony.
This was Chavez Ravine on Thursday night. This is Chavez Ravine every night.
These are the Dodgers of 2019 and there will be no bad metaphors about them shooting off their own Fourth of July fireworks in their 5-1 win over the Padres, because they've been creating explosively spectacular beauty all summer. There will be no further mention of Ryu's six scoreless innings or homers by Bellinger and the dramatic Max Muncy — he reached the right-field loge level, people — because these are sequels of sequels of sequels.
I'm finishing this column in a darkened Dodger Stadium as real pyrotechnics explode beyond the outfield wall, so let me cut through the smoke and get to the point.
This Dodgers team is the real deal. This Dodgers team looks and plays and feels like a living, breathing champion.
This is a better Dodgers team than any of the previous six consecutive division champions. This might be the best Dodgers team in the last 31 years.
This is a Dodgers team that should dominate the National League playoffs. This is a Dodgers team that should be favored to break that World Series drought no matter who they play.
You may have thought the same thing during the middle of recent summers — heck, they won 104 games two seasons and everyone was going crazy — but this team is different, and not only because they're on a pace to win 109.
This team is deeper, wiser and tougher than those other teams. This team is filled with professionals. This team plays hardball. This team, having endured every imaginable postseason scenario in the last six years, takes nothing for granted ever. This team approaches every day like it's October, and every first pitch like it's Game 7.
"It's fun to come to the field every day and know that you can trust every guy, you can trust that they're going to go out there and play their butt off and do everything they can to win the game," Justin Turner said.
This team has better, smarter hitters. Can you imagine previous teams sitting still for five consecutive ninth-inning walks like on Tuesday night in the literal walk-off win against Arizona?
"Everybody has a common plan, everybody sticks to it, a pitcher's going to make mistakes, and we're going hunt for those mistakes," said catcher Russell Martin.
This team has a deeper, more versatile lineup that can win any matchup. On Thursday night they started an outfielder at first base, a first baseman at second base, a couple of occasional first baseman in the outfield, and an outfielder at shortstop, and five left-handers against the right-handed Dinelson Lamet.
"There's a lot of moving parts on this team,'' Martin said. "The way this team is built, it's really tough to manage again. There's always a move that can be made that puts us in a good position.''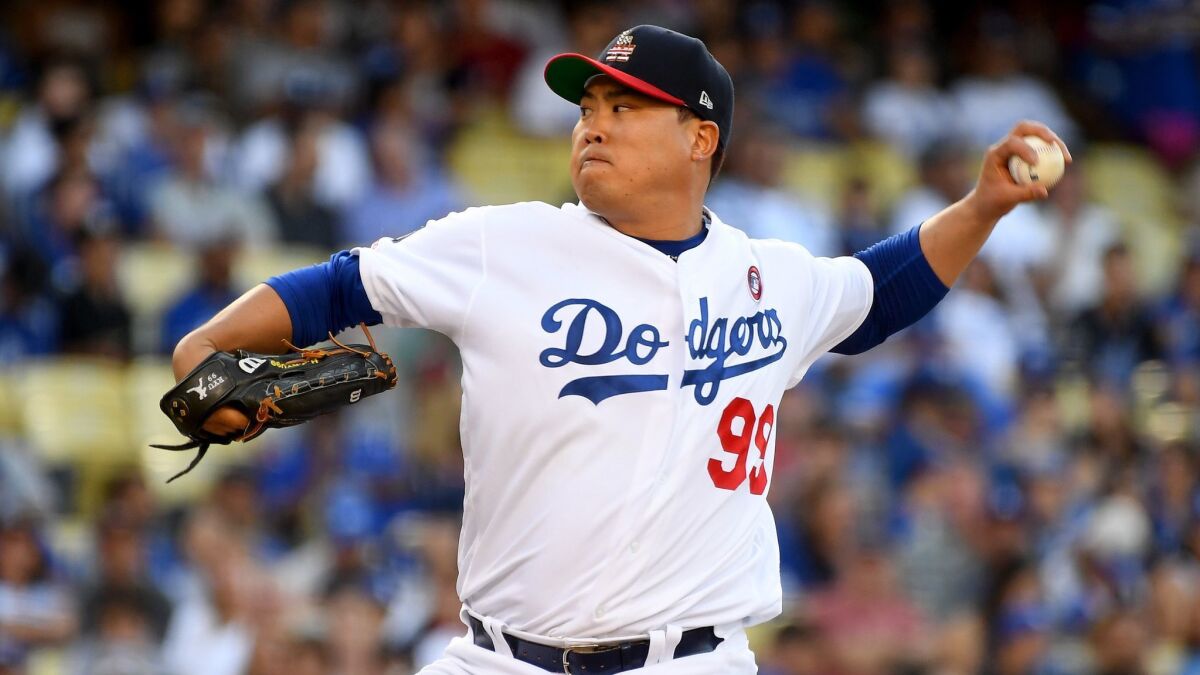 This team has captured Dodger Stadium like few teams have ever captured Dodger Stadium. Their 37-9 home record is on a pace to be the best in Chavez Ravine history. They are in a position to get home-field advantage throughout the postseason, and that will matter greatly.
Dodgers fans have become part of the attack. Dodgers fans have climbed into opponents' heads. The recent stretch of five consecutive walk-off wins were set up amid deafening noise that led to the sort of Colorado and Arizona stress that you could see from the top of the park.
"The fans are insane, ridiculous in the best possible way,'' said Manager Dave Roberts, and he noted the effect has spread to teams who haven't yet arrived at Dodger Stadium.
"Guys are watching games every single night and they know what happens in the eighth and ninth inning to the visiting team here," he said. "When you get out there on the mound and you know what potentially can happen, what has happened, that works through your mind, and plays games with your mind and your body. You squeeze the ball a little bit more."
If the arms can stay sound, they also have better pitching than in previous years. The 1-2-3 starter punch of Ryu, Buehler and Kershaw is the most potent they've had, so potent that Kershaw really is their third-best starter. Kenley Jansen isn't as consistently dominating in the bullpen, but with Julio Urias and Kenta Maeda and a trade-deadline acquisition backing him up, they should figure it out.
That's what this team does. It figures things out. The analytics are working because the players are investing, from the daily hitter's meetings to the defensive tutoring to the pitcher briefings.
"I've never seen a group prepare like we prepare," Martin said. "It deflates all anxiety and stress because you're so prepared."
Martin said the preparation is so detailed, the nightly predictions of tendencies so accurate, it almost seems unfair.
Sign up for our daily sports newsletter »
"It's not like you're cheating, but it's like you're getting all the answers to the test before you take the test," he said.
They are convinced the real reason they failed in the previous two Octobers is that the hitters — with two sub-.300 on-base percentages as a team — allowed their emotions to influence their efficiency. This doesn't happen now. Have you ever seen a more exciting Dodgers team go about their business with less emotion?
"We have a group of guys that want to be in that spot, that big moment, but don't have to be the hero," Roberts said.
Think about the power in that statement. They have players who crave the spotlight but don't need to be the star. Those are the kind of players who win championships. The 2019 Dodgers have a dugout full of them.
Get more of Bill Plaschke's work and follow him on Twitter @BillPlaschke
---
Get our Dodgers Dugout newsletter for insights, news and much more.
You may occasionally receive promotional content from the Los Angeles Times.