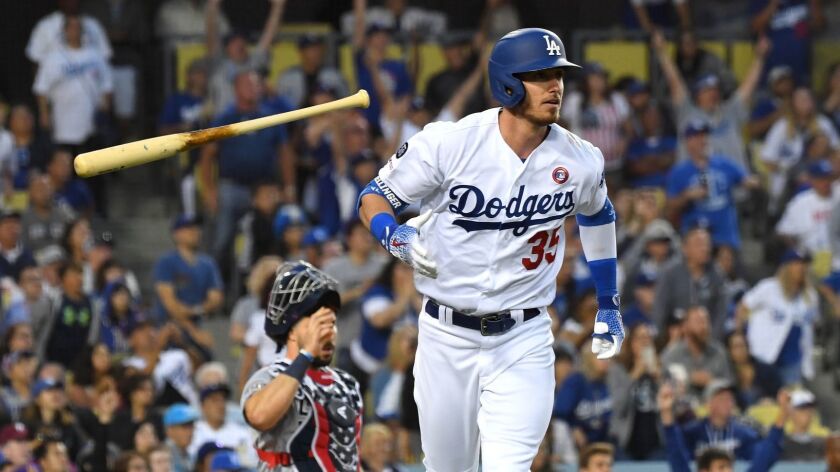 The Dodgers' latest home win — a 5-1 decision over the San Diego Padres on Thursday — concluded without any heart-racing dramatics.
There wasn't a game-winning home run or a walk-off walk to complete a five-walk binge. The celebration was tame. The orange jugs of Gatorade stayed full in their dugout. Their holiday victory at Dodger Stadium — their 37th in 46 home contests this season — was rather ordinary in comparison to their previous five.
Those victories all came down to their final at-bat, a run not seen in the majors since the 2004 Oakland Athletics provided the fireworks. Los Angeles (60-29) settled for a methodical ho-hum triumph over a sinking divisional foe to extend its home winning streak to nine games.
"I'll take all the wins, but they're not all created equal," Dodgers manager Dave Roberts said. "So [we] apologize for the lack of drama, theatrics in the end."
Max Muncy and Cody Bellinger each smashed a solo home run. Muncy's 21st blast landed in the loge level down the right-field line in the second inning. Bellinger led off the sixth inning with his 30th homer, making him the first Dodger and 19th player in National League history to reach that total before the All-Star break. At 23 years old, he is the youngest to accomplish the feat since Mark McGwire in 1987.
Their slugging efforts came in support of Hyun-Jin Ryu. In his final appearance before his scheduled All-Star game start, Ryu did not execute with the remarkable command he displayed for much of the first half. He entered the night with seven walks on the season and walked three Padres in his six innings Thursday. Ryu said the first free pass — a four-pitch walk to Wil Myers — was the result of pitching around Myers because of his past success against him. The last two were not.
"You definitely don't want to give any up regardless of counts," Ryu said through an interpreter. "But today just was uncharacteristic of me."
It was his first three-walk outing since April 21 ... of last season. It amounted to a glaring outlier. And he was still effective enough.
Coming off his worst outing of the season, in which he gave up seven runs in four innings at hitter-friendly Coors Field, the left-hander worked around the imprecision to hold San Diego scoreless. He gave up three hits, walked five, and threw 89 pitches. He exited with a 1.73 ERA, by far the lowest in the majors for a starter, thanks to his ability to avoid damage in messy spots. The Padres went 0 for 3 with runners in scoring position, lowering opponents' batting average to a minuscule .110 in that situation against Ryu.
"To not have the great night or the great stuff and still go six scoreless," Roberts said, "pretty remarkable."
The Padres countered Ryu with Dinelson Lamet, a hard-throwing right-hander making his season debut after undergoing Tommy John surgery and missing the entire 2018 campaign. His first inning back was a breeze. He threw nine pitches and touched 99 mph to secure the three outs in order.
But he encountered a speed bump in the second inning when he tried sneaking a 96-mph fastball by Muncy, an All-Star snub who gave the Dodgers a 1-0 lead with a hack.
"I don't think a guy can be under the radar more than Max is," Roberts said.
Lamet held the Dodgers to that until the fifth inning, which began with Matt Beaty delivering a leadoff single. Lamet walked the next two batters — Chris Taylor and Russell Martin — to load the bases. Ryu struck out swinging, but Joc Pederson was hit by the next pitch to score Beaty. Alex Verdugo followed with a scorching line drive to left fielder Hunter Renfroe. Taylor tagged up and scored with a headfirst slide to increase the margin to three runs.
Bellinger widened the gap in the sixth inning. The Padres had brought in a left-hander, Logan Allen, to oppose Bellinger. Last year, when left-handers tormented Bellinger, that would have been a problem. The Dodgers might have even replaced him with a pinch-hitter. This year, it is not.
Sign up for our Dodgers newsletter »
Bellinger stayed with a hanging slider over the plate and hooked it to the middle of the pavilion beyond the wall in right-center field for his third homer in two nights. The lead was up to four runs. A few minutes later it was five on Taylor's sacrifice fly.
The Padres scored in the eighth inning against Zac Rosscup, but that was it. JT Chargois struck out all five batters he faced to close it out. There was no need for heroics to become the first team in baseball to 60 victories. It was just another orderly takedown for a club winning in seemingly every way possible.
Twitter: @jorgecastillo
---