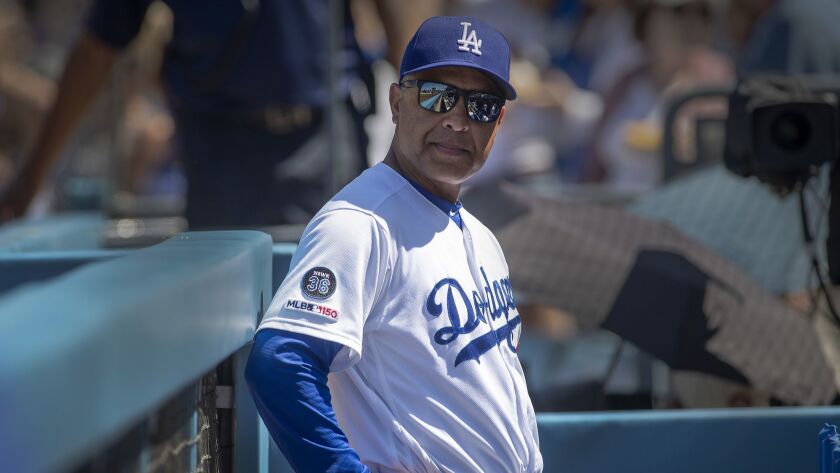 With his legs crossed and his back perched comfortably up against a wall atop the bench in the Dodgers dugout, Dave Roberts fielded questions with a calm, cool confidence Friday afternoon.
It has become his default attitude, befitting of his Dodgers' blistering first-half pace — they're on track for a franchise-record 107 wins – and monstrous 14 1/2-game lead in the National League West.
"I am not surprised," he said, "by the wins and where we are at in the standings. I'm just proud of the way we keep grinding."
Few, though, could have foreseen this type of start for the Dodgers. After authoring a storybook stretch of baseball through the spring and early summer, despite injuries and a busy first-half schedule, they have set expectations sky high.
Despite dropping to 60-31 following a 3-1 home loss to the San Diego Padres on Saturday night, unable to overcome home runs from Hunter Renfroe and Manuel Margot, the Dodgers have already clinched a tie for baseball's best record at the All-Star break.
They hold the edge for postseason home-field advantage, sitting one game in front of the New York Yankees for the MLB lead and 6 1/2 clear of the Atlanta Braves in the NL.
Even during their consecutive losses to San Diego, there have been bright spots. Saturday's starter Kenta Maeda (7-5) took the loss yet received a strong ovation for his promising 7 2/3-inning, three-run, six-strikeout display.
"I thought he threw the ball really well across the board; everything was really good," Roberts said. "To go deep into the seventh inning, he threw a great baseball game."
Reliever Joe Kelly, once booed by fans upon taking the mound, was applauded as well after extending his recent streak of no earned runs to 9 1/3 innings.
"It's just one of those nights, there was no drama, no theatrics," Roberts said. "Collectively we can do a better job of at-bats, but there's going to be games where you don't score runs; that's baseball. We'll reset and be ready to go tomorrow."
Since 2010, only three clubs that led baseball at the turn won the pennant, and only last season's Boston Red Sox won the World Series. Thus, even before first pitch Saturday, Roberts was planning ahead.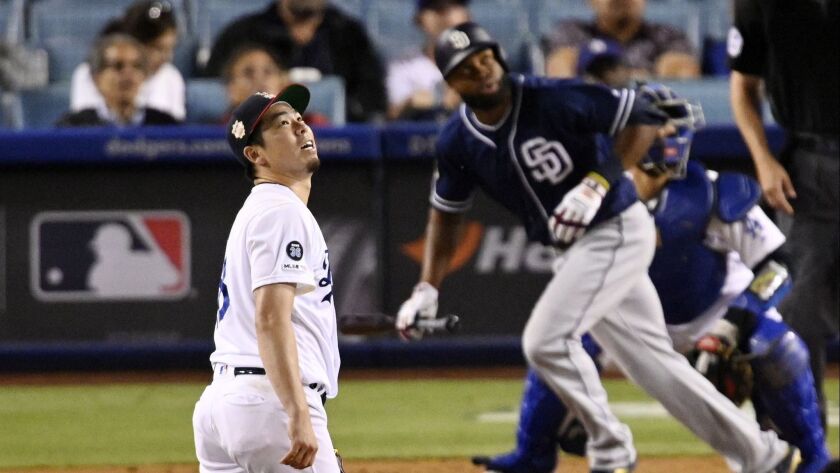 When the Dodgers begin their second half with a series in Boston next Friday, Roberts will start getting reinforcements. David Freese, Corey Seager and A.J. Pollock all are expected to be activated in time for that series, if not soon after.
Those returns will bolster Roberts' ranks, but also force him to strike a delicate balance. When pressed on that issued Saturday, the skipper hardly sounded worried.
"When you go into the second half and you're looking at playing through October," Roberts said, "a day here or there for a guy to keep everyone incorporated is not a bad thing."
Some decisions, though, will be tougher than others. For example, where will Alex Verdugo play once Pollock returns? Or once starting pitcher Rich Hill is healthy again, which member of the rotation will shift back to the bullpen?
Sign up for our Dodgers newsletter »
Roberts hadn't come to those decisions Saturday, but had begun weighing his options.
"'Manage' is a word that, it's different for everyone," he said, speaking specifically of his plans for the pitching staff. "Is it abbreviating a start, a time or two or three? Is it skipping a start? I think that those are conversations that we expect to have with each guy because ultimately, their comfort level and what they feel is best for them is most important. Ultimately, the goal is to have each one of these guys feeling very good and strong as they go into October."
---