Dodgers outfielder Scott Van Slyke could miss another month with back injury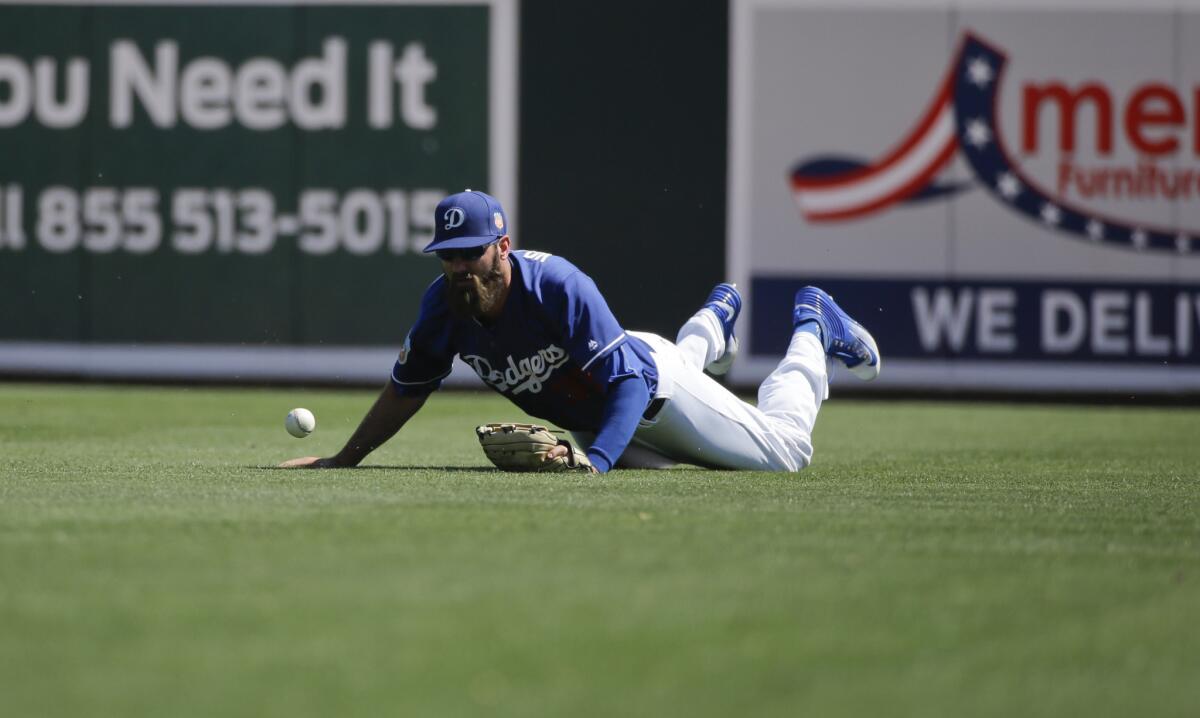 Reporting from ATLANTA —
Eleven days after tweaking his back in the outfield, Scott Van Slyke has not been cleared to resume baseball activity. He may miss another month of baseball, based on the timetable relayed by Dodgers Manager Dave Roberts on Wednesday afternoon at Turner Field.
Roberts hoped Van Slyke could be cleared to "to start moving around, start doing some things" like play catch or take part in agility exercises, Roberts said. After that, though, there is still a sizable amount of time needed for Van Slyke to get back into playing condition.
"I'd say from the point he starts, to get back to playing with us, it's a couple two, three weeks," Roberts said.
With Van Slyke out, the Dodgers have been forced to adapt in left field. Howie Kendrick, a second baseman for most of his career, started there again on Wednesday.
Roberts admitted the injury was more serious than the initial thought. Van Slyke was removed midway through a game in San Francisco on April 9.
"That was something where he was lobbying to stay in the game," Roberts said. "So when that originally occurred, he was trying to talk me into staying in the game."
Roberts placed Van Slyke on the bench anyway. A few days later, back in Los Angeles, the Dodgers disabled him. The hope was he would rest for two weeks and return to action.
But in subsequent examinations, Roberts explained, the medical staff determined that Van Slyke could subject his back to further damage by returning too soon.
"As opposed to, a lot of times, there's an injury, but it can't worse," Roberts said. "Then you're playing to [pain] tolerance."
Roberts indicated he was unaware if the diagnosis of the injury has changed. The initial verbiage was "lower back irritation."
Twitter: @McCulloughTimes
Get our Dodgers Dugout newsletter for insights, news and much more.
You may occasionally receive promotional content from the Los Angeles Times.