Dodgers surprised by ex-teammate Dee Gordon's drug suspension, upset with timing of announcement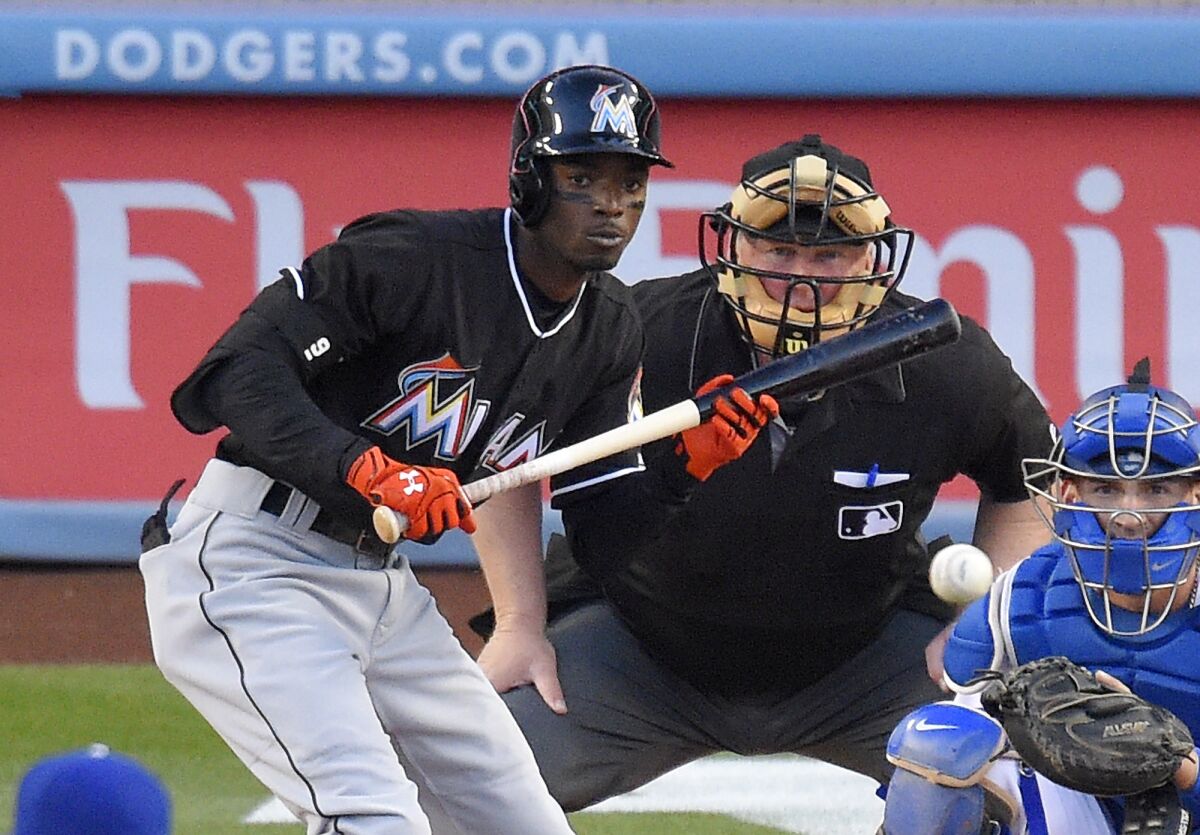 Dee Gordon's last game without a tarnished reputation ended at 10:02 p.m. Thursday night. He had played a vital role for the Miami Marlins in a 5-2 defeat of his former Dodgers teammates. He delivered the game-tying hit and induced a balk to score another run.
Fifteen minutes after the game, Major League Baseball sent an email that overshadowed the events on the field. Gordon was suspended 80 games after testing positive for exogenous testosterone and clostebol, a pair of banned substances.
"Just the guy he was — and he is — it's hard to believe," Dodgers ace Clayton Kershaw said Friday afternoon.
The timing of the announcement upset Dodgers players and management, still reeling from a four-game sweep by the middling Marlins. It also led to a question. Why would MLB announce a suspension at 1:17 a.m. on the East Coast?
"That's when the player officially dropped his right to appeal," Pat Courtney, baseball's chief communications officer, said in a telephone interview with The Times. At some point during that 15-minute window, Gordon officially decided to accept the suspension looming over him.
Citing the confidentiality clauses in baseball's Joint Drug Agreement, Courtney declined to provide specifics on the case. Gordon failed a test in spring training, ESPN reported. As a first-time offender, he was allowed the right to appeal. In deference to due process, a player can continue to take the field until his case has been litigated.
The situation surprised Dodgers officials as it exasperated them. Part of a package sent to Miami by president of baseball operations Andrew Friedman after the 2014 season, Gordon is a spindly, speedy player who was well-liked by teammates and coaches.
"He's a great kid, and he works hard," Dodgers Manager Dave Roberts said. "He's done a lot of good things."
On Friday, Dodgers President Stan Kasten contacted Dan Halem, baseball's chief legal officer. Halem walked Kasten through the timeline of events and answered his questions. Kasten said he left the conversation convinced the matter "was handled appropriately and consistent with the rules that are in place."
The Dodgers were hurt, in part, because of those rules. Late Thursday night, Detroit Tigers pitcher Justin Verlander reacted with vehemence, writing on Twitter that players who fail a drug test should not be allowed to play during the appeal.
Kershaw threw cold water on that idea. He understood the sentiment, but suggested the players in question would suffer guilt by association.
"You can't just say, 'Well, he's out while he appeals it,'" Kershaw said. "Because then his name is in the mud."
He added, "The only thing that makes sense is to just speed up the appeals process. But there has to be an appeals process."
Several teammates echoed that sentiment.
"It's not ideal," second baseman Chase Utley said. "But I think it's the most fair way to do it."
A similar scenario unfolded earlier this month involving Toronto first baseman Chris Colabello. He learned he had failed a test for an anabolic steroid on March 13, according to the timeline Colabello provided to SportsNet in Toronto. His 80-game suspension did not become public until April 22. During the interim, he hit .069, only a year after batting .321.
"It seemed like his conscience was bothering him way more than Dee," Dodgers utilityman Enrique Hernandez said. "Because if you look at his numbers last year and his numbers this year, you could tell that something was going on with him."
Gordon played the entire series against the Dodgers aware of the fate awaiting him. He did not address the media after the game. Like Colabello last week, and so many others before him, Gordon denied "knowingly" using performance-enhancing drugs in a statement released by the Major League Baseball Players Assn. on Friday morning.
"Though I did not do so knowingly, I have been informed that test results showed I ingested something that contained prohibited substances," the statement read. "The hardest part about this is feeling that I have let down my teammates, the organization, and the fans.
"I have been careful to avoid products that could contain something banned by MLB and the 20+ tests that I have taken and passed throughout my career prove this. I made a mistake and I accept the consequences."
Suspended without pay, Gordon will lose about $1.63 million. But he will still receive the rest of the $50 million the Marlins owe him. Miami handed him a contract extension after Gordon won the National League batting title last season.
There is no way of knowing if Gordon's breakout in 2015 can be attributed to performance-enhancing drugs. But the taint of the suspension will linger.
"There's incentive, for sure, for taking them," Kershaw said. "I guess it's just more about the character you are, the person. And even if you don't have that, hopefully the drug testing is enough."
ALSO
Column: How a good guy like Dee Gordon turned into a villain
Yasiel Puig welcomes Jared Goff to L.A. sports scene with no hard feelings
Dee Gordon suspension shows cheaters come in all sizes
Get our Dodgers Dugout newsletter for insights, news and much more.
You may occasionally receive promotional content from the Los Angeles Times.