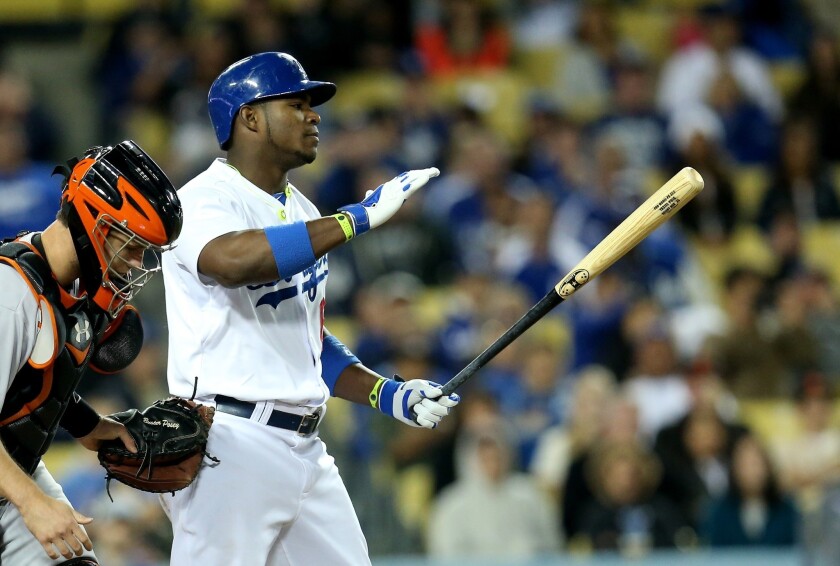 Considering the season is only a little more than a month old, the Dodgers went into their series opener against the San Francisco Giants on Thursday with an unusual sense of urgency.
A day that ended with the Giants scoring twice in the 10th inning to beat the Dodgers, 3-1, started with a closed-door meeting called by Manager Don Mattingly, who was said to be dissatisfied with some of his players' pregame work and readiness for games. Mattingly wouldn't divulge what was said behind the closed doors, other than that it pertained to "where we going, how we get there."
In seasons past, Mattingly generally downplayed the significance of early-season games, no matter the opponent.
That wasn't the case here.
"We have to establish that we can play with them," Mattingly said of the Giants, who came into the series in a virtual tie for first place in the National League West with the Colorado Rockies.
When the Dodgers returned from a nine-game trip Wednesday night, they trailed the Giants by 2 1/2 games.
Mattingly pointed to how the Dodgers dropped two of three games in each of their two previous series against the Giants. Of the three-game series at Dodger Stadium in early April, Mattingly said, "They beat us up pretty good."
This wasn't entirely unexpected.
Even with the Dodgers fielding a team that will earn a combined $240 million, closer Kenley Jansen said he figured the Giants would be neck-and-neck with them for the entire season.
"We all know that it's going to be a dogfight between us and them," Jansen said.
What's surprising is how the Giants are winning.
Outside of Tim Hudson, their starting pitching has been inconsistent.
However, their bullpen has been extremely reliable.
Their relievers entered Thursday with a combined earned-run average of 1.81, the best in the major leagues. The team is 16-3 when scoring first.
With closer Sergio Romo, Javier Lopez and Santiago Casilla in the back end of the bullpen, the Giants were 16-1 when leading after seven innings through Wednesday.
The offense has contributed some unexpected power. The Giants entered Thursday with 42 home runs, second-most in the NL.
Before coming to Los Angeles, the Giants swept the Atlanta Braves in three games without collecting a single hit with men in scoring position. They made up for it by launching seven home runs.
Nine were by first baseman Brandon Belt, who hit 17 all of last season, and eight by Michael Morse, who signed a one-year, $6-million deal with them over the winter.
Middle infielders Brandon Hicks and Brandon Crawford came into the series with a combined eight home runs.
Hicks hit another in the seventh inning Thursday, to tie the score, 1-1.
"They're patient," Jansen said. "They're waiting for that mistake. They are good hitters, man."
The Dodgers, meanwhile, appear to be moving closer to finding their own identity.
Mattingly said he has more or less settled on Dee Gordon leading off and Yasiel Puig batting second.
As for the four-man outfield, it's also taking a more definitive shape, with Mattingly saying Puig and Matt Kemp are more or less every day players.
"I think Yasiel's established himself in right field, pretty much, as the guy," Mattingly said. "Matt's been playing, I think, well. He's been swinging the bat better."
Mattingly said that when he doesn't have Kemp in the lineup, it's because he wants to rest him and not because he prefers Andre Ethier in center field.
The situation leaves Ethier and Carl Crawford "fighting for that playing time," Mattingly said.
---