Dodgers' Yasiel Puig won't stop playing aggressively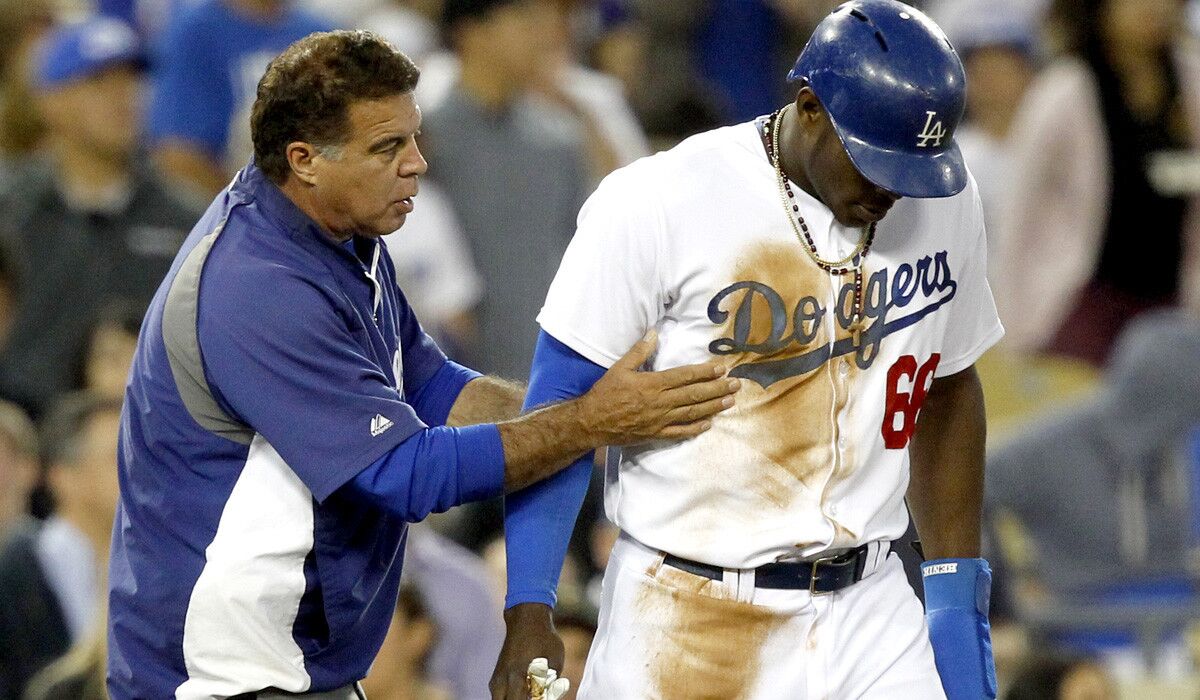 Reporting from San Diego —
Something is always bothering Yasiel Puig.
Sometimes, it's his shoulder. Or his back.
Now, it's his left hip.
Any player who runs as hard and dives as often as Puig does is bound to get bruised here and there.
Puig accepts that. So do the Dodgers. And neither party intends to change the way he plays.
A day after tightness in his hip forced him to depart early from the Dodgers' series opener at Petco Park, Puig was back on the field Saturday for the team's 4-2 victory over the San Diego Padres.
Puig said his hip has bothered him for the last couple of weeks. It started when he awkwardly slid as he tried to break up a double play in Colorado on June 7. He was diagnosed with a strained left hip flexor.
"I continue to play like this because I have to support my teammates," Puig said in Spanish.
Puig is still 23. He presumably has a long career ahead of him.
But the right fielder said he has no concerns his condition might worsen if he continues to play like this.
"I'm not thinking about that," Puig said. "I'm just thinking of getting treatment and giving the best of myself on the field."
The task of monitoring Puig belongs to the team's medical staff, which is headed by Stan Conte.
Puig receives treatment on his hip every day from Conte and his assistants.
Before the game Saturday, they monitored him as he took batting practice and fielded balls in the outfield.
"It sounds like he's OK," Manager Don Mattingly said. "They feel like it's safe for him to go."
Puig was noticeably limping after he grounded out in the third inning. However, Mattingly was confident Puig wouldn't develop more serious problems if he continued playing.
"I think Stan seems to be confident," Mattingly said. "I don't think they would let him go out there if they felt like he was going to hurt himself playing with it.
"He's always getting a little bit of something. The guy plays hard, he goes hard, so he's going to have some bumps and bruises and some soreness."
Mattingly said he won't ask Puig to play more cautiously.
"I really don't want to take anything away from him because I think the way he plays is who he is," Mattingly said. "Guys that play hard, I think are probably safer than the guys that are cautious. I think guys that are cautious end up getting hurt."
Mattingly said he doesn't mind if Puig continues to dive to trap balls, as he does on occasion.
"The only time you don't want him to dive for a ball is when it's really a ball you should play back," Mattingly said
But if Puig intends to remain a force for several more years, he'll likely have to find a balance between playing hard and playing smart.
Much of what is said now about Puig was once said about Matt Kemp.
Like Puig, Kemp is an imposing figure who runs better than most players his size. And like Puig, Kemp was willing to sacrifice his body to make a catch, that is until 2012, when he crashed into a wall and damaged the labrum in his left shoulder.
The injury significantly altered the trajectory of Kemp's career.
Mattingly is aware of that, which is why he said of Puig, "Obviously, we don't want him to run full speed into walls when the ball's seven rows deep or something.
"We just want him to play. You don't want them running into walls for no reason, doing things that can get themselves hurt."
Mattingly would also like to see Puig learn how to slide properly.
"The original part of this injury was on a slide, so …" Mattingly said.
In the 12 games Puig has played since hurting the hip, he hasn't hit a home run.
But Mattingly said he doesn't think the home run drought and injury are related.
"Do you watch BP?" Mattingly said. "Do you see the ball he hits in BP?
Mattingly laughed.
"I think he's been fine," Mattingly said. "He's swung the bat well. To me, homers always come in bunches. He'll hit four or five in 10 days and make a jump."
Twitter: @dylanohernandez
---
Get our Dodgers Dugout newsletter for insights, news and much more.
You may occasionally receive promotional content from the Los Angeles Times.