Clayton Kershaw keeps zeroing in on history as Dodgers blank Rockies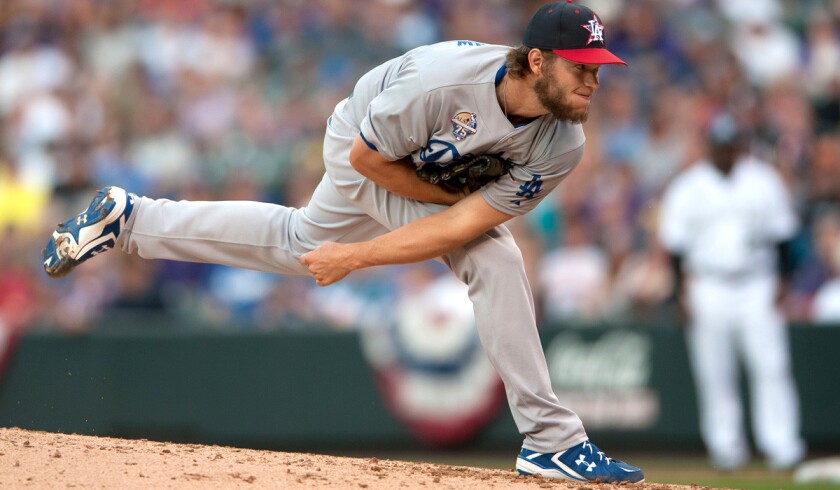 Reporting from Denver —
In the 57 seasons the Dodgers have called Los Angeles their home, only two pitchers have recorded scoreless innings streaks longer than Clayton Kershaw's.
Orel Hershiser and Don Drysdale. That's it.
Kershaw extended his shutout streak to 36 innings Friday, pitching eight innings in a 9-0 victory over the Colorado Rockies at Coors Field that increased the Dodgers' lead to 11/2 games in the National League West.
Some of the pitchers Kershaw moved past on this night included Dodgers royalty: Sandy Koufax (33 innings in 1963), Fernando Valenzuela (35 innings in 1981) and Don Sutton (35 innings in 1972).
The two pitchers ahead of him, Hershiser and Drysdale, are first and second on baseball's all-time list. Hershiser pitched 59 consecutive scoreless innings in 1988, breaking by one inning the mark Drysdale set in 1968.
Kershaw hasn't allowed a run in his last four starts, a stretch that started with a no-hitter against the Rockies on June 18.
"It's great," Kershaw said. "You don't ever want to give up a run."
He has won his last seven games and has struck out 69 batters in 52 innings over that span. His earned-run average is down to 1.85, which would be the best in baseball if he wasn't 12/3 innings short of qualifying.
But Manager Don Mattingly exercised a measure of restraint when describing his ace's form.
"He's just really good," Mattingly said. "It's been like that for a few years now. He had a really good month, but for those of us that get to see him every day, or a lot, it's not a lot different. It's maybe just a little better."
But from his view behind home plate, catcher A.J. Ellis said he has noticed a change.
"The biggest thing for me has been the consistency of the breaking balls," Ellis said. "Usually, he'll have his 'A' slider but maybe his 'C' or 'D' curveball or vice versa, where the slider's not working but the curveball is. During this run, he's had an 'A' curveball and an 'A' slider this entire time. They're both just electric strikeout pitches, which is why I think you're seeing him have strikeout totals that have been unmatched in his career. He gets to two strikes, he could go either way."
The desire to avoid getting into breaking-ball counts against Kershaw has hitters trying to attack earlier in counts, when he is more likely to throw a fastball.
"There's a chance you can get a hit on those, but if you don't, you're also keeping him in the game longer because his pitch count is going to stay low," Ellis said.
Kershaw threw only 93 pitches Friday and lobbied to pitch the ninth inning. Mattingly overruled him, sending Jamey Wright to record the final three outs.
"I guess my arguing skills aren't any good," Kershaw said, smiling.
Kershaw said his teammates deserved some credit for his recent performances.
"It feels like every time I'm pitching, we have a big lead right now," he said.
The Dodgers led, 3-0, at the end of the first inning Friday. It was 8-0 by the fifth.
Kershaw also made it a point to mention the fine defensive plays made behind him, most notably a diving catch in the second inning by Scott Van Slyke in left field and an across-the-body throw in the fourth by Juan Uribe as his momentum carried him into foul territory.
The only trouble Kershaw encountered was a first-and-third, one-out jam in the third, partially created by his errant throw after fielding pitcher Jair Jurrjens' bunt.
"That's a first for me," Kershaw said. "It's pretty embarrassing. It was bad."
But he immediately recovered, picking off Jurrjens and striking out Charlie Blackmon to end the inning.
Afterward, Mattingly made a prediction: Kershaw will give up another run this season.
"At some point this year, he will," the manager said. "I'm calling it now. Going out on a limb."
Mattingly was joking. Probably.
Twitter: @dylanohernandez
---
Get our Dodgers Dugout newsletter for insights, news and much more.
You may occasionally receive promotional content from the Los Angeles Times.