Hyun-Jin Ryu shows quality of Dodgers starters in another 1-0 win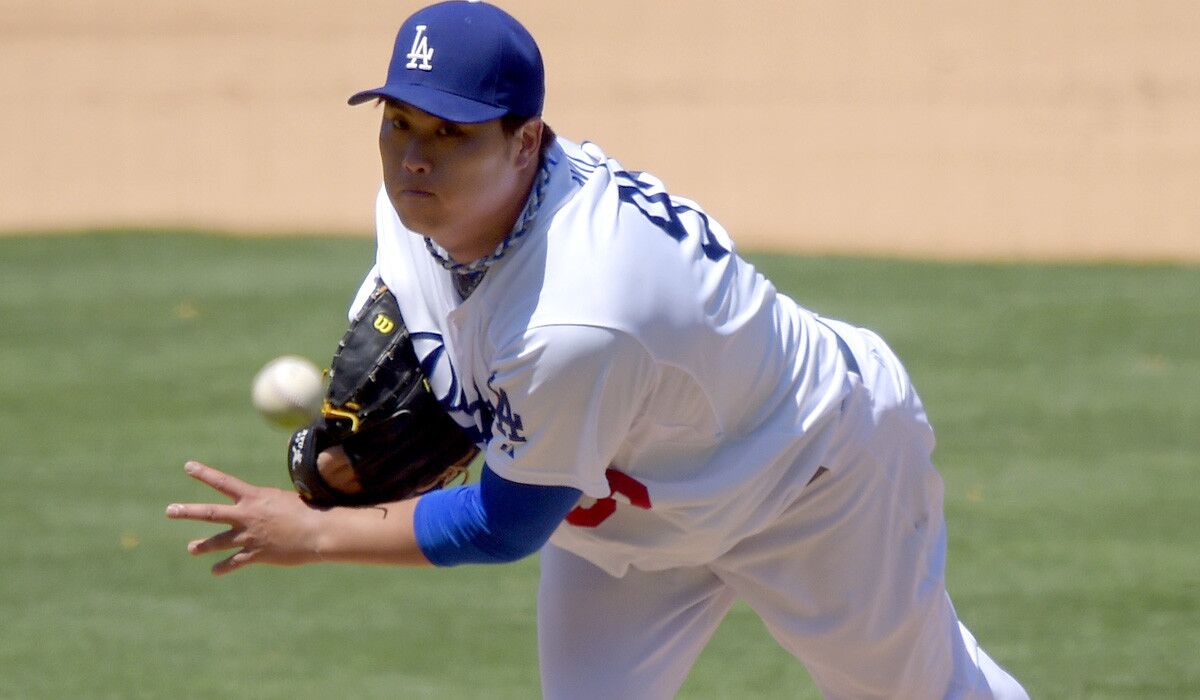 The Dodgers went into the All-Star break Sunday with the best record in the National League.
Their 1-0 victory over the San Diego Padres demonstrated why.
The Dodgers scored seven runs in the four-game series at Dodger Stadium, but won three times. The latest of their 54 victories was delivered by Hyun-Jin Ryu, who limited the visitors to two hits and got the benefit of Yasiel Puig's run-scoring single in the sixth inning.
Ryu, who had 10 strikeouts in six innings, is 10-5 with a 3.44 earned-run average. That makes him only the team's third-best starting pitcher.
"He'd probably be a lot of teams' first starter," catcher A.J. Ellis said.
Clayton Kershaw is 11-2 with a 1.78 ERA. Zack Greinke is 11-5 with a 2.73 ERA. Both were scheduled to board a private plane to the All-Star game in Minnesota, along with outfielder Yasiel Puig and second baseman Dee Gordon.
The last time the Dodgers had three pitchers with 10 victories or more at the All-Star break was in 1977, when they had Tommy John, Doug Rau, Rick Rhoden and Don Sutton.
Dodgers starters have an ERA of 3.11, the best in the majors.
"Every time you get to the ballpark, you have a good feeling you have a chance to win the game," Kershaw said. "It's fun to be a part of."
As a result, the Dodgers have a one-game lead over the San Francisco Giants in the NL West. They once trailed the Giants by as many as 91/2 games.
"Can the season end right now?" Ellis said, jokingly.
The starters aren't doing this alone, of course.
The bullpen, a source of major concern early in the season, has started to come together.
Manager Don Mattingly relied Sunday on what is becoming his regular late-game formula to preserve the Dodgers' 1-0 advantage over the last three innings.
Brandon League recorded the first two outs of the seventh inning, after which he was relieved by left-hander J.P. Howell with two on. Howell got Brooks Conrad to line out to left field, then blanked the Padres in the eighth.
Kenley Jansen recorded his 27th save, which ties him for third in the majors.
Recalling a time when the bullpen was considered a problem, Jansen said, "This bullpen never quit. We always fought."
Mattingly said the relievers have benefited from the improved performance of the rotation, which was without Kershaw in April because of a strained back muscle.
"The bullpen has settled in because our starters are able to go longer," Mattingly said. "The length has been better as we've come along."
Overall, Mattingly said he was pleased with how the Dodgers looked as they went into the midseason intermission.
"I think every team is always trying to incrementally getting a little bit better, but I don't think we'll sit here saying we have to go do this, we have to go do that," Mattingly said. "I'm comfortable where we are at right now. If we don't do anything, I think our guys are feeling like we're fine. We just got to play well."
As far as where the Dodgers could make this incremental progress, Mattingly pointed to the team's defense, situational hitting and baserunning.
"But in saying that, you're happy with where we're at and the effort we're getting," he said. "The energy we're playing with, I feel like guys are focused at this point and have kind of locked it in. We know where we are at and know what we are in for."
Get our Dodgers Dugout newsletter for insights, news and much more.
You may occasionally receive promotional content from the Los Angeles Times.