Dodgers' Josh Beckett remains ineffective, loses to Cubs, 7-3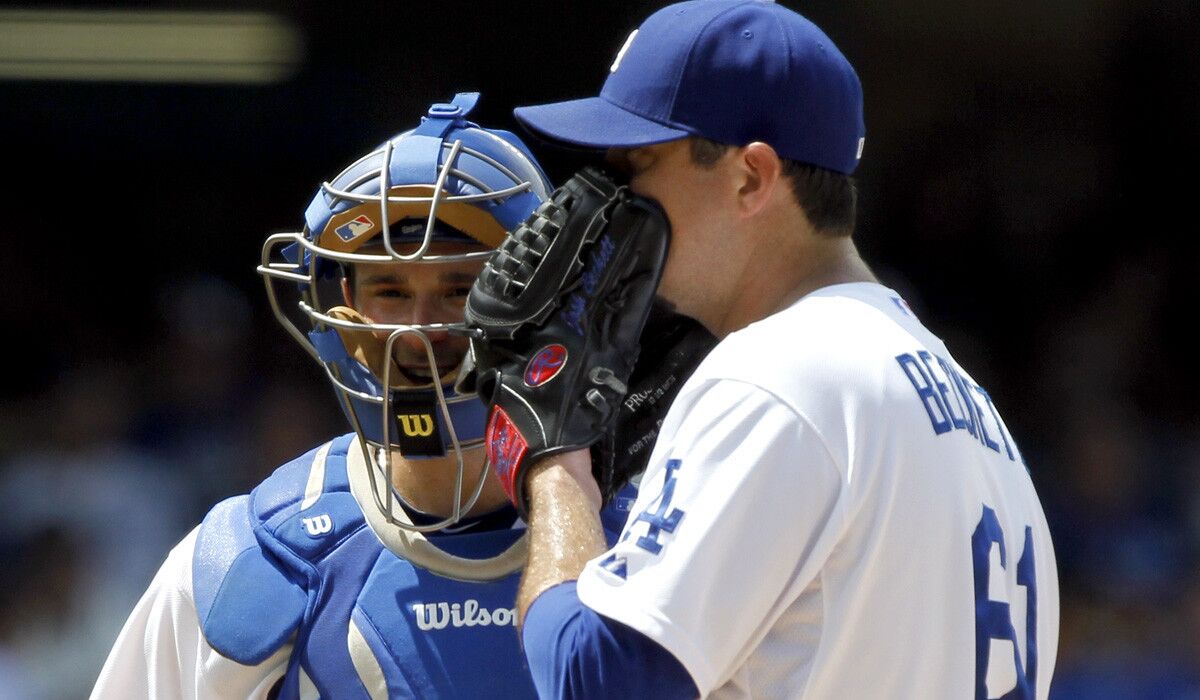 Every time Josh Beckett or Dan Haren take the mound these days, Manager Don Mattingly or General Manager Ned Colletti are asked a variation of the same question: Will the Dodgers make a change to the back end of their rotation?
The inquiry was made again Sunday, when Beckett lasted only four innings in a 7-3 defeat against the last-place Chicago Cubs, who beat the first-place Dodgers for the second time in three days.
"Well," Mattingly said, "I'm sure that's up for discussion with Ned and his guys."
Beckett, who was recently sidelined because of a torn labrum in his left hip, has started three times since being activated from the disabled list. The starts have lasted a combined 12 innings. He threw 94 pitches Sunday in four-plus innings, in which he gave up three runs, six hits and three walks.
Haren has lost each of his last five starts, including a 41/3-inning stinker Friday night in a defeat to the Cubs. Mattingly said Haren remains scheduled to face the Angels on Wednesday.
The bullpen was heavily used in this series, as Beckett and Haren pitched a combined 81/3 innings in their starts. The situation was worsened by a 12-inning game Saturday night.
That might have cost the Dodgers the game Sunday, as Mattingly wondered whether right-hander Brandon League was affected by pitching the previous night.
League entered the game Sunday in the eighth inning with the Dodgers trailing, 3-2. He walked the bases loaded in what turned into a three-run inning for the Cubs.
League hadn't given up any runs in 14 of his previous 15 appearances.
Similar to Haren, Beckett sounded mystified by his recent loss of form.
"Three starts in a row like that, it's a pretty helpless feeling," he said.
Through his first 15 starts this season, his earned-run average was 2.02.
Beckett has steadfastly refused to blame his hip, which he might be forced to have surgically repaired if he intends to pitch beyond this season.
"I felt better physically today than I have in my last couple starts," he said. "But the results were still the same. That's what we're judged on and how we judge our own outings. I need to get ahead. I need to attack better. I need to do a better job of putting guys away.
"I didn't throw enough strikes today and the strikes I did throw weren't quality."
The 34-year-old Beckett no longer pitches off a mound between starts.
"I'm old," he said. "It's just where I'm at. I can't force myself to go out there two days after I pitch. I feel like it's robbing Peter to pay Paul if I try to throw a bullpen. I feel like I can shut my flat ground down when I'm mentally where I want. If I get on the mound, it turns into a grind."
Asked whether he felt he could pitch his way out of this slump, Beckett replied, "I've been through ruts like this before. I think whenever you get to these kinds of deals, you need some things to go your way to show you that good things do happen, because right now you just focus on negative stuff."
If Beckett fails to become at least serviceable again, the Dodgers could be in trouble, particularly with the passing of the nonwaiver trade deadline.
Left-hander Paul Maholm, the top candidate to replace Beckett or Haren in the rotation, will sit out the remainder of the season because of a torn knee ligament.
Other in-house choices are short on major league experience.
Red Patterson, who could be called up from triple-A Albuquerque, has made one career major league start. Fellow minor leaguers Zach Lee, Chris Reed and Carlos Frias have made none.
An alternative option would be to acquire a pitcher who is on, or has cleared, trade waivers. However, most of pitchers who are expected to be available have bloated contracts, many of which won't expire at the end of the season.
Get our Dodgers Dugout newsletter for insights, news and much more.
You may occasionally receive promotional content from the Los Angeles Times.