Back tightness sidelines Dodgers' Hyun-Jin Ryu, but he's not worried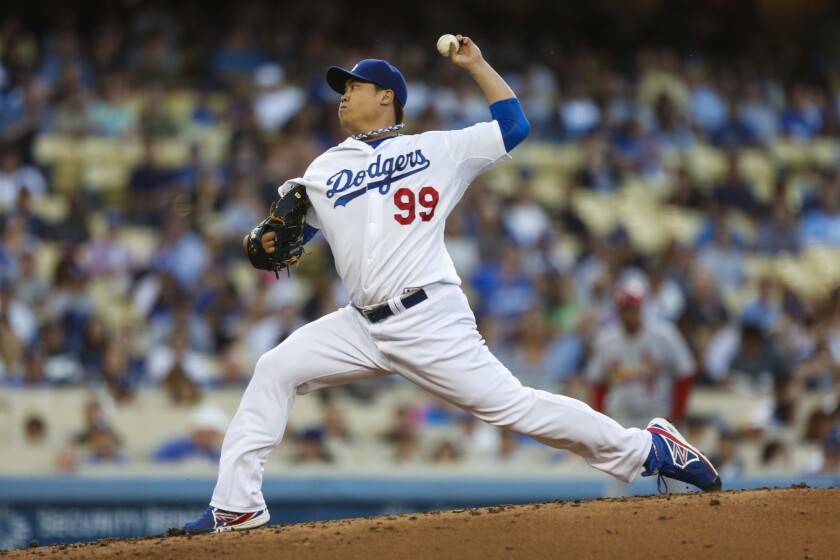 Reporting from PHOENIX —
If the first days of spring training made Hyun-Jin Ryu optimistic about his chances of pitching a career-high 200 innings this season, he has now been reminded of the challenges he could face in reaching his goal.
Sidelined because of tightness in the middle of his back, Ryu missed the Dodgers' workout Wednesday.
The left-hander downplayed the problem, telling South Korean reporters that he expected to participate in the Dodgers' first full-squad workout on Thursday. Manager Don Mattingly said he didn't know when Ryu would resume training, but added, "I kind of expect this is not going to be a lingering thing."
Including Ryu, three of the Dodgers' five projected starting pitchers have health issues. Zack Greinke didn't throw his first bullpen session of the week until Tuesday because of a lubricating injection he recently received in his elbow. Brett Anderson is taking two days off between bullpen sessions — instead of one like the other pitchers — because he is recovering from a back operation.
And then there is Brandon McCarthy, who has a history of shoulder problems.
Ryu has identified health as his top priority this spring. He pitched 192 innings in 2013, his first season in the majors, but was limited to 152 innings last year, as he was sidelined for extended periods with a strained buttock muscle and irritated left shoulder.
"My focus is to not get hurt and pitch as many innings as I can," Ryu said through an interpreter last week.
Ryu arrived in Arizona around the middle of January to work out with the LG Twins of the Korean Baseball Organization. He threw four bullpen sessions under their watch and felt he reported to this camp with the Dodgers in better shape than he had the previous two seasons.
The Dodgers are expecting a lot from Ryu, who turns 28 next month. Management outlined some of those expectations in a recent meeting with him.
"We told him, 'We think you have a chance to be one of the top 10 to 20 starting pitchers in baseball,' " General Manager Farhan Zaidi said. "The ability is there."
Ryu won 14 games in each of his first two seasons with the Dodgers. In 56 career starts, he has a 3.17 earned-run average.
"Certainly, there's some untapped potential there, as good as he was," Zaidi said.
Ryu said he expects more of himself, too. "I am preparing to accomplish more than I did in my first year or second year," he said.
Additional arm
The Dodgers brought on their third pitcher in five days, signing right-hander Chad Gaudin to a minor league contract with an invitation to major league camp.
Gaudin, who turns 32 next month, has pitched for nine teams over 11 major league seasons. He didn't pitch anywhere last season, after he failed a physical examination that voided his contract with the Philadelphia Phillies and prompted him to undergo a neck operation to treat a nerve problem.
Gaudin said he had been throwing for the last six to seven months.
"I'm good," he said. "Ready to go."
Zaidi said Gaudin is a starter. Zaidi was part of the Oakland Athletics' front office when Gaudin started a career-high 34 games and won 11 for them in 2007.
Gaudin was arrested in 2013 for allegedly groping a 23-year-old woman in a hospital emergency room. He later pleaded no-contest to a disorderly conduct and was sentenced to 100 hours of community service and impulse-control counseling.
"It's all passed and done with," Gaudin said.
Zaidi didn't sound particularly concerned about that part of Gaudin's past.
"Just sounded like an unfortunate incident," Zaidi said.
Short hops
Special adviser Sandy Koufax was in camp and is expected to attend the team's first full-squad workout. … All of the team's position players have reported. The Dodgers have 61 players in camp.
Twitter: @dylanohernandez
---
Get our Dodgers Dugout newsletter for insights, news and much more.
You may occasionally receive promotional content from the Los Angeles Times.