Dodgers' Brett Anderson wants to keep this up, except for one pitch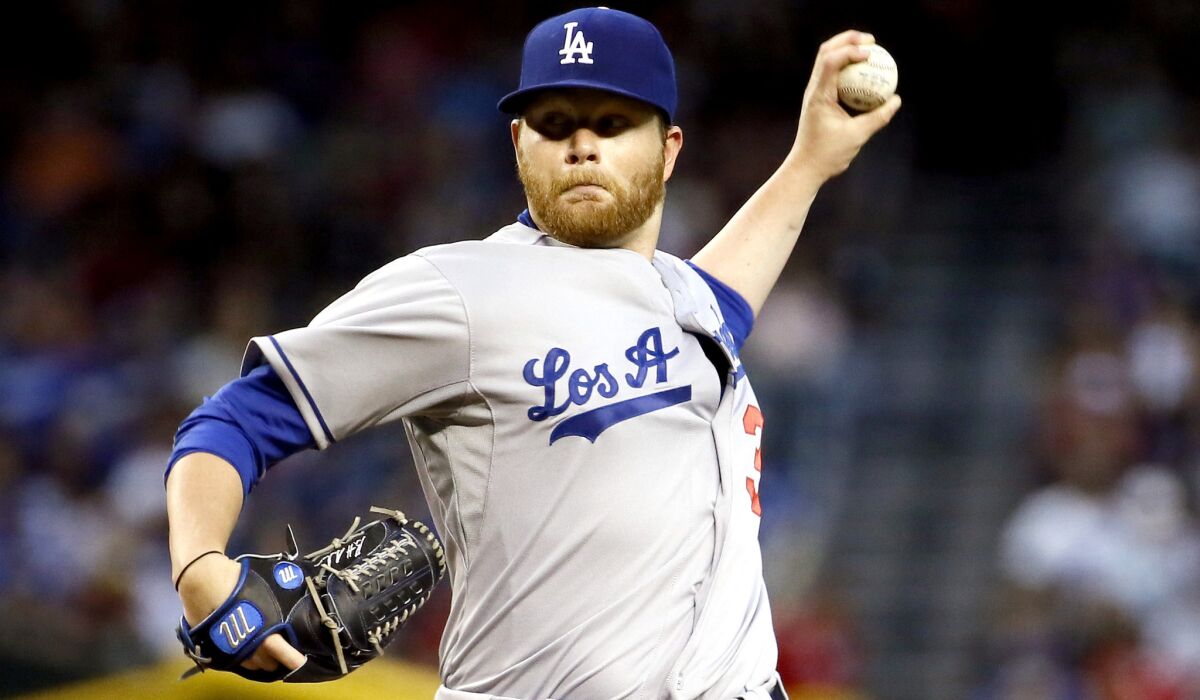 PHOENIX — As Adrian Gonzalez's home-run streak came to an end Friday night, Brett Anderson had reason to believe he was starting a run of his own.
In what Anderson envisioned as the first of 30 or more starts this season, he received a no-decision but pitched six innings in a 10-inning, 4-3 loss to the Arizona Diamondbacks at Chase Field.
"For the first time out, I'll take it," Anderson said. "Hopefully, it will progress from here."
Now, if only he can stay on the field.
Anderson made only 19 starts over the previous three seasons. Last year, he made eight. The year before that, five.
If Anderson was encouraged by how he felt in an injury-free exhibition season, his first regular-season start offered him something on which he could work — namely, keeping the ball down.
A ground-ball machine in spring training, Anderson served up an uncharacteristic number of fly balls in the early innings, including a home run by Paul Goldschmidt in the third that accounted for the three runs that were charged to him. The home run moved the Diamondbacks in front, 3-0.
The stadium's retractable roof was open and Anderson thought that was a factor.
"It's tough to make the ball sink," he said.
The innings leading up to the home run were telling.
In the first, A.J. Pollock drove a ball to the warning track in right field.
An inning later, Aaron Hill and Chris Owings did the same.
That set the stage for Goldschmidt to pounce on a first-pitch fastball and send it over the wall in right-center field.
"It was kind of frustrating having one of the better hitters in the National League beat you in that situation," Anderson said. "That's what great hitters do. They hit mistakes.
"I was trying to throw a sinker and get a ground ball, but it stayed over the middle and didn't sink too much. He was trying to go the other way to drive in a run and he's one of the handful of guys in the big leagues who has enough power to drive it that way with authority and carry it."
Punishing the Dodgers was nothing new for Goldschmidt. In his 57 previous games against them, he batted .321 with 13 home runs and 44 runs batted in.
If there was a benefit to the home run, it was that it calmed down Anderson. He didn't allow a run over the next three innings. Only one Diamondbacks player, Mark Trumbo, reached base in that span.
"Brett was really good," Manager Don Mattingly said.
As for Gonzalez, he was largely silent. The Diamondbacks wanted it like that, as they walked him twice, once intentionally.
Gonzalez, who made major league history by homering five times in the Dodgers' first three games, singled to left field off Diamondbacks starter Chase Anderson in the first inning.
He was walked by Anderson in the fourth and again in the fifth. The second walk was intentional, when he came to the plate with two outs and Jimmy Rollins on second base. The strategy was effective, as Howie Kendrick lined out to right field to end the inning.
Gonzalez grounded out in the eighth inning, which ended a streak of 10 consecutive plate appearances in which he reached base. In his final at-bat, in the 10th inning, he grounded into a double play.
Including the final two games of last season, Gonzalez had homered in his last five regular-season games.
Twitter: @dylanohernandez
Get our Dodgers Dugout newsletter for insights, news and much more.
You may occasionally receive promotional content from the Los Angeles Times.