Starter Brandon McCarthy exits early in Dodgers' 11-8 win over Padres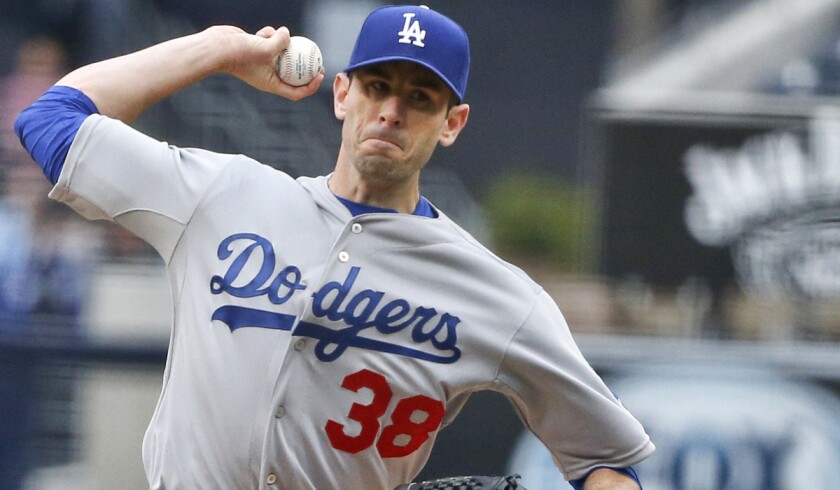 Reporting from SAN DIEGO —
Depending on how their season unfolds, the Dodgers could one day look back on Saturday as a day when their $270-million experiment started to unravel.
With Yasiel Puig already sidelined because of a strained left hamstring, starting pitcher Brandon McCarthy walked off the mound at Petco Park with the team's physical therapist by his side.
McCarthy's right elbow was tight.
Against the backdrop of his extensive medical history, McCarthy's sixth-inning early departure from the 11-8 victory over the San Diego Padres was alarming.
McCarthy and the Dodgers were concerned enough to schedule an MRI examination for Monday.
"It was something I was working through the last week," McCarthy said. "Today, early on, it started to really hurt. So it was kind of see much I can get through, see how far I can get. Looking back, probably around the second, I should have pulled the plug on it. I kept getting quick outs, so it was making it harder. You're hurting, but you're getting the outs, so you want to keep going to save the bullpen."
Asked whether he thought he could make his next start, McCarthy replied, "I have no idea."
McCarthy is in his 10th season in the major leagues. Only once has he pitched 200 innings in a season.
His most significant health problems in the past were related to his shoulder, not his elbow. But he said he experienced something similar in his elbow last season.
"Last year was a little bit different," McCarthy said. "That was more warming up was a hassle and in the game it was OK. This one was a little more in the game it was hurting."
Based on preliminary examinations, McCarthy said he was told by the medical staff that there were reasons to be optimistic about the condition of his ligaments.
Still, the Dodgers find themselves in a position where they could possibly be without two of their top five starting pitchers.
Hyun-Jin Ryu is sidelined indefinitely because of shoulder inflammation, which has already required the Dodgers to insert the likes of David Huff and Mike Bolsinger into their rotation.
For their series finale against the Padres on Sunday, they will turn to another borderline major leaguer, right-hander Scott Baker, who was released by the New York Yankees at the end of spring training.
The Dodgers not only need McCarthy back, they need him back and pitching better.
McCarthy improved to 3-0 on Saturday night, but departed the game with a 5.87 earned-run average. He has given up nine home runs this season, more than any other pitcher in the major leagues. He served up three homers to the Padres, including three by Justin Upton.
In five-plus innings, McCarthy was charged with six runs and six hits.
If McCarthy lands on the disabled list, he could be there alongside Puig.
Asked whether Puig could be headed to the disabled list for the first time in his career, Manager Don Mattingly said, "I still think it's a possibility. We just don't know."
Puig strained his hamstring again in the series opener Friday night. Problems with the same hamstring forced him to miss four games in a five-game stretch last week.
Mattingly said the team's medical staff will decide whether to place Puig on the disabled list.
"If it's the best thing for him, then it's the best thing," Mattingly said. "We don't sit here and fight with medical, like, 'We've got to have him in the lineup tomorrow, we've got to have him.' Obviously, he's really important to us.
"If he's going to be banged up every third day, four days, if he runs hard and tries to extend, then we're going to be better off getting him healthy."
Twitter: @dylanohernandez
---
Get our Dodgers Dugout newsletter for insights, news and much more.
You may occasionally receive promotional content from the Los Angeles Times.