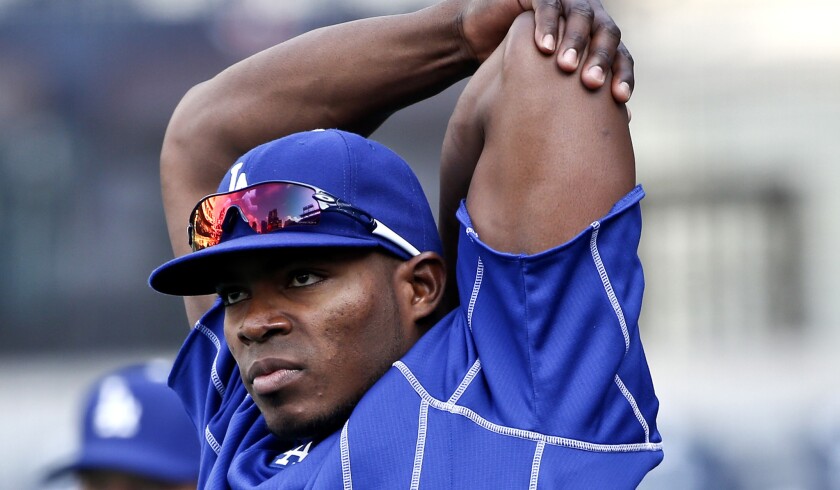 Reporting from Denver —
If all went well, the Dodgers' plan called for injured outfielder Yasiel Puig to play rehab games with Class-A Rancho Cucamonga this weekend and rejoin the big league team Monday. For one game, and part of a second, all was proceeding accordingly.
Then, in the fifth inning Friday, Puig felt something in his injured left hamstring. He pulled up while running out a grounder and exited the game.
Puig will undergo an MRI exam Sunday. Dodgers Manager Don Mattingly ruled out a Monday return for Puig, who has been on the disabled list since April 25.
Mattingly was optimistic that the injury wasn't serious.
"To find out that he has to pull up or is feeling something just tells you that he's not ready," Mattingly said. "It doesn't mean that he's had a total setback or anything. So from our standpoint, I don't think it's a monumental thing that he's blown something up or anything, it just says that he's not ready."
Puig played his first rehab game Thursday as designated hitter with no problems and hit a home run in his first at bat Friday as the right fielder. He was supposed to play six or seven innings.
Mattingly said the rehab game served its purpose.
"That's really what they're designed to do, is find out if someone is 100%," Mattingly said. "And so instead of finding that out here and have to wait another 15 days, I think the rehab games, that's what they're kind of meant to do. You go through everything you can in your warmups and what you do in Dodger Stadium, but you just can't simulate game speed and game actions."
Puigwas batting .279 with two home runs and four runs batted in with the Dodgers, who are 6-5 in games in which Puig has played and 13-5 without him.
"We'll find out by the testing where we're at," Mattingly said. "And at that point, we just do what we have to do."
Rainout
The Dodgers' game against the Colorado Rockies on Saturday was postponed two hours before the first pitch because of rain. . No makeup date wasn't announced but officials mentioned June 1 as a possibility.
The postponement could allow the Dodgers to bypass their fifth starter Tuesday, a spot that has been filled by an assortment of fill-in pitchers. Mattingly said the starter hasn't been decided.
Clayton Kershaw, Saturday's scheduled starter, will pitch Sunday, Mattingly said. Zack Greinke will start Monday.
For the Rockies, Saturday was their third rainout this week and fourth this season.
Up Next
Kershaw (1-2, 3.72 ERA) will face the Rockies and left-hander Jorge De La Rosa (0-2, 9.00) on Sunday at 1 p.m. PDT at Coors Field. TV: SportsNet LA; Radio: 570, 1020.
---