Dodgers catcher Yasmani Grandal hones right-handed hitting skills in off-season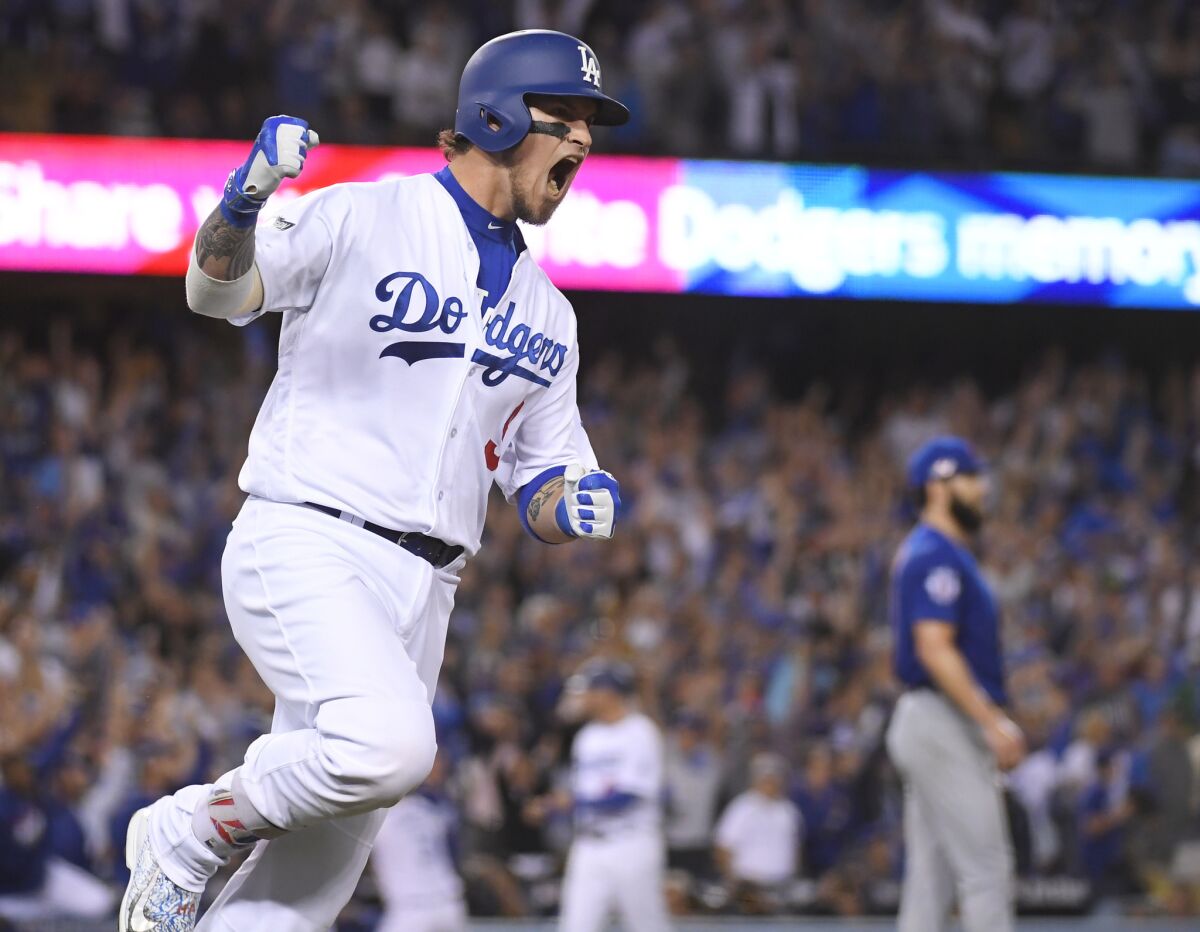 Reporting from Phoenix —
In late October, days after the Dodgers crashed out of the playoffs, Manager Dave Roberts called Yasmani Grandal. The organization had spent the last two seasons transitioning Grandal from a platoon player to a full-time performer. As he pondered the blueprint of a World Series run in 2017, Roberts hoped Grandal could bridge the final step of that progression in the off-season.
A switch-hitter gifted with immense power and a keen eye, Grandal profiles as an exemplary modern backstop. Yet, his discomfort as a right-handed hitter often forced him to the bench against left-handed pitchers, a reality that both player and manager want to avoid this season. When they discussed the off-season, they agreed on what Grandal needed to accomplish before reporting to Camelback Ranch this spring.
"That was obviously a glaring flaw," Roberts said. "For us to be great, for him to be great, I don't want to have to sit him against left-handed pitching."
No catcher in baseball hit more home runs in 2016 than Grandal's 27. He ranked fourth on the Dodgers with an .816 on-base-plus-slugging percentage. He led the team in walks. Yet, the bulk of his production stemmed from only one side of the plate: Grandal hit 23 home runs as left-handed hitter, and had 102 more slugging points.
The Dodgers recognized the deficiency. In August, the team acquired veteran catcher Carlos Ruiz to face left-handed pitchers in Grandal's place. By jettisoning Ruiz a few months later, the club displayed confidence in Grandal's ability to handle an expanded offensive role.
The challenge intrigued Grandal, who does not, his teammates and coaches say, lack confidence in his ability. He shed some bulk on a team-recommended, plant-based diet. Twice a week he met with former Dodgers hitting coach Jeff Pentland to polish his right-handed swing, and this spring he has already displayed "better leverage in his lower half, and a well-balanced plane for his swing," hitting coach Turner Ward said.
"We made everything so simple and easy, to fix everything we thought we needed to fix," Grandal said.
Grandal learned to switch-hit as a teenager in Miami Springs High in Florida. He had dabbled from both sides of the plate as a child, but chose the left-handed approach "because that's where I had the most power," he said. Eventually he grew tired of the talented left-handed pitchers in Miami picking him apart. Gio Gonzalez, the future major leaguer, was particularly vexing.
"He was throwing . . . whatever, I don't want to talk about him," Grandal said. "It was a little unfair at the time. I didn't like it."
In high school and later at the University of Miami, Grandal treated his summers as a workshop for his right-handed swing. But a switch-hitter often develops a split personality, explained Ward, a switch-hitter himself.
"You're two different people, almost," he said.
For Grandal, the difference was easy to discern. From the left, he supplied power. From the right, he practiced patience. The split became sizable in 2016, when Grandal's on-base percentage as a right-handed hitter (.385) nearly surpassed his slugging percentage (.395). Grandal was like many members of the 2016 Dodgers: He struggled to do damage against left-handed pitchers.
"Lefties were our nemesis," Ward said. "That's no secret."
The Dodgers appreciated his ability to take a walk, but his lack of foot speed and dormant strength offered room to grow. Aware of Grandal's zeal for improvement, Roberts wanted to connect him with a hitting instructor living nearby in Arizona. On the recommendation of Andre Ethier, Roberts considered reaching out to Pentland.
Roberts pitched the idea to Ward and to Andrew Friedman, the president of baseball operations. Because Ward lives in Alabama during the off-season, it made sense to put an experienced set of eyes on Grandal's progress. Pentland coordinated with Ward, and talked with Grandal on the phone. The two agreed to meet at a cage near Grandal's home in Peoria. A three-hour conversation established a base for the relationship.
After a lengthy stint at Arizona State, Pentland coached with the Chicago Cubs, the Seattle Mariners and the Kansas City Royals before joining the Dodgers in 2008. He was fired amid the misery of 2011, but maintains a strong reputation around the sport. He commuted from Tempe to work with Grandal.
Pentland believes a hitter should emphasize his strengths rather than try to compensate for his weaknesses. Grandal can provide brute force, and his arms are short enough to create a compact swing, Pentland said. He preached to Grandal about finding balance, reducing the amount of body movement in his swing and focusing on "how to maneuver the hands and arms to square up baseballs," he said.
Grandal insisted that his philosophy was not dependent on where he was standing at the plate, as "my approach is always to attack," he said. But Pentland felt Grandal "had some doubt" about handling pitches on the inner half as a right-handed hitter. He encouraged Grandal to move closer to the plate to reach those pitches.
As the weeks went by, they focused on efficiency. They debated strategies for situational hitting. Pentland gave Grandal DVDs of hitters like Ted Williams, Henry Aaron, Chipper Jones and Nolan Arenado to study what they had in common.
"If you talk to Yaz, he wants to play in all 162 games," Pentland said. "This guy has incredible desire. Very, very high standards for his performance. He's the kind of guy you want on your ballclub."
Grandal will not play 162 games in 2017. His backup, Austin Barnes, is a right-handed hitter. But Roberts does not envision a platoon again this season. He envisions Grandal replicating his left-handed production from the other side of the plate.
"His confidence right-handed," Roberts said, "is through the roof right now."
Twitter: @McCulloughTimes
Get our Dodgers Dugout newsletter for insights, news and much more.
You may occasionally receive promotional content from the Los Angeles Times.