Reporting from CLEVELAND —
Clayton Kershaw doesn't feel old and, well, at 31 years young, he isn't, but he took one look around the National League All-Star team's clubhouse at Progressive Field on Tuesday and acknowledged the context was skewed.
"I don't feel like I've changed, but you can tell the demographic in this room is younger," Kershaw said, hours before making his eighth All-Star game appearance. "I think that's great and I'm happy to be a part of it."
Being a part of it was a given for many years but it wasn't for this one. Not after losing some velocity on his fastball and certainly not after beginning the season on the injured list with a shoulder ailment. Questions surrounded Kershaw as he entered his 12th season after failing to make the All-Star team in 2018 and snapping a seven-year streak. His answer for the last two-plus months — a 3.09 earned-run average across 99 innings — earned him an All-Star selection few people saw coming.
"I was just hoping he can get through this year healthy, especially the way it started," said Dodgers manager Dave Roberts, who managed the NL team. "So to even entertain an All-Star appearance, that wasn't even on our radar. It was just trying to get him to log innings for us."
Kershaw pitched the second inning in the American League's 4-3 win after Hyun-Jin Ryu became the first Korean-born pitcher to start an All-Star game. Ryu worked around a leadoff single up the middle by Houston's George Springer to record a scoreless 12-pitch inning. Kershaw's inning wasn't as clean. The left-hander surrendered a single to the Astros' Alex Bregman. Michael Brantley, another Astro, drove him in with a two-out double to give the AL a 1-0 lead.
Kershaw completed his outing by getting Minnesota's Jorge Polanco to flail at a looping 72-mph curveball.
Walker Buehler, the third of the Dodgers' All-Star pitchers, allowed the AL's second run in the fifth inning.Gary Sanchez of the New York Yankees welcomed the first-time All-Star with a double. Two batters later, Polanco singled to score Sanchez.
At the plate, Cody Bellinger and Max Muncy, the Dodgers' two position players selected to the game, went a combined 0 for 4 with three strikeouts. Bellinger, who started in right field, struck out in both of his at-bats before he was removed after the top of the fourth inning to conclude his second All-Star appearance.
"I tried to soak it in more and enjoy it more," Bellinger said, comparing this to his first All-Star experience as a rookie in 2017. "Everything about it. The media, the autographs, the game, the derby, just watching it. You never know when it's going to be your last one."
Muncy entered the game in the fifth inning to play second base. He grounded out and struck out. Defensively, he robbed Cleveland's Carlos Santana of a hit with a diving stop in shallow right field in the sixth inning.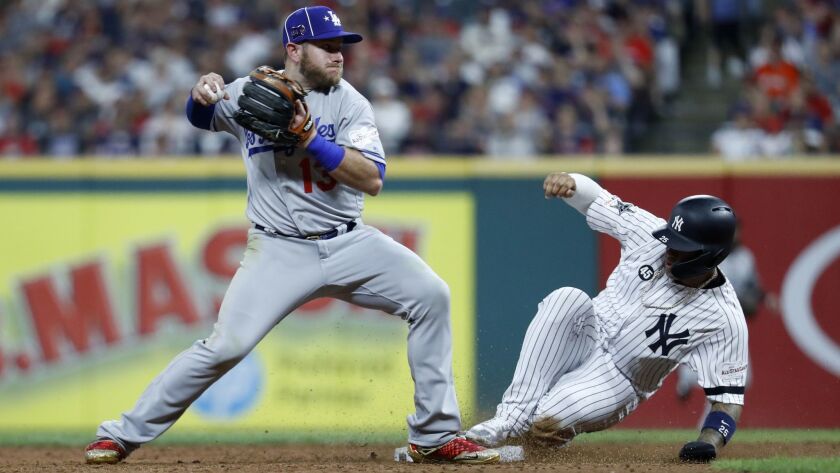 The Dodgers' five representatives were just part of the club's presence in Cleveland this week. On Monday, Joc Pederson engaged in an epic battle against Vladimir Guerrero Jr. in the second round of the Home Run Derby before bowing out.
Dodgers third-base coach Dino Ebel threw to Pederson. Dodgers bullpen catcher Jonathan Langley was behind the plate. On Tuesday, the Dodgers' entire coaching staff was in uniform. The NL's team photo could have been shot at Dodger Stadium.
"Having the coaching staff here is fun," Kershaw said. "I never got to do that before."
Kershaw said he savored the opportunity to enjoy the experience with his 4-year-old daughter Cali and 2-year-old son Charley. He had them on the field with him during the Home Run Derby. Cali rooted for Pederson. Charley reveled in the fun.
"That's why I need to try to keep making these games," Kershaw said. "As the older they get, the more they remember."
Kershaw was holding court Tuesday afternoon in front of his locker in a corner of the visitors clubhouse, flanked by two teammates' lockers, with a palpable sense of appreciation. He took questions on the economics of his sport and on tanking and on allegedly juiced baseballs producing more home runs than ever.
His opinions were sought after because, suddenly, he was an elder statesman whose major-league career extends back to when Bellinger was 12 years old. The NL's starting lineup was the youngest in All-Star game history. All nine players were under 30. Kershaw was among the team's oldest members. It was a sign of the times, of the league's youth movement, and of a veteran's drive to remain among the elite.
"It came quick, but I don't feel old and I don't think guys look at me as old," Kershaw said. "So I'm good with that."
Sign up for our Dodgers newsletter »
Twitter: @jorgecastillo
---