Dodgers' Brett Anderson will have back surgery and be out three to five months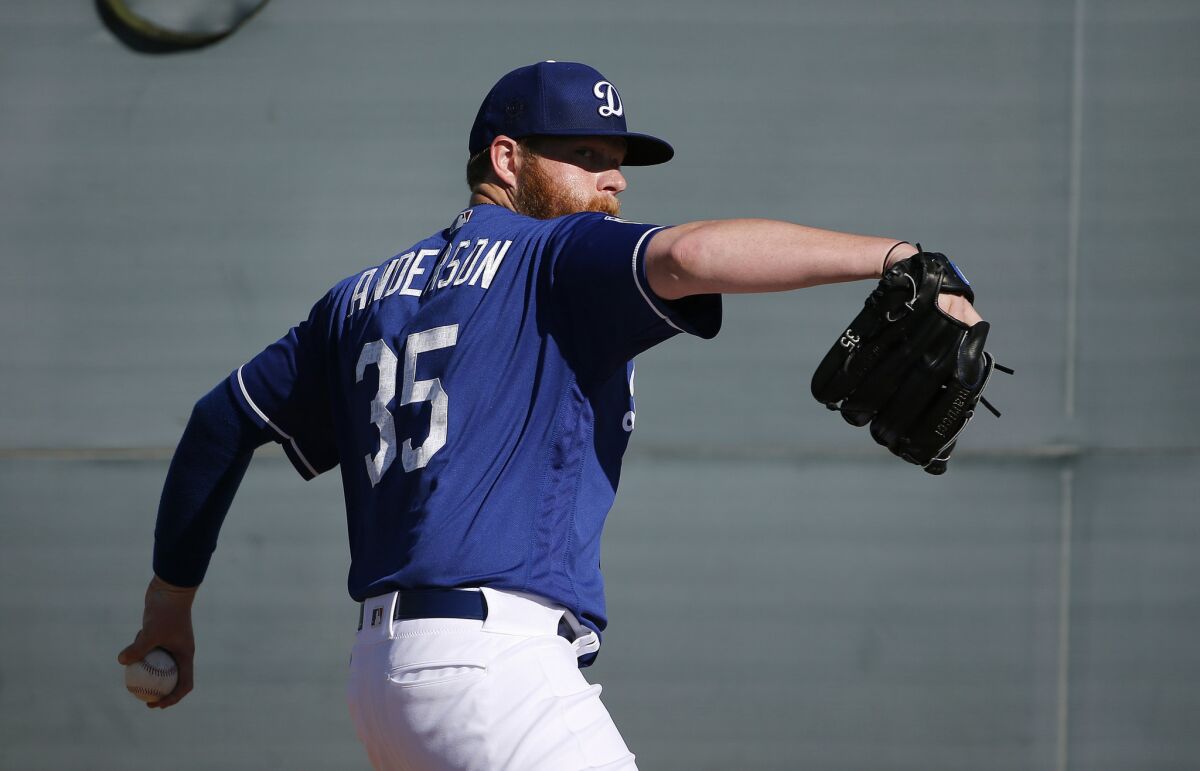 Reporting from PHOENIX —
Brett Anderson slipped into the Dodgers clubhouse Wednesday morning, pulled on a pair of sneakers and reached for his car keys. He felt tightness in his lower back the day before, enough discomfort to cause a visit to a specialist, but not enough to cause alarm. Anderson exhibited optimism to his teammates and bosses before he departed Camelback Ranch.
"He knew that there was going to be some time missed, with the way he felt," catcher A.J. Ellis said. "But I don't know if he was anticipating this diagnosis."
An examination revealed a bulging disk that will require surgery and sideline Anderson from three to five months. Despite Anderson's long history of ailments, Manager Dave Roberts pronounced "shock." General Manager Farhan Zaidi lamented the situation as "a bit of bad luck."
The injury punctures the veneer of strength projected by the team's depth, heightens the scrutiny on a front office that failed to re-sign Zack Greinke, and effectively sets $15.8 million ablaze. The Dodgers gambled on Anderson when they extended him a one-year, qualifying offer for 2016 and Anderson gambled on himself when he accepted it.
"Very disappointed for Brett," Roberts said. "He had high expectations. Didn't expect our depth to be challenged so early, but you can't plan for anything in baseball."
Anderson re-injured a disk that was herniated in 2014, Zaidi said. The team's medical staff told the front office that the probability of a recurrence was 10%. The loss of Anderson underscored the instability of any pitching staff. The Dodgers are no exception.
Dogged by shoulder problems for years, Scott Kazmir appeared in only one game from 2011 to 2012, and faded in the second half of 2015. The physical examination of Kenta Maeda this winter revealed irregularities that dented his value as a free agent. Scouts question the long-term utility of Alex Wood because of his unconventional delivery.
And those are the healthy pitchers.
Already sidelined until at least May after shoulder surgery, Hyun-Jin Ryu has not thrown off a mound in a week because of soreness. His rehabilitation has gone "a little bit slower than anticipated," Zaidi said. Brandon McCarthy set the All-Star break as a goal for his return from elbow reconstruction. Anderson may not rejoin the team until August.
"Three to five months? Wow. That's a huge blow," Kazmir said. "Tell you what, it's a good thing we have all this depth."
Wood entered this camp as a fringe candidate for the rotation. He has since been promoted to the No. 4 starter. The main competitors for the last spot appear to be Mike Bolsinger and Brandon Beachy. The Dodgers do not want to rush top prospects such as Julio Urias or Jose De Leon, even after these setbacks, Zaidi said.
Zaidi downplayed the possibility of a search outside the organization. "We feel good about our internal options, so we're not on the phones or anything like that," he said.
Despite the accumulation of arms, the lone reliable entity in the group is Clayton Kershaw. He met Anderson when they both were teenagers, left-handed prospects with glittering futures. He felt sympathy for his friend.
"I can't imagine going through one back surgery," Kershaw said. "Let alone two. I feel bad for him."
The Dodgers understood the hazard inherent in Anderson. He sustained a torn ulnar collateral ligament in his throwing arm in 2011 and had a stress fracture in his foot two years later. Then came the herniated disk, in 2014, as a member of the Colorado Rockies.
Anderson pitched in only eight games that year. The Dodgers still felt comfortable enough to offer a one-year, $10-million deal. Andrew Friedman, the president of baseball operations, called the contract a "calculated risk." Anderson rewarded them with a career-best 31 starts and a 3.69 earned-run average.
As the winter approached, the Dodgers took another chance. By extending Anderson a qualifying offer, the team guaranteed itself a draft pick if Anderson signed with another club. No player had ever eschewed free agency and accepted one.
Anderson and his representatives studied the free-agent pitching class, which included stars such as Greinke, David Price and Johnny Cueto. There would be less talent available next winter, Anderson deduced. Despite multiple-year offers from other clubs, he elected to accept the Dodgers' offer and bank on a larger payday after this season.
"It's a situation where you bet on yourself," Anderson said last week. "And you're still getting paid really well."
Anderson faced hitters on Tuesday for the first time this spring. He experienced soreness during the end of his second inning. Rick Honeycutt, his pitching coach, did not notice anything amiss until he saw Anderson rush back to the clubhouse. Yasmani Grandal, his catcher, was unaware Anderson injured himself until he saw the news on television two days later.
The most commonly heard word at Camelback Ranch has been "depth." The Dodgers treated the conception as a panacea after Greinke bolted for Arizona. The coming weeks will test whether the stockpile can fulfill its purpose in Anderson's absence.
"It's going to be a huge blow for us trying to fill his void of innings and his consistency of starts from a year ago," Ellis said. "But one thing Andrew, Farhan and his team did this past winter was create a lot of depth. So we have guys who are here in case this situation arose, and here we are."
Twitter: @McCulloughTimes
Get our Dodgers Dugout newsletter for insights, news and much more.
You may occasionally receive promotional content from the Los Angeles Times.