Dodgers plan to take things slow with Andrew Toles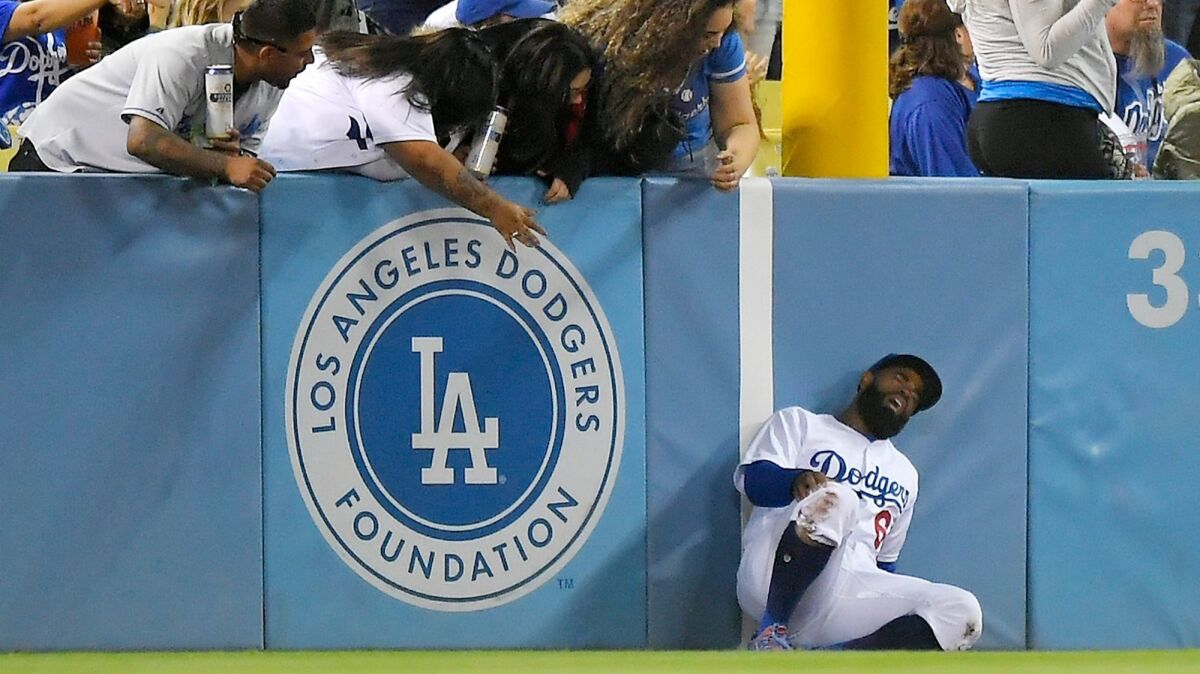 Reporting from phoenix —
The path of Andrew Toles' career — a winding one which already featured a rocky stint as a Rays minor-leaguer, a brief stint as a grocery bagger at Kroger's and a promising stint as a Dodgers outfielder — took a turn toward uncertainty on May 9, 2017.
That night at Dodger Stadium, Toles jammed his right knee into an outfield wall while trying to retrieve a ball in the corner. The awkward landing led to a torn ACL. Toles underwent surgery and missed the rest of the season. He was in the midst of a power surge; in 31 games, Toles had already hit five home runs.
The Dodgers expect Toles to be ready to contribute by Opening Day this season. Yet the team will be cautious in using him this spring, manager Dave Roberts explained on Tuesday, as pitchers and catchers reported to Camelback Ranch in Glendale, Ariz.
"The medical staff wants to really take it a little bit slower and be methodical about it," Roberts said. "Which is smart. Obviously, for me, I want to get him out there once games start and see him, and get him some at-bats. But he's got some catching up to do, as far as at-bats.
"So he might get a lot of at-bats on the [minor-league] side once they start going, just so he can kind of catch up. But I'm excited to get him out there as soon as possible, to get him acclimated again."
The Dodgers can afford to be patient. Toles is part of a crowded competition for at-bats in left field. The group includes Joc Pederson, Matt Kemp, Enrique Hernandez, Alex Verdugo and Trayce Thompson. The presence of Toles is a luxury, not a necessity.
Given the number of players searching for at-bats, it makes sense for the organization to keep Toles on the back fields during the spring. The extra repetitions may be necessary after his extended time away from the field.
Which means Toles will be "a tick" limited this spring, Roberts said. "But not far behind the rest of the group."
Twitter: @McCulloughTimes
---
Get our Dodgers Dugout newsletter for insights, news and much more.
You may occasionally receive promotional content from the Los Angeles Times.