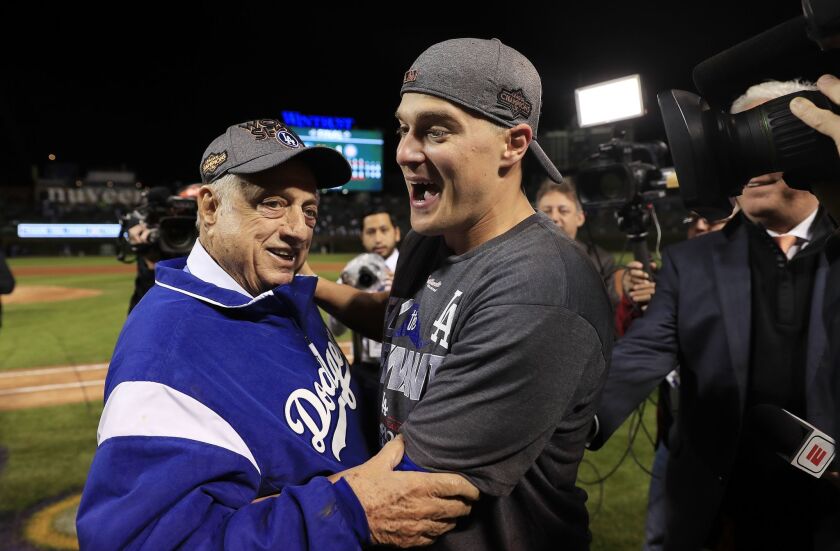 There had been a camera trained on Tommy Lasorda, no surprise to anyone who followed the Dodgers with even the slightest degree of interest.
Kirk Gibson blew off an immediate interview on the field, disappearing down the dugout steps. So NBC cut to the replays, with the two images that endure to this day.
Gibson jerked his right elbow backward, twice, as he rounded second base.
"Watch Lasorda," said Joe Garagiola, the NBC analyst.
And there was Lasorda, the manager, thrusting both arms toward the sky, deliriously taking a couple steps onto the field, throwing up his arms again, hopping and skipping and huffing and puffing, his arms going up and down every couple of steps as if he were a marionette.
When Clayton Kershaw delivers the first pitch of the World Series on Tuesday, it will mark 29 years, eight days, 20 hours and about 30 minutes since the Gibson home run, that legendary exclamation point on Game 1 of the 1988 World Series. Not that Los Angeles has been counting.
Gibson walked off the Oakland Athletics that day, the Dodgers won that World Series five days later, and the Fall Classic had gone on without the Dodgers ever since.
"It's been a long, long time," Lasorda said last week at Chicago's Wrigley Field. "It's like Chicago. They had been over 100 years. I thought our team was going to be like that."
Until last season, the Cubs had not won the World Series since 1908. The Dodgers have not won it this year, but this team won more games in the regular season than any of its predecessors had in the six decades since the team moved from Brooklyn.
In the 1988 World Series, the Dodgers had that one at-bat from Gibson. Oakland had Jose Canseco batting third and Mark McGwire batting fifth. The Dodgers had Mickey Hatcher batting third and Orel Hershiser sprinkling magic dust.
"They scratched all year," Lasorda said. "They believed in themselves. And we won with them."
And the 2017 Dodgers?
Lasorda laughed.
"This team," he said, "is much, much better."
That Lasorda is part of this team feels right. That the Dodgers could find the right place for him with this team, well, that was a delicate dance for the better part of a decade.
Hershiser went on to pitch for the hated San Francisco Giants and coach for the Texas Rangers. Gibson coached for the Detroit Tigers and managed the Arizona Diamondbacks. Mike Scioscia, the catcher on the 1988 Dodgers, left the organization to manage the Angels, winning the 2002 World Series with two of his 1988 teammates — Hatcher and shortstop Alfredo Griffin — on his coaching staff.
Lasorda never left, never even entertained the thought.
"I wanted to die a Dodger," he said. "I love the Dodgers so much."
After the 1988 World Series, the Dodgers never won another postseason game under Lasorda. He was nudged into retirement in 1996, after a heart attack, and into a vaguely defined role in the front office.
In 1997, when he was inducted into the Hall of Fame, Lasorda said he liked Bobby Valentine best among all the major league managers. Bill Russell was managing the Dodgers.
In 1998, when he served as interim general manager, he traded a prospect named Paul Konerko for closer Jeff Shaw, without realizing Shaw could demand a trade at the end of the season.
In the meantime, the Dodgers had been sold, for the first time in generations. To the O'Malley family, Lasorda was family. To Rupert Murdoch and Fox, he was an employee in a corporate asset under absentee ownership, with new management eager to make its own mark.
When Frank McCourt bought the Dodgers in 2004, Lasorda lamented that he had been marginalized under Fox ownership. He was 76 by then. He no longer aspired to a big say in running the team. He just wanted to be respected and appreciated.
McCourt, an outsider from Boston, quickly and smartly embraced Lasorda. So did Stan Kasten, the president of the Guggenheim Baseball group that bought the team from McCourt five years ago.
Lasorda signed a ball for Kasten's son some three decades ago, with this inscription: "You and the Dodgers are great." Kasten said he saw Lasorda sign some memorabilia for someone recently, with the same inscription.
"All of what we know as Tommy's demeanor and actions in life, it's all so sincere," Kasten said. "He thinks this, 24-7. In every fiber of his being, there has never been anyone, anywhere that can equal that part of his personality."
Lasorda's role is most often described as ambassador, and that fits. So does mascot, but not in a disparaging way. He represents the team and makes fans smile.
He preaches the Dodgers gospel far and wide. He signs autographs for countless hours during spring training, lends his likeness to bobblehead dolls, spins stories of his seven decades in baseball, poses for selfies with fans, sits in the owners' box more than the owners.
When Kershaw signed his first contract, at 18, he and his mother got to meet Lasorda.
"That was pretty cool," Kershaw said.
Former Dodgers manager Tom Lasorda speaks with fans while attending a UCLA football game at the Rose Bowl in 2011. Lasorda, the second longest-serving manager in franchise history, has been involved with the Dodgers organization for more than six decades.
(Luis Sinco / Los Angeles Times)
Tom Lasorda's major league career started with the Brooklyn Dodgers in 1954. He pitched two seasons for the Dodgers before going on to play with the Kansas City Athletics. After retiring in 1960, Lasorda became a scout for the Dodgers.
(Jim Kerlin / Associated Press)
Tommy Lasorda strikes a pose before a World Series game in 1955 at Yankee Stadium.
(Kidwiler Collection / Diamond Images/Getty Images)
Manager Walter Alston, left, sits in the Dodgers dugout with Tom Lasorda in 1976. Lasorda took over as manager of the Dodgers after Alston retired at the end of the season following 23 years at the helm.
(Mel Bailey / Associated Press)
Tommy Lasorda tapes a segment for the television show "Hee Haw" in November of 1977.
(Larry Sharkey / Los Angeles Times)
Tommy Lasorda (2) gets a beer and champagne bath from Burt Hooten, left, and Rick Sutcliffe after the Dodgers clinched the NL West title on Sept. 24, 1978.
(Andy Hayt / Los Angeles Times)
Tom Lasorda, second right, speaks with Dodgers players Jay Johnstone, far left, Don Stanhouse, second left, and Dave Goltz during a spring training practice session in Vero Beach, Fla., on March 2, 1980.
(Joe Kennedy / Los Angeles Times)
Dodgers manager Tommy Lasorda (2) join the celebration after defeating the New York Yankees, 8-7, in the fourth game of the 1981 World Series on Oct. 24, 1981.
(Associated Press)
Dodgers manager Tommy Lasorda celebrates winning the five-game playoff series against the Houston Astros on Oct. 11, 1981.
(Jayne Kamin / Los Angeles Times)
Tommy Lasorda tries nine hula hoops as Steve Garvey (6) gets a good laugh during spring training in 1982.
(Jayne Kamin / Los Angeles Times)
Dodgers manager Tommy Lasorda check the grip of pitcher Fernando Valenzuela during a spring training workout in 1983.
(Joe Kennedy/Los Angeles Times)
Dodgers manager Tommy Lasorda reacts after the Philadelphia Phillies won 7-2 in the National League Championship Series to clinch a spot in the World Series on Oct. 9, 1983.
(Jayne Kamin / Los Angeles Times)
Tommy Lasorda holds on to the ball on his way to fielding 100 in a row hit to him by coach Wes Parker during spring training in 1984.
(Jayne Kamin / Los Angeles Times)
Joining Tommy Lasorda for some Chinese and Italian food are, from left, second baseman Steve Sax and pitchers Jerry Reuss and Orel Hershiser on Oct. 3, 1985.
(Larry Bessel / Los Angeles Times)
Tom Lasorda, left, speaks with outfielders Pedro Guerrero, center, and Kirk Gibson before an exhibition game against the Minnesota Twins in Vero Beach, Fla., on March 4, 1988.
(Kirk McKoy / Los Angeles Times )
Manager Tommy Lasorda and vice president Fred Claire hoist the World Series trophy following the Dodgers' decisive 5-2 win over the Oakland A's on Oct. 20, 1988.
(Bill Beattie / Associated Press)
Dodger manager Tommy Lasorda celebrates with fans as the team returns to Los Angeles after winning the 1988 World Series.
(Alan Greth / Associated Press)
Dodgers Manager Tom Lasorda argues with first base umpire Eric Gregg during a game against the Montreal Expos in 1995.
(Ken Hively / Los Angeles Times)
Tom Lasorda and his wife Jo leave Dodger stadium with interim manager Bill Russell following Lasorda's retirement announcement on July 29, 1996.
(Carolyn Cole / Los Angeles Times)
Tom Lasorda speaks during a ceremony held in his honor at Dodger Stadium on Sept. 7, 1996. Lasorda suffered a heart attack in June 1996 and retired as the Dodgers manager on July 29, 1996.
(Susan Sterner / Associated Press)
Tom Lasorda throws out the ceremonial first pitch during the Dodgers' 1997 season opener at Dodger Stadium.
(Gary Friedman / Los Angeles Times)
Tom Lasorda acknowledges the crowd at Dodger Stadium as his number is retired by the team during a pregame ceremony in August 1997.
(Vince Compagnone / Los Angeles Times)
Tommy Lasorda addresses the crowd during his induction ceremony in the National Baseball Hall of Fame on Aug. 3, 1997.
(Gina Ferazzi / Los Angeles Times)
Tommy Lasorda shares a moment with catcher Mike Piazza before the Dodgers retired the former manager's jersey on Aug. 15, 1997.
(Mark J. Terrill / Associated Press)
Tom Lasorda shows his patriotic side after being named manager of the 2000 U.S. Olympic baseball team.
(Lori Shepler / Los Angeles Times)
Tom Lasorda tumbles to the field after being hit by a broken bat while working as a third base coach at the 2001 Major League Baseball All-Star Game in Seattle. Lasorda avoided being injured during the incident.
(Bob Galbraith / Associated Press)
Dodgers owner Frank McCourt, left, sits next to Tom Lasorda during a road game against the San Diego Padres in April 2005.
(Alex Gallardo / Los Angeles Times)
Dodgers players honor Tom Lasorda after the team's final spring training game in Vero Beach, Fla., on March 17, 2008.
(Sam Wolfe / Associated Press)
Dodgers executive Tommy Lasorda gets around spring training grounds at Camelback Ranch in his golf cart in 2011.
(Wally Skalij / Los Angeles Times)
Tom Lasorda greets Placido Domingo, general director of the L.A. Opera, during a game in October 2012.
(Robert Gauthier / Los Angeles Times)
Billy Crystal meets with Tommy Lasorda before an old-timers game at Dodger Stadium on June 8, 2013.
(Wally Skalij / Los Angeles Times)
Tom Lasorda playfully argues with umpire and television and radio host Larry King during an old-timers game at Dodger Stadium in June 2013.
(Wally Skalij / Los Angeles Times)
Tom Lasorda stands on the pitcher's mound with school shooting victims Kendal Sanders, left, and Nathaniel Tavarez before the throwing of the ceremonial first pitch at an Albuquerque Isotopes game in April 2014.
(Roberto E. Rosales / Associated Press)
Tom Lasorda sits next to New York Yankees great Yogi Berra during a June 2014 ceremony put on by the U.S. Navy to honor the 70th anniversary of Berra's service during the D-Day Invasion.
(Rich Schultz / Associated Press)
Tom Lasorda takes the lead while shouting "Play Ball!" along with former Dodgers players before a game against the San Francisco Giants in May 2014.
(Alex Gallardo / Associated Press)
Dodgers legend Tommy Lasorda throws out the first pitch before Game 2 of the National League Division Series on Oct. 10, 2015.
(Wally Skalij / Los Angeles Times)
Tommy Lasorda waves to fans during the seventh inning stretch at Game 3 of the National League Championship Series on Oct. 18, 2016.
(Robert Gauthier / Los Angeles Times)
Tommy Lasorda passes his bobblehead statue at Camelback Ranch during spring training on Feb. 21, 2017.
(Gary Coronado / Los Angeles Times)
When Kenley Jansen participated in his first spring training, as a 17-year-old catcher, Lasorda needled him about needing to hit better if he wanted to avoid returning home and cutting sugar cane in Curacao. (Not true, but pitching came later.)
When Dave Roberts participated in his first spring training with the Dodgers, as a 29-year-old outfielder, Lasorda took over his session with the hitting coach, advising Roberts to hit down on the ball and sticking around for another two hours to make sure he did.
"Called me 'The Okinawa Kid,' " said Roberts, who was born in Okinawa, Japan. "Until I became manager, I don't think he knew my name."
When Alex Anthopoulos joined the Dodgers front office last year, he joined Lasorda for dinner one night. Or, at least, he waited at the table while Lasorda was repeatedly stopped for autographs and pictures.
"It was like sitting with the Godfather," Anthopoulos said. "Everybody knows who he is."
That has been true since Lasorda managed, when he was the face of the team. His office was a social club. Lasorda might have interrupted an interview to say hello to Frank Sinatra, or to invite his players to come on in for the latest catered pasta.
Lasorda's style of managing never would fly today. The Dodgers clubhouse is much larger and the manager's office much smaller. The players are the stars, in Los Angeles and elsewhere. The front-office executives are celebrities, a trend accelerated by the rise of fantasy sports and the accessibility of analytics. The manager is a middle manager, a corporate spokesman.
Front-office types walking into the clubhouse to present data and offer advice to players? Back in the day, that was heresy.
"I never had that happen in my 20 years," Lasorda said. "But they're part of the team. They're part of the winning. They're part of the losing. These guys take an interest that's a little unusual. They go down every day and talk to the guys. It's OK. It's all right.
"Just so they win. That's the main thing."
They win. Just in time, perhaps.
Lasorda turned 90 last month. He is a blue lion in winter.
He had a pacemaker installed in May. He sometimes uses a motorized wheelchair to navigate Dodger Stadium.
The lines he has delivered for decades — wanting to see one more World Series championship before the Big Dodger in the Sky calls him home, hoping the team schedule can be affixed to his tombstone so cemetery visitors can see whether the Dodgers are playing at home that night — no longer ring so funny.
The World Series opens Tuesday, at the ballpark Lasorda calls "Blue Heaven on Earth." If the Dodgers win, Lasorda could ride in one more parade.
"I hope so. I think so. I believe so," Lasorda said. "I believe we are going to do it."
He paused, just long enough to command attention and anticipation from his listener.
He might not talk as loudly as he used to. He might not walk as fast.
The twinkle in his eye is every bit as defiant as ever.
"We'd better do it," Lasorda said.
The Los Angeles Dodgers in the 2017 World Series
On Now
Video: Kenley Jansen, Cody Bellinger, Rich Hill talk about losing Game 7
1:59
On Now
Video: Analysis: Dodgers lose Game 7 and the World Series
11:43
On Now
Video: Yu Darvish talks about using his slider for Game 7
1:34
On Now
Video: Kenley Jansen and others talk about winning Game 6
1:58
On Now
Video: Analyzing the Dodgers Game 6 win
7:26
On Now
Video: Clayton Kershaw on starting Game 5 of the World Series
1:57
On Now
Video: Dave Roberts Talks Rich Hill and Kenley Jansen pitching in Game 6
1:57
On Now
Video: Dave Roberts talks preparing for Game 7
1:26
On Now
Video: Here it is, Game 7, and Bill Plaschke knows who wins
2:22
On Now
Video: Rich Hill talks about Game 6 of the World Series
1:48
Follow Bill Shaikin on Twitter @BillShaikin
ALSO:
Dodgers vs. Astros: How the teams match up for the World Series
Dodgers leave outfielder Curtis Granderson off World Series roster
Roberts vs. Hinch: Friends square off as managers in the World Series
---