Mat Latos bumped to bullpen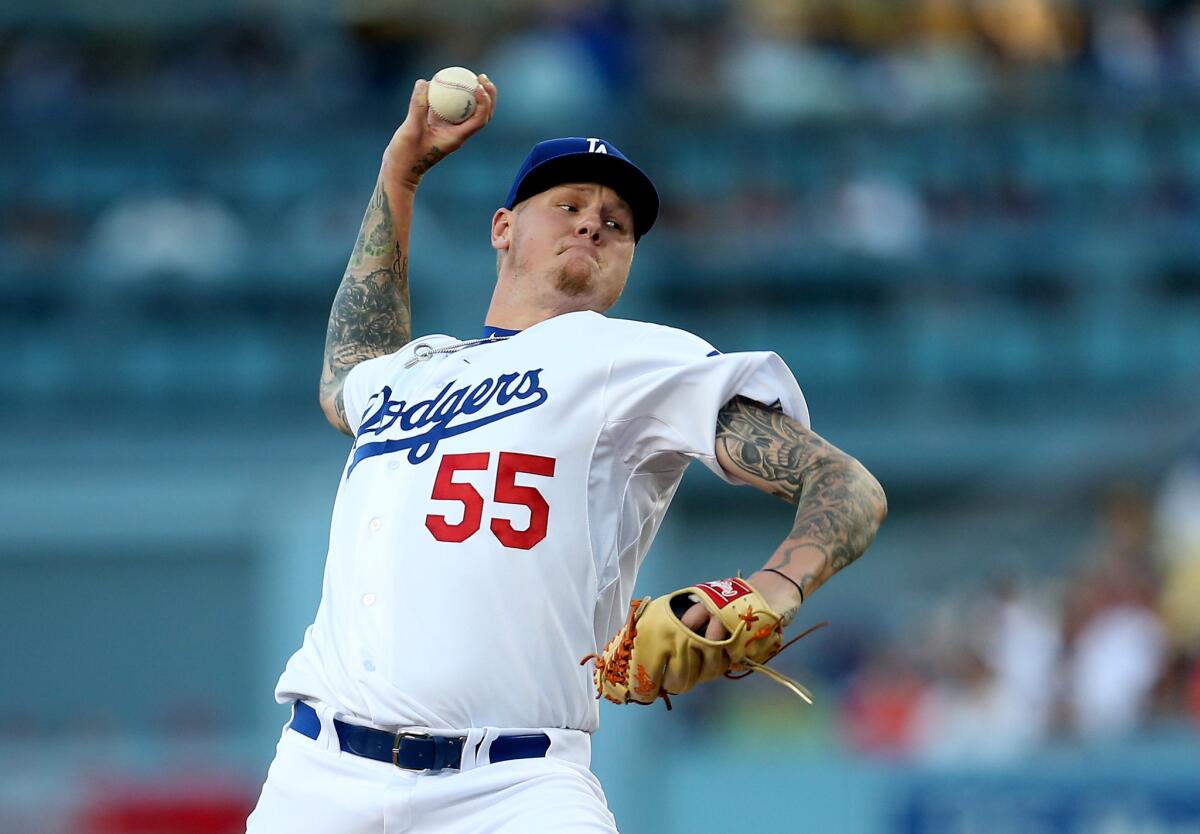 Reporting from OAKLAND —
One of the two starting pitchers acquired by the Dodgers at the nonwaiver trade deadline is already out of their rotation.
The Dodgers will temporarily use a four-man rotation and skip Mat Latos' next two turns, allowing them to start Zack Greinke and Clayton Kershaw in a three-game series against the San Francisco Giants that starts Aug. 31.
Greinke would start against the Giants on Sept. 1 and Kershaw on Sept. 2.
Rather than make his previously scheduled start Wednesday, Latos will move into the bullpen. Alex Wood will pitch in his place.
Acquired from the Miami Marlins as part of a three-team trade, Latos is 0-2 with a 6.75 earned-run average in his three starts with the Dodgers. His last two starts were particularly disconcerting, as he was charged with a combined 11 runs in 82/3 innings.
Even with Latos out of the rotation, the remaining four starters will be able to pitch on regular four days' rest because the Dodgers have days off on Thursday and Monday.
Manager Don Mattingly said the decision was made with Greinke and Kershaw in mind. "Making sure they are getting as many turns around as they can," Mattingly said.
Latos is expected to make his next start on Aug.29 against the Chicago Cubs.
No issues
General Manager Farhan Zaidi did what he could to temper the unfounded but nonetheless mounting speculation on social media that new third base coach Ron Roenicke was hired to eventually replace Mattingly.
"I can say this with all sincerity ... this move is about this year and it's about him in this role, helping us go as far as we can in 2015," Zaidi said.
Mattingly said he isn't bothered by the presence of another former major league manager on his staff. Roenicke, who was in uniform Tuesday for the series opener against the Oakland Athletics, was fired as manager of the Milwaukee Brewers on May 3.
"I'm not concerned about that," Mattingly said. "All I care about is winning. This is a pretty good job to have. I'm sure a lot of guys would like it. That's always the case. Those things are so far down the road, you just worry about winning games. We're in a pennant race."
Roenicke said he wouldn't have taken the job if Mattingly didn't say he wanted him to be part of the staff.
Roenicke said his first contact with the Dodgers came Saturday, when Mattingly called him to inquire whether he would be interested in the job. "I asked Donnie about whether he wanted me there, he said, 'Absolutely,'" Roenicke said. "It made a difference for me."
Once the Dodgers decided to replace Lorenzo Bundy as the third base coach — Zaidi and Mattingly wouldn't say who made the call — Mattingly said he was presented with a list of potential candidates by Andrew Friedman, the team's first-year president of baseball operations.
"His name, to me, was at the top of the list," Mattingly said of Roenicke.
Bundy remained on staff, and in uniform, as the outfield coordinator. Assistant hitting coach John Valentin will no longer be on the bench for games.
Zaidi and Mattingly wouldn't say why the Dodgers made the changes with 44 games remaining in the regular season.
The Dodgers rank near the bottom of the league in baserunning, according to some advanced metrics. Zaidi called that part of their game "a major issue."
"Some of that has to do with us not having a lot of team speed," Zaidi said.
Roenicke was the third base coach for the Angels when they won the World Series in 2002.
Roenicke said he was approached by other teams over the summer, but that the Dodgers were the only team to offer him an on-field job in the major leagues. "I miss being on the field," he said. "It's been a long summer for me."
dylan.hernandez@latimes.com
Twitter: @dylanohernandez
Get our Dodgers Dugout newsletter for insights, news and much more.
You may occasionally receive promotional content from the Los Angeles Times.