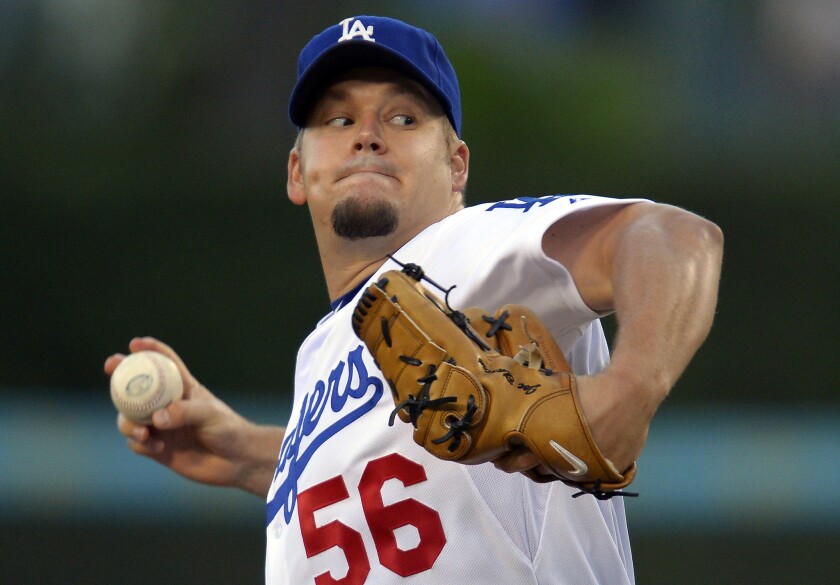 Joe Blanton is returning to the Dodgers.
Yes, the same Joe Blanton who posted a 4.99 earned-run average for them in 2012.
And, yes, the same Joe Blanton who was even worse with the Angels the following season, when he was 2-14 with a 6.04 ERA.
The once-ineffective starter is now a reliever, one who pitched well enough in the final months of last season to convince the Dodgers to sign him Tuesday to a one-year, $4-million contract.
Blanton, 35, pitched 76 innings last season for the Kansas City Royals and Pittsburgh Pirates, posting an ERA of 2.84.
The right-hander was particularly sharp with the Pirates, who picked him up in a trade-deadline deal after the Royals designated him for assignment. In 21 relief appearances for the Pirates, he was 5-0 with a 1.57 ERA.
Blanton limited right-handed hitters to a .203 average last season, and the Dodgers are hopeful he can provide balance to a pitching staff that could have an entirely left-handed starting rotation.
Blanton is the only significant addition the Dodgers have made to a bullpen that had a 3.91 ERA, fifth-worst in the National League. He is expected to be the long reliever in a bullpen that will also include closer Kenley Jansen, J.P. Howell, Luis Avilan, Pedro Baez, Yimi Garcia and Chris Hatcher.
Blanton's resurgence last season followed a one-year absence from the game.
Released by Angels in the spring of 2014, Blanton signed a minor-league contract with the Oakland Athletics and pitched twice for their triple-A affiliate before retiring.
His career was spiraling at that point.
The Dodgers acquired him in 2012 from the Philadelphia Phillies with designs of him bolstering their rotation. He didn't. He was 2-4 in 10 starts, and the Dodgers failed to reach the postseason.
Nonetheless, Blanton landed a two-year, $15-million contract that winter with the Angels.
The next season, he gave up 29 home runs in 132 2/3 innings, an average of one every 4.6 innings. By late July, he was in the Angels bullpen.
When Blanton was released the next spring with $8.5 million remaining on his contract, then-Angels general manager Jerry DiPoto called his decision to sign the right-hander "regrettable" and "a mistake on my part."
Over his 11-year major league career, Blanton has a record of 92-91 with a 4.44 ERA. He won a World Series in 2008 with the Phillies, earning a victory and hitting a home run in Game 4 of the series against the Tampa Bay Rays.
Follow Dylan Hernandez on Twitter @dylanohernandez
---