Former amateur teammates Mike Bolsinger, Clayton Kershaw are reunited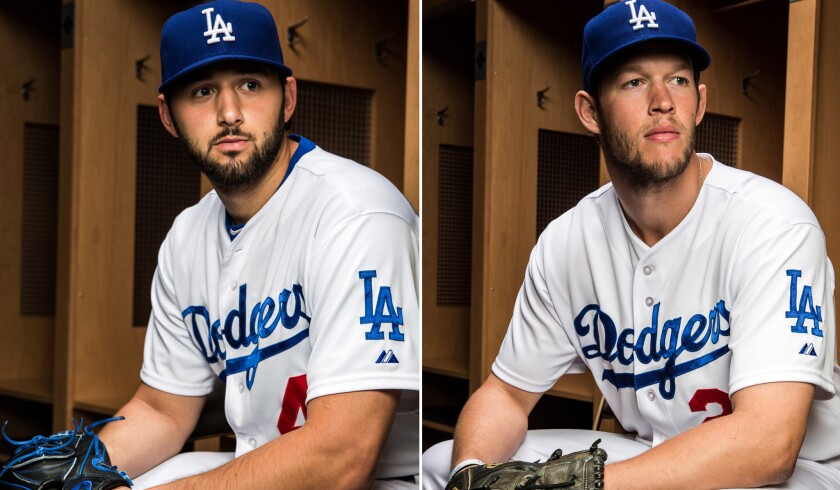 Reporting from Phoenix —
When right-hander Mike Bolsinger was in high school, he was part of a Dallas-based travel team that included Clayton Kershaw.
Kershaw, a late bloomer, was the No. 3 starter. The team's two best pitchers were future major leaguers Shawn Tolleson and Jordan Walden.
"I didn't pitch a lot," Bolsinger said with a laugh.
Bolsinger is now Kershaw's teammate again, acquired by the Dodgers in November after being designated for assignment by the Arizona Diamondbacks. Bolsinger is expected to provide depth for a rotation that includes Brandon McCarthy and Brett Anderson, who have extensive medical histories.
Looking toward Bolsinger's locker Saturday, Kershaw didn't think about the last time they were teammates, but about their meeting in the high school playoff series in their home state of Texas.
"That was my last game of high school," Kershaw said.
Kershaw started, and won, the first game of the three-game series for Highland Park High. Bolsinger started for McKinney North High in the second game and led his school to a victory. Bolsinger pitched in relief in the deciding game.
Kershaw was drafted by the Dodgers that spring and started his professional career soon after. Bolsinger went to Grayson County College in Texas, then the University of Arkansas.
Bolsinger reached the major leagues last season, when he appeared in 10 games with the Diamondbacks, including nine starts. A finesse pitcher, he was 1-6 with a 5.50 earned-run average.
He said he was appreciative of the analytics-based approach of the Dodgers front office that was introduced by Andrew Friedman, the team's president of baseball operations.
"They look into everything," Bolsinger said. "They don't just look into how fast you throw. They look into numbers. I think that's pretty cool because I'm not the type of guy who's going to blow a fastball past you."
Kershaw's preparations
Kershaw knows he won't forget about the home run he served up in live batting practice Saturday. Juan Uribe almost certainly won't let him.
"I'm going to have to hear about Uribe hitting a home run off me all season," Kershaw joked. "I'm glad I gave him some confidence for the year."
The two-inning session marked Kershaw's first time facing hitters this spring. Kershaw will soon be pitching to players on other teams, as Manager Don Mattingly said he would start Thursday against the Chicago White Sox in the Dodgers' second game of the exhibition season.
The game will offer Kershaw the opportunity to pitch under baseball's new pace-of-game rules. From the time the third out of an inning is recorded, pitchers will have two minutes and 25 seconds to deliver the first pitch of the following half-inning. In nationally television games, they will have 2:45.
"I probably won't even notice it, to be honest," Kershaw said. "I'm pretty quick off and on."
Short hops
Non-roster left-hander Erik Bedard will start Wednesday against the White Sox in the Dodgers' exhibition opener. … Hyun-Jin Ryu is tentatively scheduled to throw a bullpen session Monday. Ryu missed two days of workouts last week because of tightness in his back. … Right-hander Joel Peralta is also scheduled to throw off a mound Monday. Peralta is recovering from a sore shoulder.
Twitter: @dylanohernandez
---
Get our Dodgers Dugout newsletter for insights, news and much more.
You may occasionally receive promotional content from the Los Angeles Times.