Dodgers and Julio Urias' agent agree on kid gloves approach; so what's his angle?
As speculation continues to mount about when the Dodgers will promote Julio Urias to the major leagues, an unlikely figure is calling for patience: Urias' agent.
Scott Boras has no complaints about the measured approach the Dodgers are taking with his 19-year-old client. He applauds what they're doing.
Boras said the Dodgers shared with him their general plans for Urias, which include only a modest increase in the number of innings he is expected to pitch this season.
"We're aligned," Boras said.
It's unlikely there will be a repeat of the public dispute last year between Boras and the New York Mets over pitcher Matt Harvey's workload.
See the most-read stories in Sports this hour >>
"We understand we have a great young talent," Boras said.
Alarm bells are probably sounding in your head right now. It's no secret Boras is responsible to his client and not the Dodgers. He's the same agent who sold them on the likes of Darren Dreifort, Kevin Brown and Andruw Jones. He advised the first-round draft pick the team failed to sign last year. If he's praising the Dodgers, there has to be some kind of angle, right?
Well, yeah.
Boras said his company's research indicates that pitchers who throw more than 650 major league innings before their 24th birthdays are unlikely to be productive after they are 30.
It sounds as if Boras is attempting to guide Urias to free agency with as few miles as possible on his odometer. Two winters ago, Boras pointed to Max Scherzer's relatively low career innings count when convincing the Washington Nationals to pay $210 million for the right-hander.
Urias could be a free agent as early as age 26, which means there's a significant chance he'll be wearing another uniform when he celebrates his 30th birthday.
However, this could be an instance in which what's best for the player and the agent is also what's best for the team, even if their reasoning isn't the same.
The Dodgers' priority should be to prepare Urias to be part of their rotation next year. The best way to do that would be to have him continue to start games in triple A, not pitch in relief in the major leagues.
Addition angle
Boras is always selling something, a quality that makes him endearing or maddening, depending on your perspective.
Asked if how comfortable he felt with the prospect of Urias being part of the Dodgers rotation next season, Boras said the situation illustrated why baseball's next collective-bargaining agreement should call for active rosters to be increased from 25 players to 26.
"We have to start caring for younger pitchers," he said. "We have to make sure we protect them. It's definitely apparent we need 26-man rosters to do that.
"You ideally want to bring a guy to the big leagues and have him throw 120, 130 or 140 innings, but then you have to make up 50 or 60 innings. Having that extra pitcher throughout that whole year would allow them to do that."
The lion in winter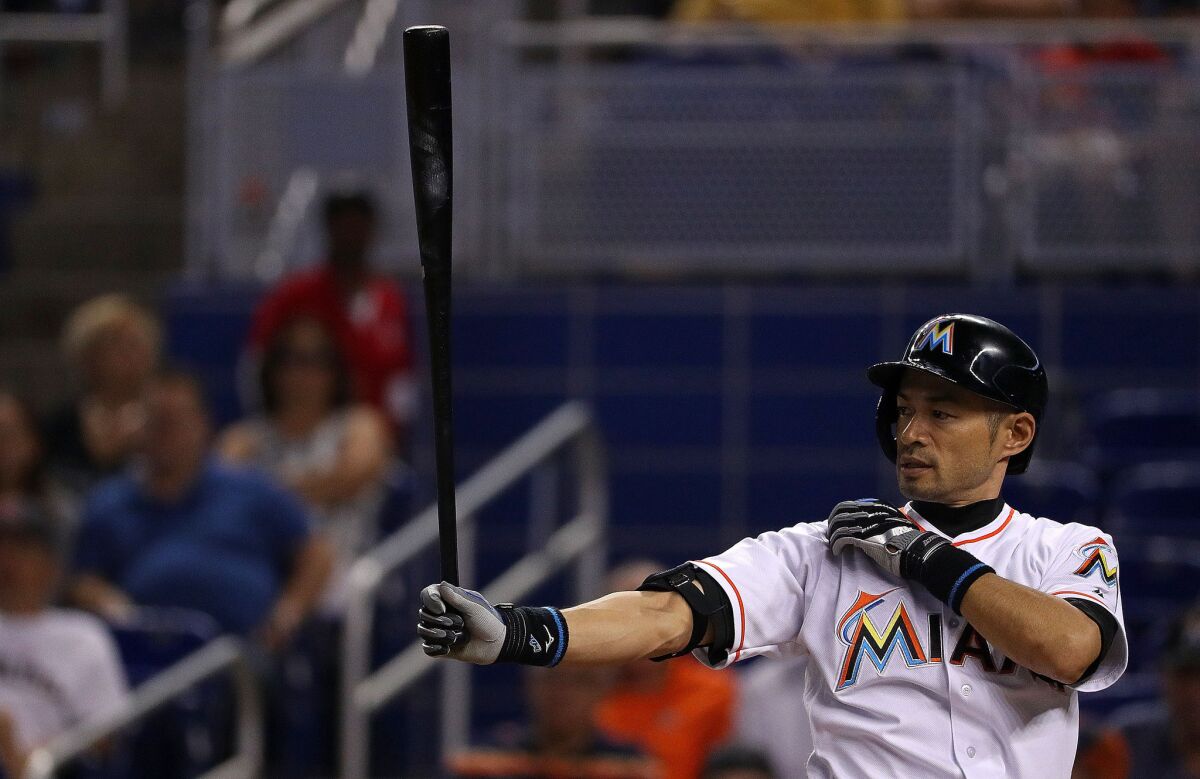 Forty-two-year-old Ichiro Suzuki had three hits Monday, raising his total over his last three games to 10. The last 42-year-old player to collect as many hits in a three-game stretch was Cap Anson in 1894.
Suzuki entered Tuesday with 2,960 hits in the major leagues. He also had 1,278 hits in Japan's professional league.
During spring training, Suzuki spoke to a Japanese television station about his longevity and shared his distaste of weightlifting.
"You can't alter the balance you were born with," Suzuki said. "Tigers and lions don't lift weights."
Do you believe in Magic?
If Magic Johnson were a former baseball player, he'd be advocating bean ball wars. If he were a former boxer, he'd be calling for the return of bare-knuckle fights.
Johnson evidently had no problem with Draymond Green's kick to Steven Adams' kiwis in Game 3 of the Western Conference final, implying that such violent acts are part of the game.
"I didn't comment on the Draymond Green play because I'm old school and there was nothing to say," Johnson posted on his Twitter account.
She has him, we don't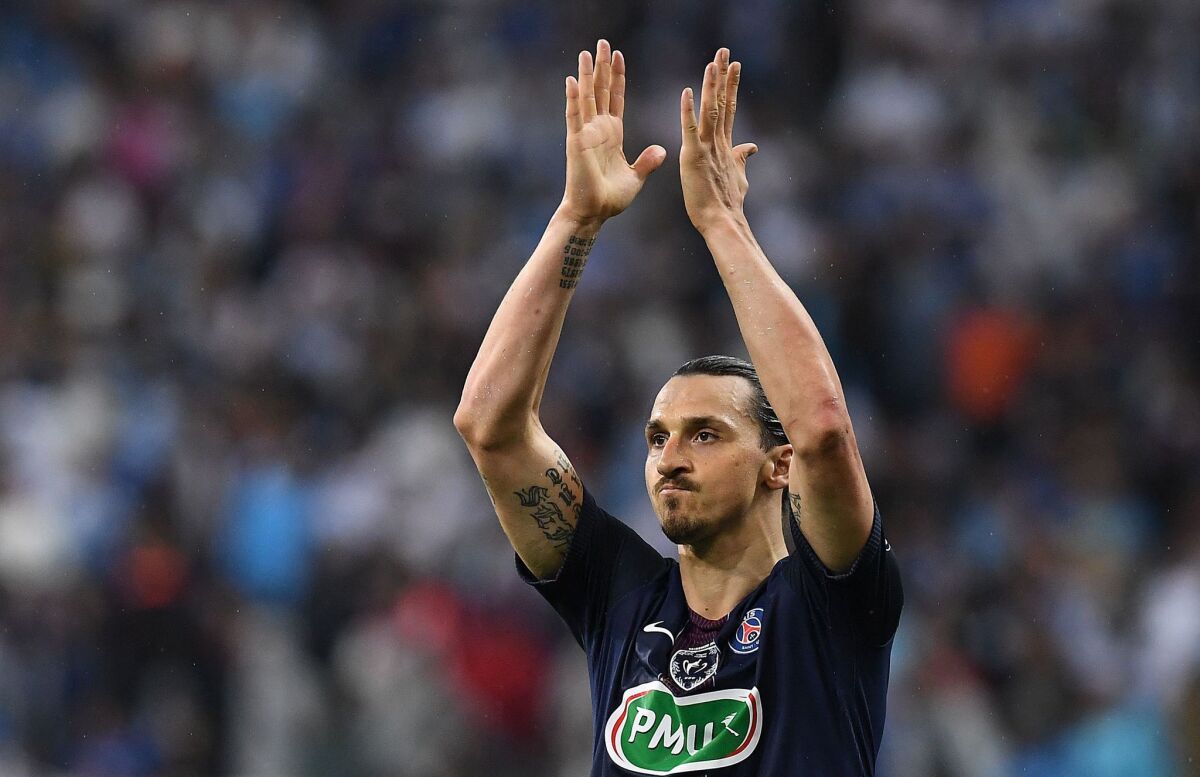 If reports in Europe are to be believed, Swedish striker Zlatan Ibrahimovic will be joining Manchester United of the English Premier League instead of the Galaxy.
The news doesn't come as a surprise, but is disappointing nonetheless.
While Major League Soccer has started to attract some big-name players, the league remains short on personality, something which Ibrahimovic has plenty of.
Asked once what he bought his wife for her birthday, he replied, "Nothing. She already has Zlatan."
MORE SPORTS NEWS
Nyquist out of the Belmont Stakes, headed back to California
Kenley Jansen's burden grows, and the Dodgers closer accepts it
UCLA just signed a $280-million shoe and apparel deal, the biggest in NCAA history
---
Get our Dodgers Dugout newsletter for insights, news and much more.
You may occasionally receive promotional content from the Los Angeles Times.