Dodgers' bullpen issues include an inability to handle left-handed hitters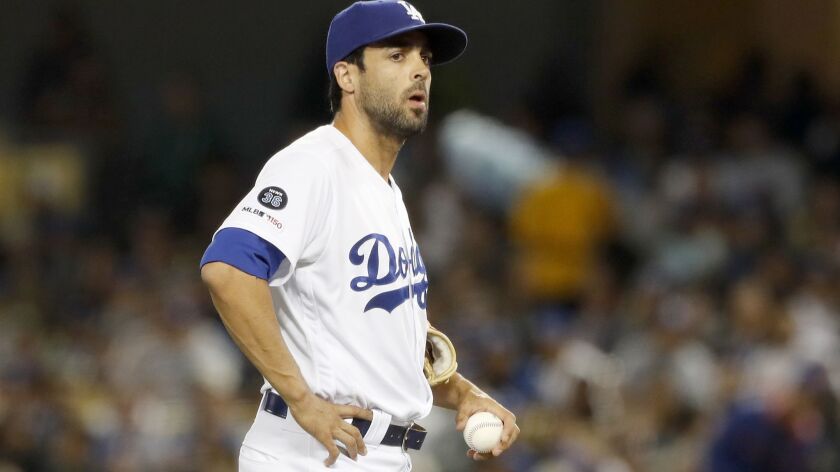 Dodgers manager Dave Roberts knows his bullpen's performance this season — the unit's 4.76 earned-run average ranked 22nd in the majors entering Wednesday — must improve for a club with World Series aspirations. But, he contended Wednesday, it is early in the season's long slog.
"I do believe it will pass," Roberts said. "I believe in the guys that we have in the 'pen. This is certainly a performance-based game. But, again, it's a long season."
He used the same logic when evaluating left-hander Scott Alexander a day after the Dodgers' de facto left-handed specialist gave up a tiebreaking grand slam to the left-handed-hitting Michael Conforto in Tuesday's loss to the New York Mets.
Alexander was thrown into the fire with the bases loaded and one out in the seventh inning. He got ahead with a called strike before he left his sinker elevated enough for Conforto to drive it over the left-field wall. It was the latest example of the problems Alexander usually encounters when he doesn't keep the sinker — his best pitch — low in the zone.
"I've still been able to get outs at the top of the zone with it," Alexander said. "But consistently, when you're trying to get outs, it's not the best way to do it. I think there's something there mechanically. It might be just slowing it down a bit more."
Alexander, 29, was effective against left-handed hitters last season, holding them to a .172 batting average, a .460 on-base-plus-slugging percentage and zero home runs in 109 plate appearances. He's struggled against them this season. After Tuesday's outing, in which he was pulled after Conforto's blast, left-handed hitters are batting .355 with two home runs and a .956 OPS against him. Meanwhile, he's held right-handed hitters to a .138 batting average and .449 OPS in 33 at-bats.
"I don't want to be giving up everybody's runs," said Alexander, who has allowed 10 of his 18 inherited runners to score. "I want to come in and get outs. No one feels worse about it than I do. At the same time, there's no way out of it besides keep working, keep going after it. It will get better."
Roberts's choices are limited. The team is down to two left-handed relievers — Alexander and Julio Urias — after optioning Caleb Ferguson to triple-A Oklahoma City on Tuesday. The Dodgers envisioned having veteran left-hander Tony Cingrani in their bullpen, but he has been on the injured list because of a shoulder injury all season and recently suffered a setback lduring a rehab assignment. Cingrani was to undergo an MRI exam. His status remains unknown.
To add to the limitations, Roberts said Urias isn't an option for short outings. Instead, the team will continue having the 22-year-old log multiple innings at a time with ample rest between appearances as part of a plan to limit his workload two years after major shoulder surgery. Left-handed hitters are batting .216 with a .677 OPS in 43 plate appearances against Urias this season.
Urias pitched two scoreless innings against the Pittsburgh Pirates on Saturday in his first outing since spending seven days on administrative leave after being arrested May 13 on suspicion of domestic battery. However, he was rocked by the Mets on Wednesday, giving up back-to-back home runs to Amed Rosario and Dominic Smith to begin the seventh inning.
Sign up for our Dodgers newsletter »
"We don't see him as a lefty specialist and to use him in short spurts or back-to-back and things like that," Roberts said. "We thought about it but I think right now we're going to stay the course and count on Scott continuing to get better and getting the ball down and handling left-handed hitters."
Austin Barnes is progressing after injury
Roberts said catcher Austin Barnes, who was put on the 10-day IL on Monday because of a strained left groin, is "feeling considerably better."
He added Barnes needed only a few days to recover after injuring the groin Sunday in Pittsburgh, but the club wanted to exercise caution.
The Dodgers recalled prospect Will Smith in Barnes' place. Smith was two for four in his debut Tuesday and started again Wednesday. Russell Martin will catch Hyun-Jin Ryu on Thursday.
Twitter: @jorgecastillo
---
Get our Dodgers Dugout newsletter for insights, news and much more.
You may occasionally receive promotional content from the Los Angeles Times.