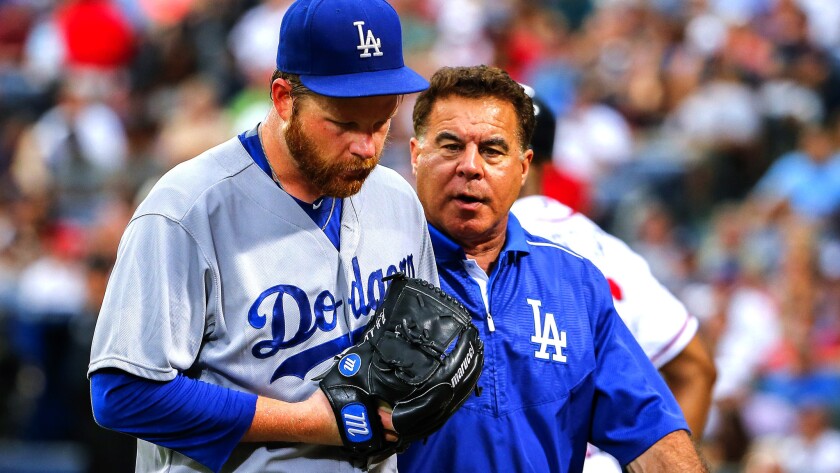 Stan Conte, the head of the Dodgers medical department for the last nine seasons, has resigned.
The longtime trainer's departure will result in yet another major change for the Dodgers, who in recent months have let go of a significant number of scouts and minor league coaches.
Conte was hired after the 2006 season by the team's previous general manager, Ned Colletti, with whom he worked in the San Francisco Giants' organization.
While the Dodgers signed Jason Schmidt to a three-year, $47-million contract under his watch – Schmidt made only 10 starts for them because of shoulder problems – Conte's time with the franchise included several medical highlights.
In the middle of the 2008 season, then-closer Takashi Saito partially tore an elbow ligament. Expected to be sidelined for the remainder of the season, Saito returned in time for the playoffs. Saito credited an injection of platelet-rich plasma. The Dodgers were believed to be the first baseball team to use this form of treatment, which is now commonplace.
When Zack Greinke broke his collarbone in a brawl early in the 2013 season, his recovery time was cut in half in large part because of a cutting-edge surgical procedure.
Conte, whose work has been published in the American Journal of Sports Medicine, said he intends to now focus on his research of baseball-related injuries. He has also started a consulting company that will offer services to professional teams, reporters and academics.
Utley appeal postponed
With no urgency remaining following the Los Angeles Dodgers' elimination from the postseason, Major League Baseball and the players' association postponed Chase Utley's appeal hearing.
Utley was suspended for two games by MLB Chief Baseball Officer Joe Torre for a takeout slide in Game 2 of the NL Division Series that broke a leg of New York Mets shortstop Ruben Tejada.
The union appealed the penalty, causing the discipline to be held in abeyance, and Utley pinch hit in Game 5 and flied out as the Dodgers were eliminated.
A hearing had been scheduled for Monday.
Any suspension that is sustained would be served at the start of next season.
Twitter: @dylanohernandez
---