Corey Seager, 20, is making a push to be the Dodgers' shortstop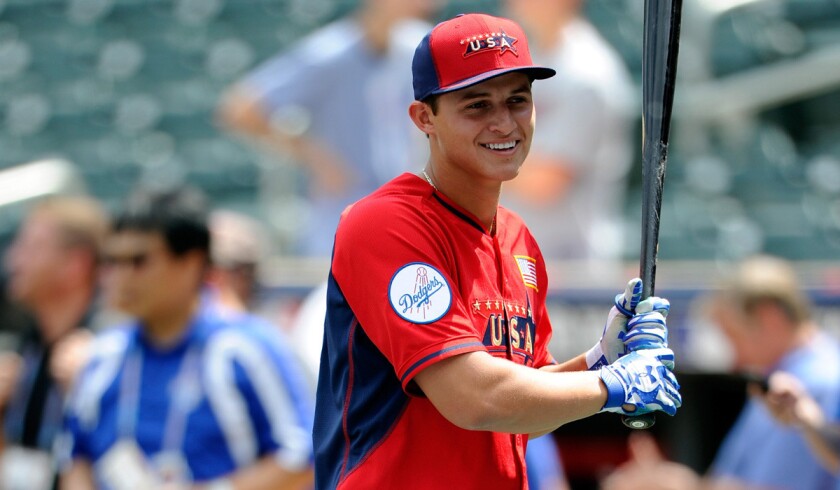 Trading Corey Seager for a frontline pitcher late last season would not have guaranteed the Dodgers a place in the World Series. But it might have helped.
Instead, the club refused to part with the 20-year-old shortstop, who might have helped it land David Price or Jon Lester and address a glaring lack of pitching depth.
That decision raised expectations already elevated for the first-round pick, who is widely regarded as the Dodgers' top prospect, ahead of even highly touted outfielder Joc Pederson.
"Corey is an incredibly gifted prospect," said Andrew Friedman, the Dodgers' new president of baseball operations. "His hands work really well on both sides of the ball and his progression year over year is right in line with that we would hope."
Friedman recently watched Seager play for the Glendale Desert Dogs in the Arizona Fall League, a finishing school for baseball's top prospects. Many of the players participating will be in the major leagues next year.
Seager is among the youngest players in the league, and also one of the most talented. He played in the league's All-Star game Saturday.
"He's probably as good a hitter as I've seen at the minor league level," said Desert Dogs Manager Lance Parrish, who in his playing days was an eight-time All-Star.
The Dodgers' first pick in 2012, Seager batted a combined .349 with 20 home runs and 97 runs batted in this year between Class A and double A.
"The numbers he put up this year don't lie," Parrish said. "Whether or not he's ready for the big leagues any time soon, I don't know, but I would certainly think it's not too far down the road for him."
Seager credits his development to his two older brothers: Kyle, the Seattle Mariners' third baseman, and Justin, an infielder in the Mariners' farm system.
Kyle is listed at 6 feet and Justin at 6-1. Corey is 6-4.
"He took all the genes," said a National League scout, who spoke anonymously because he wasn't authorized by his club to speak publicly about players.
The scout said Seager was one of the top two domestic-based prospects he saw this year.
While Seager's size is part of why he is projected to be a middle-of-the-lineup hitter in the major leagues — the scout compared the left-handed-hitting Seager to Joey Votto and Justin Morneau — it raises questions about where he might fit on defense.
Seager, who is listed at 215 pounds, is lanky with a stride unusually long for a shortstop.
"You look at him and think, 'He's not going to be as quick as he needs to be out there,' but he gets to everything," Parrish said. "He's nice and smooth, makes accurate throws all the time. Nothing seems to bother him. He can make throws on the run."
If Seager's frame fills out, he might have to move to third base. But multiple scouts said they thought that given his instincts and arm strength, Seager would make an adequate major league shortstop.
The Dodgers have asked Parrish to play Seager exclusively at shortstop. That's a gamble of sorts, because if Seager has to switch positions he will be making the adjustment later in his developmental curve, perhaps even in the major leagues.
Seager said he views himself as a shortstop and appreciates the opportunity to show he can play there.
"I definitely don't fit the mold, that's for sure," he said. "It's nice they have confidence that I can still do it."
If Seager remains a shortstop, he could play his way onto the Dodgers' major league roster some time next season.
"That's what I'm going to work toward," Seager said. "You don't ever want to go up there and not be ready because they want to win and that's what it's about up there. If it comes, hopefully I'll be ready."
Hanley Ramirez's contract has expired. The Dodgers are expected to make him a qualifying offer, essentially a one-year deal for $15.3 million, but Ramirez is expected to reject it and test the free-agent market.
The top in-house candidates to replace Ramirez are the light-hitting Miguel Rojas and the relatively untested Erisbel Arruebarrena.
Seager has already hinted that he is emotionally ready for the big stage.
In the AFL last year, he batted only .181.
"I got dominated pretty well," he said.
Even that was considered a positive. The Dodgers liked how Seager responded to failing for the first time in his life.
Seager recovered this year and was selected with Pederson as the Dodgers' minor league co-player of the year.
Seager said his brothers, particularly Kyle, helped him overcome his AFL disappointment.
"I've never had failure, so it was kind of a learning experience for me," Seager said. "This off-season, I talked to my brothers a lot and I worked hard and came back from it. Kyle mainly said everyone goes through it. He went through it in the minor leagues."
Seager's maturity is obvious to everyone around him. Scott Schebler played with Seager at double-A Chattanooga and was surprised to learn that a player so young could be so level-headed.
"He's just really, really special," Schebler said. "He never gets too high, never too low."
Schebler, 24, recalled what he was like at Seager's age.
"My highs were really, really high," Schebler said. "He's has that even keel."
That could be useful with the expectations Seager will likely face if he is promoted to the majors.
"I try not to think about it, to be honest," Seager said. "I don't want the extra pressure, if there's any there. I just try to go and play every day and let it play out how it does. This year, I had a lot of success and hopefully I can keep that up."
---
Get our Dodgers Dugout newsletter for insights, news and much more.
You may occasionally receive promotional content from the Los Angeles Times.