Corey Seager will keep working hard, sometimes more than the Dodgers want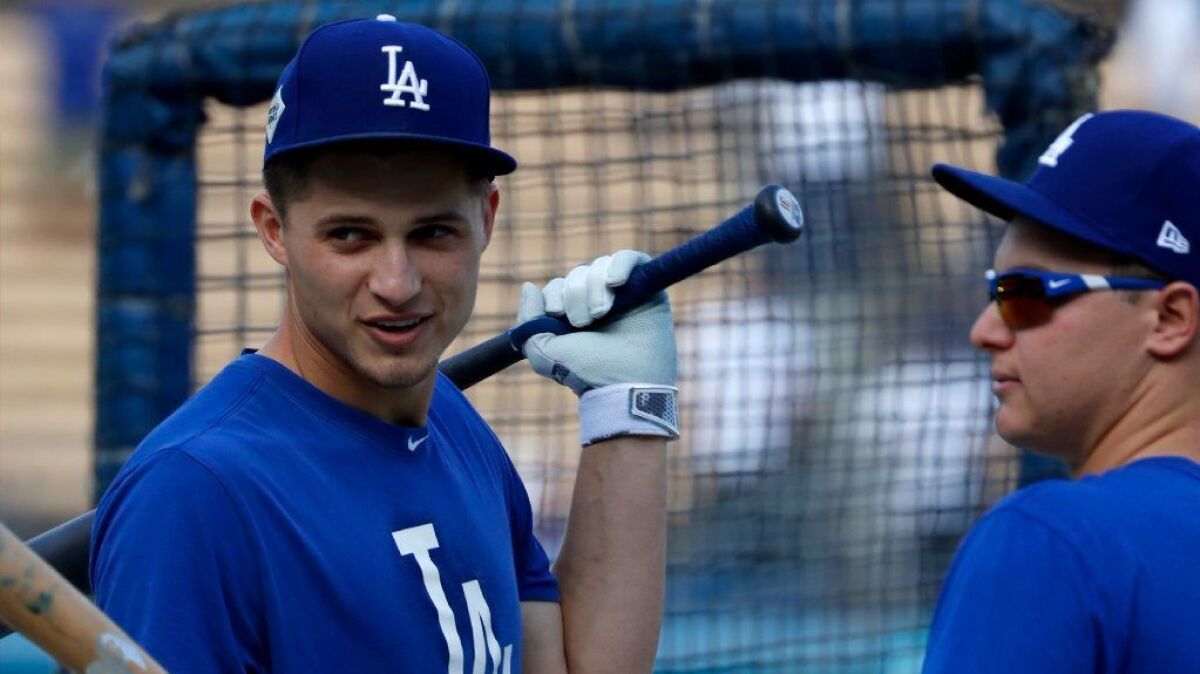 Reporting from phoenix —
On Jan. 27, Corey Seager wrote on social media for only the second time since the World Series. He tweeted a video of himself spraying line drives from a batting cage inside a facility run by former Dodgers coach Shawn Wooten.
"No better place to get some work in," Seager wrote.
Earlier that day, most of his teammates had gathered at Dodger Stadium for FanFest, while Seager was at Wooten's hitting academy in Minnesota. Seager did not intend for his visit to double as a message to his organization.
"That wasn't on purpose at all," Seager said, laughing at his locker at Camelback Ranch.
It would be reasonable to wonder. On the surface, Seager breezed through his second season in the majors, following up his rookie-of-the-year campaign with another All-Star output: 22 home runs, quality defense at shortstop and an .854 on-base-plus-slugging percentage. Yet Seager often felt frustrated with both his own performance and the protective instincts of the Dodgers.
The disputes centered around Seager's penchant for extra work, for hours spent swinging in the batting cage in search of comfort at the plate. Some people in the organization felt his activity contributed to the inflammation in his right elbow that dogged him in the second half and the back injury that kept him out of the National League Championship Series.
After the season, the Dodgers parted ways with Wooten, an assistant hitting coach who had worked closely with Seager for years.
Seager arrived at camp Friday to find more restrictions awaiting him. The organization's medical staff deemed offseason surgery on his elbow unnecessary. The prescription was rest and rehabilitation. He has been cleared to throw, but not beyond 100 feet. He said he felt "a little stiff" during the start of the process, but credited some of that to chilly weather at his home in Charlotte, N.C.
Seager indicated he did not start up his offseason activity until last month. He gave his elbow time to heal. He maintained contact with Wooten, whom the Angels hired as a hitting coordinator after the Dodgers let him go. Seager indicated he was "disappointed" that Wooten would not be back this season.
"That's the guy I worked with, who I was most comfortable with," Seager said. "Obviously, I'm just one person, but I know there's a lot of people in the clubhouse who wanted him around. Unfortunately, it couldn't work out."
This will be the third consecutive spring training in which Seager has dealt with an injury. He had a sprained knee in 2016. He felt tightness in his oblique muscle last season. On both occasions, he was ready for opening day. The organization expects a similar outcome this year.
"It's just to be conservative, because we have the runway of time," president of baseball operations Andrew Friedman said. "It's not anything that's a medical necessity. It's just erring on the side of caution."
By last August, Seager felt pain with each throw. The team elected to sit him down for two weeks. Seager accepted the time off with a grimace, asking manager Dave Roberts on a daily basis when he could return to the lineup. The Dodgers held firm with their plan, even though Seager felt the layoff contributed to a season-ending slump.
Roberts has grown used to Seager's distaste for rest. He maintains a regular dialogue with his shortstop about the perils of excessive exertion. He expects those conversations to continue in 2018.
"Corey is a guy who is always trying to find an edge, get better, work," Roberts said. "And sometimes, there's a little bit of diminishing returns."
Friedman struck an optimistic tone when asked about the situation.
"Some guys don't work hard enough, and you're trying to get them to work harder," Friedman said. "So I'd always prefer to have to come from this side, trying to get a guy to work a little bit less. We have designs of playing an extra month, so I think just being aware of that and conscious of it throughout is always a good thing."
Seager understands the organization's position. He remains content with his approach.
"I have to work to feel comfortable," Seager said. "That's what I've done. You try and find ways to maybe do less, but if I don't feel comfortable, I'm going to have to keep doing it until I do. It'll just be trying to find a balance with it, probably."
Follow Andy McCullough on Twitter @McCulloughTimes
Get our Dodgers Dugout newsletter for insights, news and much more.
You may occasionally receive promotional content from the Los Angeles Times.