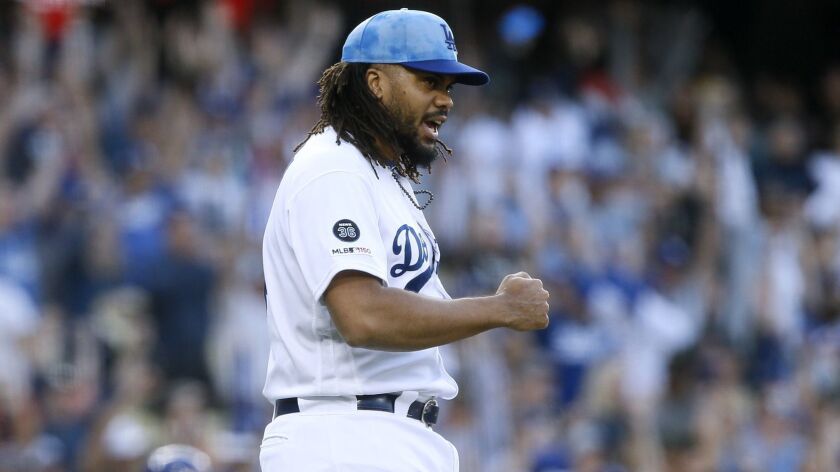 The text message from Kenley Jansen flashed on Dave Roberts' phone at around midnight Saturday, three hours after the Dodgers closer gave up a game-winning, two-run homer in the ninth inning to Chicago Cubs slugger Anthony Rizzo,
"I want the ball, Doc."
The Dodgers manager obliged early Sunday evening, handing the ball and another one-run ninth-inning lead to Jansen. When Albert Almora led off with a single and Jason Heyward walked, Roberts could have shot this text back to the big right-hander: "Be careful what you wish for."
Three batters — and big defensive plays by catcher Russell Martin and center fielder Alex Verdugo — later, Jansen and the Dodgers were celebrating a white-knuckle 3-2 victory over the Cubs, a sellout crowd of 53,817 in Dodger Stadium witnessing one of Jansen's most improbable escape acts.
"It wasn't pretty, but he got the job done," said Martin, who snapped a 2-2 tie with a run-scoring single in the eighth. "It's not always going to be a one-two-three ninth. You're going to have to battle. You have to claw your way out of certain situations, and today was one where it was not looking good."
Dodgers left-hander Hyun-Jin Ryu threw another gem on Sunday, allowing two runs — both unearned — and seven hits in seven innings, striking out eight and walking none to lower his major league-leading ERA to 1.26. He did not figure in the decision.
Ross Stripling threw a scoreless eighth. The Dodgers pulled ahead in the bottom of the eighth, and things got dicey for Jansen when the first two batters reached in the ninth.
Jansen got pinch-hitter Kyle Schwarber to ground out to first, the runners advancing to second and third. When Jansen got ahead of pinch-hitter Victor Caratini with two strikes, Martin called for a slider in the dirt. Martin's block of the breaking ball prevented Almora from scoring on a wild pitch.
"The last thing I wanted him to do is throw a strike slider there," Martin said. "In my mind, I'm anticipating that exact pitch. You've got to be ready for it. His job is to throw that pitch. It's my job to block it."
Caratini then chopped a ball to Jansen's left. The pitcher fielded it cleanly, made an accurate throw home, and Martin tagged Almora for the second out. Pinch-runner Daniel Descalso stole second, putting runners on second and third.
When Jansen got ahead of Javier Baez with a 1-and-2 count, Verdugo took about 10 steps in from where he was playing in center field. Jansen threw another slider. This one he regretted.
"It wasn't a great feeling when I released that ball," Jansen said. "You hope he doesn't swing the bat."
Baez did, lining the hanging pitch hard to center, but the ball hung up long enough for Verdugo to turn a potential two-run single into a game-ending out by racing in to make a lunging catch before sprawling face-first into the turf.
"We took a chance and gave up something [being hit] up over our head," Roberts said of the defensive shift, "but it was the right play."
Jansen's 21st save helped the Dodgers win three of four games from a team they fully expect to see again in October and for the closer to rinse the bitter taste of Saturday night's blown save opportunity and loss out of his mouth.
"After what happened [Saturday], knowing the season series is over, I really wanted one more chance to face these guys in the same situation," Jansen said. "It definitely felt good. I just had to calm down all the noise, all the general managers out there, and focus on helping my team win."
Sign up for our daily sports newsletter »
The Dodgers took a 1-0 lead in the first when David Freese singled with two outs and Cubs left-hander Jose Quintana walked three batters, including Max Muncy with the bases loaded.
Chicago went ahead 2-1 in the sixth, a rally that started with Dodgers third baseman Justin Turner's throwing error. Kris Bryant's single moved Baez to third, from where he scored on Willson Contreras' infield single, only the third hit Ryu has allowed in 58 at-bats with runners in scoring position this season. David Bote followed with a sacrifice fly to right.
Cody Bellinger pulled the Dodgers even in the bottom of the sixth when he drove a 90-mph sinker from Quintana 421 feet over the center-field wall for his team-leading 23rd homer.
Sidearm-throwing Cubs right-hander Steve Cishek retired the side in order in the seventh to preserve a 2-2 tie but walked Chris Taylor to open the eighth. Taylor took second on Muncy's slow roller to third. Up stepped Martin, who struck out in his first three at-bats.
"Walking up there, what I'm thinking is, 'Just don't strike out a fourth time,' you know?" Martin said. "It's baseball. You have to have a short-term memory."
Martin fell behind 0 and 2. He took a ball, fouled off three pitches and took another ball. Cishek then threw a 79-mph down-and-away slider that Martin poked for a single to left field. Taylor hesitated off the bat but was waved home by third base coach Dino Ebel.
The throw from left fielder Bryant, a third baseman who hasn't had an outfield assist in almost three years, was too far up the first base line to catch Taylor, who scored with an awkward head-first slide for a 3-2 lead.
"I think my right arm got stuck and sort of rolled into my face," said Taylor, who suffered an abrasion under his right eye that was still bleeding after the game. "That was a really smooth slide. I'm just glad I was able to touch the plate. I was more embarrassed than hurt."
---