'We got Darvish': How the Dodgers' dramatic trade played out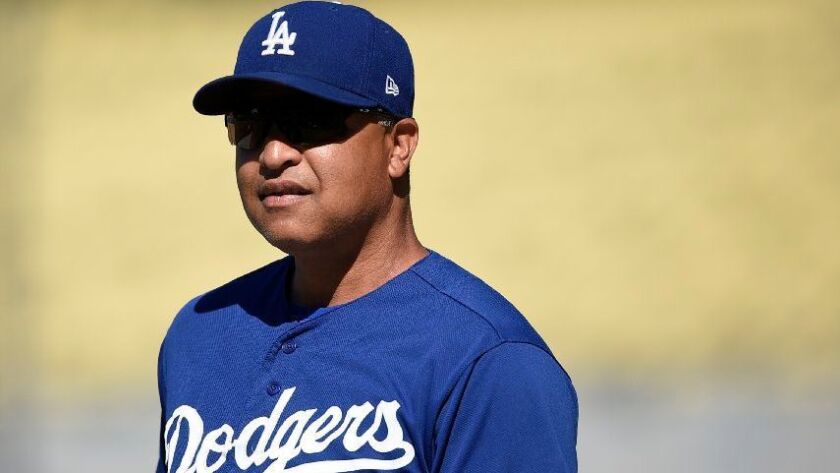 Reporting from Atlanta —
Around 1:05 p.m. on Monday, inside a suite of offices hugging the left-field pole at Dodger Stadium, general manager Farhan Zaidi reached for his iPhone. He had just finished an hour of feverish negotiating to complete a monumental trade minutes before the early-afternoon deadline. Now he thumbed a three-word text to his team's manager.
The message soared eastward, rushing to meet the team's flight as it traveled here. Inside a chartered United 737-800, the wireless network picked up the message and delivered it to Dodgers manager Dave Roberts. He looked down and read.
"We got Darvish."
In a season defined by late-game drama, the Dodgers front office executed a last-second flourish of their own. By acquiring Yu Darvish from Texas in exchange for three prospects, the team added an ace to a starting rotation that already had the lowest earned-run average in baseball.
"You've got to be … kidding me," the manager responded, a message that conveyed the excitement of both his organization and its long-suffering fan base.
Darvish will serve as a right-handed complement to left-handed stalwart Clayton Kershaw, who is recovering from a lower back strain. Darvish will join the team on Wednesday and debut as a Dodger on Friday against the New York Mets at Citi Field. Awaiting him is a group of players who delighted in learning about his arrival as they flew on Monday.
"It doesn't matter what we have on paper — we still have to go out and play," third baseman Justin Turner said. "But the fact that the front office stepped up and did what they did at the deadline means that they're as serious as we are."
Darvish was not the only new Dodger who was acquired on the day of the trade deadline. The team also added left-handed relievers Tony Watson and Tony Cingrani. But Darvish is a four-time All-Star, one of the sport's most feared pitchers, and a player who serves as an extravagant addition to baseball's best team.
The Dodgers entered the final hours before the deadline juggling a variety of scenarios. They maintained dialogue with Baltimore about closer Zach Britton, while still keeping alive the discussions about Watson and Cingrani. In the last hour, the team learned the Orioles would not make Britton available. As the talks broke down, conversations with Texas heated up.
The sleep-deprived executives were gathered around a conference table in the baseball operations department's suites on the fifth floor of Dodger Stadium. Zaidi traded calls with Rangers general manager Jon Daniels. Under normal circumstances, Zaidi explained, he would step out of the room to talk. In this case, he didn't have enough time.
The teams laid the groundwork for a deal over proceeding weeks, but the pace now accelerated. Darvish does not come with a spotless medical history — he underwent elbow ligament replacement surgery in 2015 — but the Dodgers' medical staff gave its consent. The sides settled on a return package of triple-A infielder Willie Calhoun, Class-A pitcher A.J. Alexy and Class-A infielder Brendon Davis.
At 12:50 p.m., Darvish posted a picture of himself inside the Rangers' clubhouse at Globe Life Park in Arlington, Texas. He stood beside his locker with a blue Rangers cap on his head. "10 min!!" he wrote. The Rangers had kept Darvish abreast of the discussions heading into Monday, but by that point Darvish expected he would remain in Texas. He was planning to go outside and stretch.
He never made it outside. He would eventually receive a call from President of Baseball Operations Andrew Friedman. The son of an Iranian father and a Japanese mother, Darvish possesses a firm grasp of English. He has spent time in Los Angeles during winters in the past.
"He mentioned how much he likes the city, and has taken notice of how we've played this year, and he was excited to join us for the last couple months," Friedman said.
Inside the plane, about halfway through the flight, a sizable contingent of the traveling party slept. Some watched movies. Pitcher Alex Wood sat near Turner, and both refreshed Twitter on their phones every few minutes, thirsty for news. "We thought something would go down," Wood said. "We didn't really know what."
The players were pleased to hear about Watson and Cingrani. While Cingrani profiles as a reclamation project, Watson has pitched in the playoffs for Pittsburgh. However, neither of those deals classified as a blockbuster. When 1 p.m. approached, it appeared no further move had been made.
"We got our Ferrari. Now we just have to put the right oil in, get it serviced, and there we go."
— Kenley Jansen
Soon after the deadline passed, Turner received a text message from strength and conditioning coach Brandon McDaniel. "Wait for it," the message read. Just as McDaniel hit send, a report flashed on the television screen linking Darvish to the Dodgers.
Near the back of the plane, Enrique Hernandez kept watch on his phone. When the news about Watson broke, he showed it to veteran second baseman Chase Utley, who was in front of him. Utley nodded. He nodded again when he heard about Cingrani. But when the news about Darvish appeared, Utley contorted his face in surprise — "which is a lot, for Chase," Hernandez said.
As the minutes ticked away, closer Kenley Jansen snoozed in his seat. He was awakened by rookie reliever Edward Paredes after the deadline. Jansen heard about Darvish from AM-570 broadcaster David Vassegh. Jansen was ecstatic, but wondered why the team hadn't added any left-handed relievers. Once he learned about Watson and Cingrani, Jansen beamed as he got up to walk down the aisle.
Earlier in July, Jansen had compared Darvish to a Ferrari. Everyone, he ventured, wants to drive one. Now the luxury vehicle belonged to the Dodgers.
"We got our Ferrari," Jansen said. "Now we just have to put the right oil in, get it serviced, and there we go."
On Tuesday afternoon, Friedman left his office to watch Kershaw's latest throwing session at Dodger Stadium. The team remains confident that Kershaw, who is on the disabled list and not traveling with the team, will headline the rotation in October. Darvish can reduce the strain on Kershaw, who may not need to pitch on short rest. After he finished throwing, Kershaw told Friedman how happy he was with the additions.
In that vein, he echoed his other teammates, exulting on the other side of the country. They already own the best record in baseball. Now they have Darvish.
"It's kind of like, how do we get better?" Wood said. "But somehow, we did."
Twitter: @McCulloughTimes
---
Get our Dodgers Dugout newsletter for insights, news and much more.
You may occasionally receive promotional content from the Los Angeles Times.