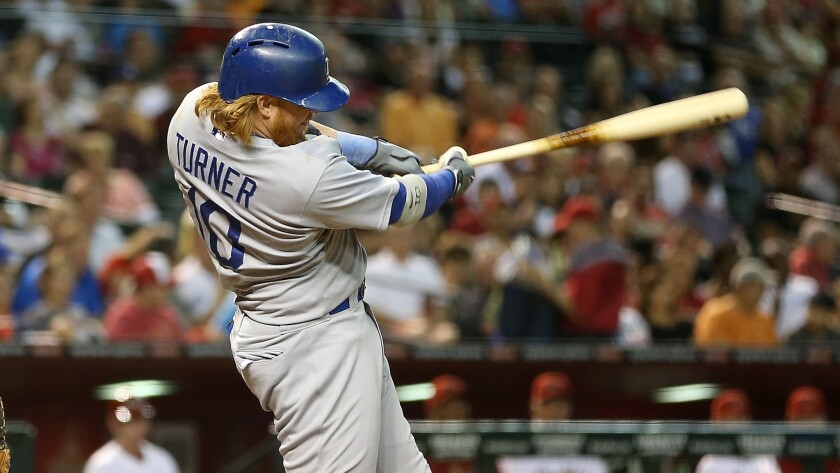 Reporting from Phoenix —
AT THE PLATE: The Dodgers brutalized Diamondbacks starter Trevor Cahill, who was charged with the eight runs (six earned) and six hits in only 3 1/3 innings. Matt Kemp hit a two-run home run in the first inning. The score was tied, 2-2, until the Dodgers scored six runs in the fourth inning to move in front, 8-2. The Dodgers collected five hits and drew two walks in that inning. Dee Gordon finished the game with three hits. Carl Crawford, Justin Turner and A.J. Ellis each had two hits.
ON THE MOUND: Roberto Hernandez won for the second time in four starts with the Dodgers. Hernandez limited the Diamondbacks to three runs and six hits over six innings. J.P. Howell pitched a scoreless seventh inning. Brandon League and Pedro Baez each gave up a run.
EXTRA BASES: Andre Ethier was ejected by plate umpire Will Little after grounding out in the seventh inning. Ethier was upset with a called strike earlier in the at-bat.
MEDICAL REPORT: Sidelined left-hander Hyun-Jin Ryu could return to the rotation as early as Sunday. Ryu said he didn't feel any discomfort in his strained right buttock muscle Tuesday when throwing a light bullpen session. Ryu declined to predict when he would pitch again, saying he would have a better idea after pitching to hitters the next day. He is eligible to be activated from the 15-day disabled list Friday. Dan Haren will start for the Dodgers against the San Diego Padres that day at Petco Park. Zack Greinke is scheduled to start Saturday. Manager Don Mattingly said Ryu or Roberto Hernandez will start Sunday. But teams will be able to expand their rosters Monday, meaning that if the Dodgers push back Ryu's start until then, they could activate Ryu without sending a player to the minors or the disabled list.
ON THE FARM: Top infield prospect Corey Seager will play in the Arizona Fall League, a finishing school for baseball's top prospects. Seager, 20, was the most valuable player of the Class-A California League. Outfielder Scott Schebler, infielder Darnell Sweeney and left-handed reliever Michael Thomas will play alongside Seager on the AFL's Glendale Desert Dogs.
NEW ADDITIONS: The Dodgers signed Yadir Drake, a 24-year-old outfielder from Cuba who has played in Mexico. They also signed Federico Giordani, a 16-year-old outfielder from Italy.
UP NEXT: Clayton Kershaw (15-3, 1.82 ERA) will face Arizona's Wade Miley (7-9, 4.29) Wednesday at 6:30 p.m. PDT at Chase Field. On the air: TV: SportsNet LA. Radio: 570, 1020 (Spanish).
---