Dodgers Dugout: Friedman and Zaidi do not get passing marks so far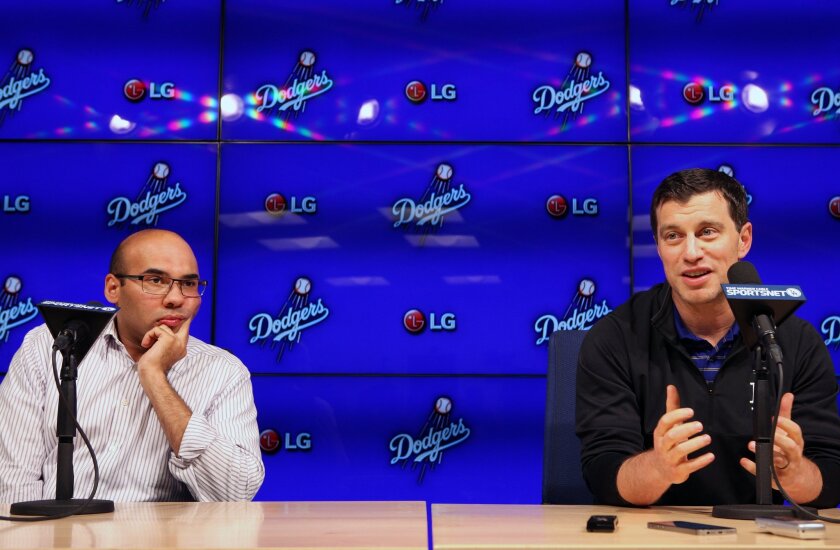 Hi, and welcome to another edition of Dodgers Dugout. My name is Houston Mitchell, wondering if we are really going to have to go through Vin Scully's final season without being able to see him on TV.
Welcome to the Hall
Ken Griffey Jr. was elected to the baseball Hall of Fame on Wednesday, being named on 99.32% of ballots. Which leads to an important question: Who were the 0.68% who didn't vote for him, and how do we stop them from ever being allowed to vote again?
More important for Dodgers fans, Mike Piazza was finally elected, being named on 83% of the ballots in his fourth year of eligibility. Piazza should have been elected in his first year. He is the best-hitting catcher in major league history, and his bat more than made up for any defensive weaknesses he had. Dodgers fans loved him and were heartbroken when he was traded to Florida in 1998, a deal that has caused Piazza to turn his back on the Dodgers. Or, as he wrote in his autobiography: "If the Hall came to me and said, 'We want you to go in as a Dodger,' I'd say, 'Well, then I'll go in as nothing.' I just wouldn't feel comfortable with LA stamped on my head for all of eternity."
So Piazza has asked to go into the Hall as a New York Met. The Hall makes the choice, but they will more than likely honor his request.
New pitchers
So, the Dodgers didn't do a lot the last couple of weeks while I was off. They signed Scott Kazmir to a three-year, $48-million deal, giving them yet another left-hander in the rotation. Kazmir has on opt-out clause after one season, because next year's free agent market is expected to be a good one for pitchers. Dodgers GM Farhan Zaidi said the Dodgers were comfortable letting Kazmir walk away after one season because of their organizational depth, the possibility of getting an extra draft pick for Kazmir and the motivation that another shot at free agency might push him to a better season. Kazmir pitched well with Oakland and Houston last season, finishing with the fourth-best ERA in the AL at 3.10.
The Dodgers have also signed right-hander Kenta Maeda. He is going to be introduced at a news conference today, so we will talk more about him in the next newsletter.
So, let's look at the rotation at the end of last season and now.
Last season
Clayton Kershaw
Zack Greinke
Brett Anderson
Alex Wood
Carlos Frias or Mike Bolsinger
Now
Kershaw
Kazmir
Maeda
Anderson
Wood
Hyun-Jin Ryu
Maeda is the only right-hander of the group. Does adding Kazmir and Maeda and getting Ryu back from injury make up for the loss of Greinke? On the surface, no. It's really hard to replace Greinke, who is one of the five best pitchers in baseball. However, a lot will depend on how good Maeda is. He won the Japanese League equivalent of the Cy Young Award last season, so hopefully he will be pretty good, easing the blow of losing Greinke.
However, the Dodgers have done nothing to improve the bullpen or the offense. But I don't want to start the new year off by complaining, so let me just say that hopefully there is a plan to upgrade one or both of those things.
Grading Friedman and Zaidi
Andrew Friedman was named president of baseball operations on Oct. 14, 2014 and Farhan Zaidi was named general manager on Nov. 6, 2014. Let's take a look at the major moves done since then and see how they have done.
Nov. 20, 2014: Traded pitchers Greg Harris and Jose Dominguez to Tampa Bay for pitchers Adam Liberatore and Joel Peralta. Dominguez appeared in four games for the Rays, and Harris is ranked as their 22nd-best prospect. Peralta went 3-1 with a 4.34 ERA and three saves for the Dodgers while Liberatore went 2-2 with a 4.25 ERA. Peralta was either great (2.00 ERA in September) or horrible (13.50 ERA in August). Grade: C.
Nov. 22, 2014: Purchased pitcher Mike Bolsinger from Arizona. Bolsinger was an unsung hero for the Dodgers in the first half, and they didn't have to give up any players to get him. Grade: B.
Nov. 24, 2014: Traded outfielder Noel Cuevas to Colorado for pitcher Juan Nicasio. Cuevas is a borderline prospect, while Nicasio pitched well in the first half (3.41 ERA) before falling apart in the second half (4.64 ERA). He signed with Pittsburgh last month. Grade: C.
Dec. 2, 2014: Traded pitcher Matt Magill to Cincinnati for outfielder Chris Heisey. The Reds released Magill in June. The Dodgers kept playing Heisey for some reason, even though he can't hit. Grade: D.
Dec. 11, 2014: Traded second baseman Dee Gordon, pitcher Dan Haren and infielder Miguel Rojas to Miami for catcher Austin Barnes, pitchers Chris Hatcher and Andrew Heaney and infielder Kiké Hernandez. Then traded Heaney to the Angels for second baseman Howie Kendrick. Wow, the Dodgers would have looked a lot different last season with Gordon (led NL in hitting, hits and steals and won a Gold Glove) on top of the lineup and Haren (11-9, 3.60 ERA) in the rotation. To make matters worse, they then traded Heaney, a good young starter (6-4, 3.49) for one year of Kendrick. Kendrick played well for the Dodgers, but isn't coming back, to be replaced by the ancient Chase Utley. So basically, the Dodgers traded Gordon, Haren and Heaney for Hernandez, Hatcher and Utley. As much as I like Hernandez, I have to give this trade an F. And yes, I know I said Kendrick would have a better year than Gordon. I was wrong!
Dec. 16, 2014: Signed pitcher Brandon McCarthy to a four-year, $48-million deal. McCarthy made four starts and underwent Tommy John surgery. He won't be back until the All-Star break. Grade: F.
Dec. 18, 2014: Traded catcher Tim Federowicz, outfielder Matt Kemp and cash to San Diego for pitcher Zach Elfin, catcher Yasmani Grandal and pitcher Joe Wieland. Let's talk about Kemp for a moment. Yes, he drove in 100 runs, but by almost any metric he was the worst defensive player in baseball last season. His on-base percentage was horrible (.312) and his slugging percentage (.443) was the second-worst of his career. His WAR was 0.4, 12th on the Padres. Meanwhile, despite playing the last six weeks of the season with a shoulder that needed surgery, Grandal still had a better OBP (.351), was solid defensively and had a 2.3 WAR, fifth best on the Dodgers. I have to give this trade a solid B.
Dec. 19, 2014: Traded pitchers Zach Elfin and Tom Windle to Philadelphia for shortstop Jimmy Rollins. Brought in to keep the position warm while waiting for Corey Seager, Rollins did just that, and was a positive influence on the bench and a tutor for Seager. Grade: C.
Dec. 31, 2014: Signed pitcher Brett Anderson to a one-year, $10-million deal. Anderson more than earned his money, even if he did tire down the stretch. Grade: A.
May 27, 2015: Traded third baseman Juan Uribe and reliever Chris Withrow to Atlanta for infielder Alberto Callaspo and pitchers Juan Jaime, Eric Stults and Ian Thomas. This deal didn't make sense at the time, and it still doesn't. Uribe is a better player than Callaspo, who they released before the end of the season, and they could have used him when Justin Turner went down with an injury. Grade: F
July 30, 2015: In a three-team deal involving Miami and Atlanta, acquired pitchers Bronson Arroyo, Luis Avilan, Jim Johnson, Mat Latos andAlex Wood, second baseman Jose Peraza and first baseman Mike Morse for pitchers Zach Bird, Paco Rodriguez, Victor Araujo, Jeff Brighamand Kevin Guzman and third baseman Hector Olivera. Acquired to boost the rotation and bullpen, Latos and Johnson ended up being two of the worst pitchers in Dodgers history. Wood has potential, Avilan is a useful bullpen part, but Peraza has already been dealt away and the Dodgers will still pay Olivera almost $5 million a year through 2020 to play for someone else. This was one of the worst trades in Dodger history. Grade: F.
Aug. 19, 2015: Traded pitcher John Richy and outfielder Darnell Sweeney to Philadelphia for second baseman Chase Utley. He brought some swagger to the team, but when your biggest contribution is breaking the leg of the opposing shortstop, that's a sign your overall skills are in decline. Grade: C.
Aug. 31, 2015: Traded a player to be named or cash to Seattle for outfielder Justin Ruggiano. Ruggiano hit .291 and slugged .618 in his short stay with the team. Grade: A.
We can't really grade deals made after the season until now because we have to see how they play out, though giving Utley $7 million is questionable, and the Peraza trade seems odd on its surface, though they got three good prospects in return.
So to sum up, looking at the grade given to the deals we get:
A's: 2
B's: 2
C's: 4
D's: 1
F's: 4
Grade-point average: 1.77, which is basically a D+. Another year like that, and Friedman and Zaidi might have to be expelled from school.
And finally
Times Dodgers blogger Steve Dilbeck takes an excellent look at the Mike Piazza situation with the Dodgers. You can read it here.
Have a comment or something you'd like to see in a future Dodgers newsletter? Email me and follow me on Twitter: @latimeshouston
---
Get our Dodgers Dugout newsletter for insights, news and much more.
You may occasionally receive promotional content from the Los Angeles Times.