Dodgers Dugout: Can someone give the Dodgers directions to the stadium? They didn't show up for Game 3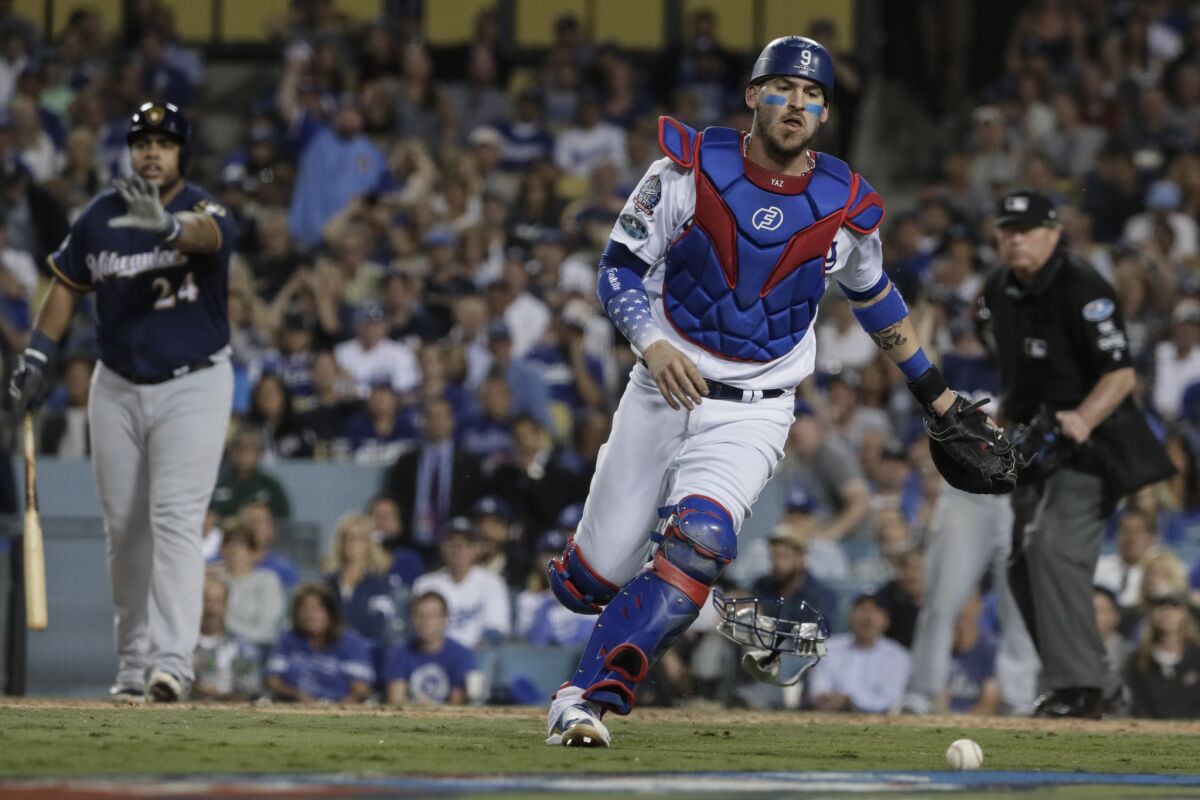 Hi, and welcome to another edition of Dodgers Dugout. My name is Houston Mitchell, and the less said about Game 3 the better.
The NLCS
OK, here's what I don't understand. How can a team with so much talent as the Dodgers have so many games this season where they just don't show up? It looked like they were sleepwalking through most of Game 3.
Yes, the Brewers are a talented team, and a lot of credit to them, but the Dodgers looked like they did in Game 7 of the World Series. It's like they all overslept and didn't realize when the game started.
Anyway, some random thoughts.
--I know Yasmani Grandal is trying, and I feel bad for him, but it's time for him to sit on the bench for Austin Barnes. Another passed ball in Game 3, plus a wild pitch he should have stopped that scored a run. And he is totally lost at the plate. If he was hitting well, maybe you could overlook his defense. But he's not doing anything well. Start Barnes in Game 4. And, after I wrote the preceding sentences, Roberts announced Barnes will start Game 4.
--In his postseason career, Grandal is seven for 68 at the plate (.103). Let's break that down by series:
2015 NLDS vs. Mets: 1 for 10
2016 NLDS vs. Nationals: 2 for 16
2016 NLCS vs. Cubs: 1 for 12
2017 NLDS vs. Arizona: 0 for 4
2017 NLCS vs. Cubs: 0 for 1
2017 World Series vs. Astros: 0 for 3
2018 NLDS vs. Braves: 1 for 13
2018 NLCS vs. Brewers: 2 for 9
--It may seem like I'm picking on Grandal. I am. This is what happens when I write the newsletter right after the game instead of waiting a while.
--Just to spread some of the love around, let me point out that Cody Bellinger is 15 for 85 (.176) in his postseason career, including five for his last 49 (.102).
--Walker Buehler pitched fine. When a guy hits an opposite-field home run, all you can do is tip your cap and move on.
--Again, I am going to harp on situational hitting. Second and third, one out in the bottom of the second. Infield is back. All you need is to put the ball in play and you are going to score a run. Instead, Grandal swings for the seats and strikes out. Bottom of the seventh, Yasiel Puig, Grandal and Kiké Hernandez all swing for the seats and strike out. What you need are base runners. Same thing in the bottom of the ninth. Grandal and Brian Dozier. Only Dozier got caught looking. Everyone wants to be a hero instead of looking at what is best for the team.
--The only two guys on the team who seem to understand situational hitting are Justin Turner and Manny Machado. Now if we could only get Machado to run hard all the time, not just when he feels like it.
--Bellinger after the game: "When the home runs aren't there, we've got to find a way to score, without hitting a home run. We have to have better at-bats."
--The Dodgers were 0 for 10 with runners in scoring position.
--Hernandez seemed to sum it up best when he said: "It's the playoffs, you've got to want it. Today just wasn't our day. We had no energy. The stadium had no energy. The fans had no energy. Overall, it was a pretty bad game for everybody who calls themselves Dodgers…. It was a playoff game, and it didn't feel like a playoff game. Not just because of the fans, but because of how we were playing the game." "
--Although, I do have to say the fans seemed into it to me until they realized the players weren't.
--If I seem cranky, it's only because I am. Just a poorly played game by the team.
--But, it's only one loss. Many teams have come down for 2-1 deficits to win a series. The Dodgers could easily win Game 4 and even the series.
--But only if they show up.
Dodgers postseason batting averages this season
Chris Taylor, .462 (6 for 13), 1 triple, 1 homer, 3 RBIs
Joc Pederson, .300 (6 for 20), 1 double, 1 homer, 1 RBI
Justin Turner, .296 (8 for 27), 1 double, 1 homer, 3 RBIs
Manny Machado, .286 (8 for 28), 2 double, 3 homers, 9 RBIs
Matt Kemp, .273 (3 for 11), 1 double, 1 RBI
Yasiel Puig, .235 (4 for 17), 1 double, no RBIs
Brian Dozier, .200 (1 for 5), no extra-base hits, no RBIs
Max Muncy, .176 (3 for 17), 2 homers, 4 RBIs
David Freese, .167 (1 for 6), no extra-base hits, 3 RBIs
Yasmani Grandal, .136 (3 for 22), 1 homer, 1 RBI
Kiké Hernandez, .111 (2 for 18), 1 homer, 1 RBI
Cody Bellinger, .048 (1 for 21), no extra-base hits, 1 RBI
Austin Barnes, .000 (0 for 3), 1 RBI
Just for fun
For some reason, in the middle of Game 3 I started thinking about Greg Brock. He was the first baseman who replaced Steve Garvey on the Dodgers in 1983. He put in four seasons which were above average, but anyone replacing Garvey was going to have a hard time winning over all the fans. He was sent to Milwaukee before the 1987 season for Tim Crews and Tim Leary, a trade that provided big dividends for the Dodgers, as both were key members of the 1988 World Series championship team.
That got me thinking about players who played for the Dodgers and Milwaukee. So I went to baseball-reference and got this list that I thought I would share.
Players who appeared for both the Brewers and the Dodgers:
Rick Auerbach
John Axford
Paul Bako
Ronnie Belliard
Gary Bennett
Henry Blanco
Ken Brett
Greg Brock
Jonathan Broxton
Bruce Brubaker
Jim Bruske
Jeromy Burnitz
Tom Candiotti
Chris Capuano
Brady Clark
Todd Coffey
Luis Cruz
Bobby Darwin
Rick Dempsey
Elmer Dessens
Al Downing
Dana Eveland
Mike Fetters
Eric Gagne
Curtis Granderson
Zack Greinke
Marquis Grissom
Tony Gwynn Jr.
Jerry Hairston Jr.
Greg Hansell
Lenny Harris
Jose Hernandez
Elian Herrera
Darren Holmes
Tyler Houston
Cesar Izturis
Von Joshua
John Kennedy
Andy Kosco
Bill Krueger
Tim Leary
Jeffrey Leonard
Mark Loretta
Candy Maldonado
Sean Maloney
Ken McMullen
Chad Moeller
Guillermo Mota
Hideo Nomo
Jesse Orosco
Scott Podsednik
Dennis Powell
Willie Randolph
Lance Rautzhan
Jody Reed
Jerry Reuss
Alberto Reyes
Ellie Rodriguez
Takashi Saito
Ted Savage
Dick Schofield
Ray Searage
Gary Sheffield
Franklin Stubbs
Don Sutton
Mark Sweeney
Jose Valentin
Claudio Vargas
Danny Walton
Devon White
Randy Wolf
Jamey Wright
Jim Wynn
Eric Young
NLCS schedule
Game 4 — Tuesday, 6 p.m.: Milwaukee (Gio Gonzalez, 10-11, 4.21 ERA) at Dodgers (Rich Hill, 11-5, 3.66 ERA). TV: FS1
Game 5 — Wednesday, 2 p.m.: Milwaukee (Wade Miley, 5-2, 2.57 ERA) at Dodgers (Clayton Kershaw, 9-5, 2.73 ERA). TV: FS1
Game 6* — Friday, 5:30 p.m.: Dodgers (TBA) at Milwaukee (TBA). TV: FS1
Game 7* — Saturday, 6 p.m.: Dodgers (TBA) at Milwaukee (TBA): TV: FS1
* — if necessary. All times Pacific.
Shameless plug
We have five top reporters covering every Dodgers playoff game for The Times: Andy McCullough, Jorge Castillo, Bill Plaschke, Dylan Hernandez and Bill Shaikin. If you are not checking out our website and reading their stories, you are missing out on some great stuff. So, what are you waiting for? Click here and start reading.
And if you aren't near a TV or radio to monitor each game, I'm doing live updates for The Times every game. You can find it during the game at the above link.
And finally
Danny Kaye sings the D-O-D-G-E-R-S song. Oh really? No, O'Malley. Listen to it here.
Have a comment or something you'd like to see in a future Dodgers newsletter? Email me and follow me on Twitter: @latimeshouston.
Get our Dodgers Dugout newsletter for insights, news and much more.
You may occasionally receive promotional content from the Los Angeles Times.