Dodgers Dugout: Here's why the Dodgers will win the NL West again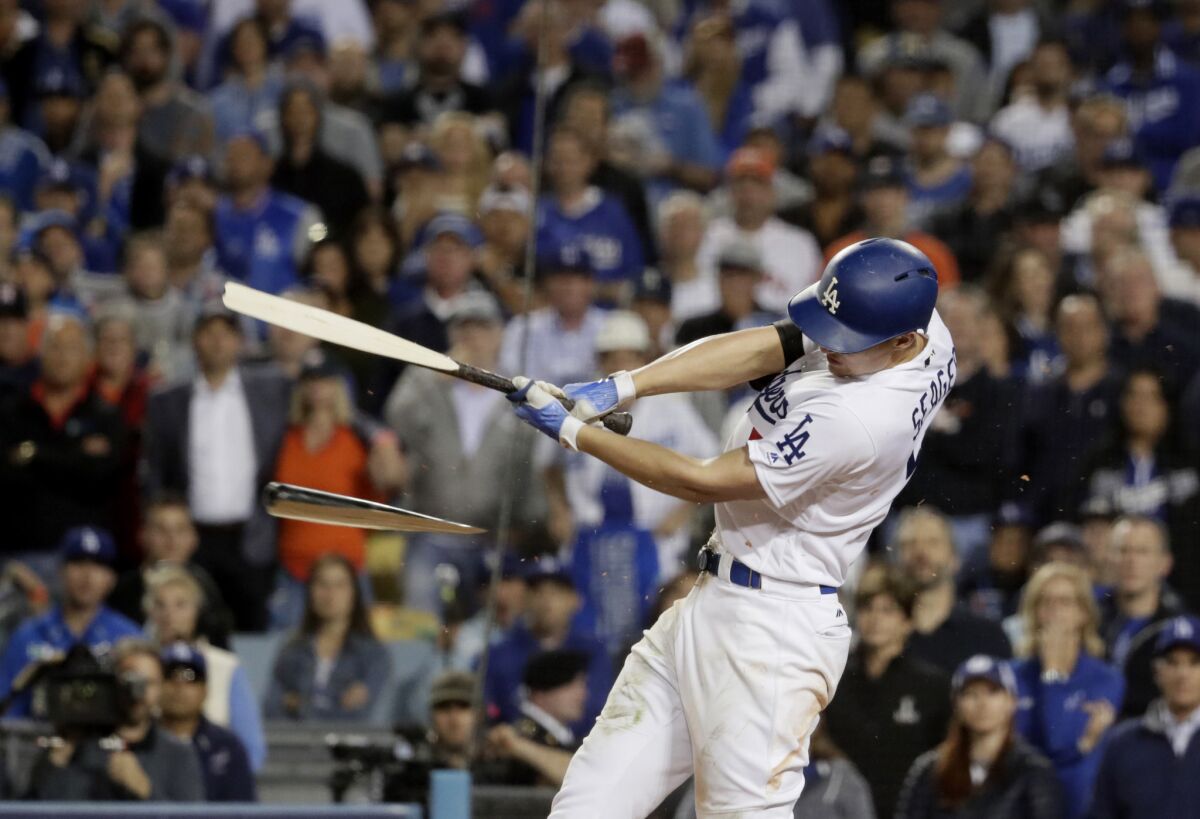 Hi, and welcome to another edition of Dodgers Dugout. My name is Houston Mitchell and it's time for Dodger baseball.
Dodgers will win the NL West
Yes, I am predicting the Dodgers to win the NL West for the seventh consecutive season. Do I think they are better than last season? Not necessarily. They could be, if everyone plays to their potential. But they underachieved last year, getting off to a 16-26 start and still finishing with 92 wins, which means they went 76-45 the rest of the way. I think they will win 91-95 games this season. Here's why they will win:
--The other NL West teams aren't that great. It's possible the Dodgers finish as the only team with a winning record in the division.
--Full seasons from Corey Seager and Justin Turner will off-set the loss of Manny Machado. Seager may be a bit rusty and may get off to a slow start, but he is too talented for any extended slump.
--I believe Austin Barnes is a much better player than he showed last season and will hit better than .205 and that Russell Martin's defense, walks and power will make up for a relatively low batting average. By the way, here's how Dave Roberts will give each playing time at the beginning of the season: "Early, call it the first week, first seven days, it's gonna be four-three, Austin," Roberts said. "And I think that's just kind of letting both these guys get their legs under them as the season progresses. I see Austin getting more of the lion's share, but as any season goes on, performance matters."
--Losing Yasiel Puig hurts on the field, no question. It hurts the defense in right field. But A.J. Pollock is an upgrade defensively in center. His injuries the last few seasons have been from playing hard. I'm hoping he stays healthy most of the season and makes up for most of what was lost in the Puig trade.
--Also, Puig was not a great clubhouse guy. I'm not big on clubhouse chemistry at all. Like I've said, you give me 15 guys who hit .300 but are jerks and I'll give you 15 guys who hit .200 and are saints and we'll see who wins the most games. However, I think sometimes changing the dynamics of what is going on internally can give you a boost, sort of like changing managers sometimes spurs a team to greater heights. We'll see.
--The Dodgers have the best pitching in the division, even with Clayton Kershaw and Rich Hill on the shelf. Walker Buehler, Kenta Maeda, Hyun-Jin Ryu, Julio Urias and Ross Stripling are the best rotation in the division. Stripling and Urias, who are in the rotation only because of injuries to others, are good enough to be in almost any other rotation in baseball.
--The bullpen will cause fans to pull their hair out as usual, but Kenley Jansen should be better this year, and I'm hoping the gains Pedro Baez made in the second half last season weren't a fluke.
--Mostly though, the other teams in the division aren't that great.
I could go on, but I can already hear some of you saying I'm crazy, so I'll stop. We have all season to discuss the Dodgers, so let's not burn out today.
Predicted order of finish:
Dodgers
Colorado
San Diego
Arizona
San Francisco
Newsletter mission
I got a lot of new subscribers in the offseason, so here's my usual speech on the mission of this newsletter. First, despite me picking them to win the division again, it's not my job to be a cheerleader for the team. I will criticize when warranted, and praise when deserved. Sometimes (hopefully most of the time) I will be right, sometimes I will be wrong. I want this newsletter to be a fun and interesting diversion for Dodgers fans. I approach it as if I am sitting with a friend watching a game. Whatever I would talk to that friend about is what I write about in the newsletter.
I welcome emails from readers and respond to as many as possible. If I don't respond to you, I'm sorry. Sometimes my other duties at The Times makes me fall behind in correspondence a bit.
Finally, remember, following baseball and the Dodgers is supposed to be an enjoyable experience. If you find yourself getting angry about the team, or something I wrote, then you are doing it wrong. Disagree, or get sad, or disappointed, but don't let a game ruin your day.
Thanks to all of you who subscribe, particularly those of you who have been with me since Day 1. This is the start of the fifth season of the newsletter, and it wouldn't be possible without all of you.
Opening day roster
Here it is:
Catchers: Austin Barnes, Russell Martin
Infielders: David Freese, Kiké Hernandez, Max Muncy, Corey Seager, Chris Taylor, Justin Turner
Outfielders: Cody Bellinger, Joc Pederson, A.J. Pollock, Alex Verdugo
Rotation: Walker Buehler, Kenta Maeda, Hyun-Jin Ryu, Ross Stripling, Julio Urias
Bullpen: Kenley Jansen, Joe Kelly, Pedro Baez, Scott Alexander, Caleb Ferguson, Yimi Garcia and Dylan Floro.
You'll notice that is only 24 players. There is still one bullpen spot up for grabs, and it hadn't been decided when I wrote this. Roberts said he wants it to be a guy who can pitch multiple innings, which could mean Brock Stewart or Dennis Santana, but we'll have to wait and see.
Ask Ross Porter
Ross Porter will once again answer reader questions this season. All you have to do is email me your question at houston.mitchell@latimes.com. I will forward the email on to Ross, and he will answer two or three each week. The first Ask Ross Porter will be next Thursday and it will run once a week after that.
TV schedule
KTLA will televise 10 Dodger games during the season. They are:
Tuesday vs. San Francisco, 7 p.m.
Friday, April 12, vs. Milwaukee, 7 p.m.
Thursday, April 18, at Milwaukee, 5 p.m.
Wednesday, April 24, at Chicago Cubs, 5 p.m.
Saturday, April 27, vs. Pittsburgh, 6 p.m.
Saturday, May 11, vs. Washington, 6 p.m.
Monday, May 27, vs. New York Mets, 5 p.m.
Thursday, May 30, vs. New York Mets, 6:30 p.m.
Saturday, June 1, vs. Philadelphia, 7 p.m.
Saturday, June 15, vs. Chicago Cubs, 6 p.m.
Up next
Today: Arizona (Zack Greinke) at Dodgers (*Hyun-Jin Ryu), 1 p.m., go to latimes.com/sports to follow our live Opening Day coverage
Friday: Arizona (*Robbie Ray) at Dodgers (Kenta Maeda), 7 p.m.
Saturday: Arizona (Zack Godley) at Dodgers (Walker Buehler), 6 p.m.
Sunday: Arizona (Luke Weaver) at Dodgers (*Julio Urias), 1 p.m.
*-Left-hander
And finally
Johnny Carson interviews Tommy Lasorda. Click here to watch.
Have a comment or something you'd like to see in a future Dodgers newsletter? Email me and follow me on Twitter: @latimeshouston.
Get our Dodgers Dugout newsletter for insights, news and much more.
You may occasionally receive promotional content from the Los Angeles Times.