Dodgers Dugout: Where Dodgers hitters rank at their position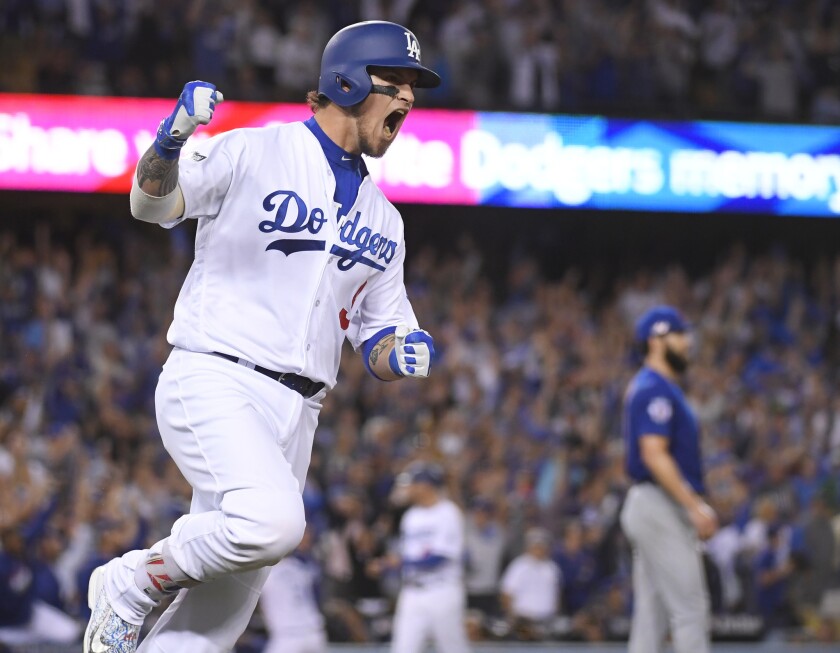 Hi, my name is Houston Mitchell, and welcome to another edition of Dodgers Dugout. Do you think other parts of the country make fun of L.A. for panicking when we get an inch of rain?
How they rank
Last week, I graded the main Dodgers hitters. Most of you seemed to agree, though a few would have given Yasiel Puig a B and a few of you thought Joc Pederson and Yasmani Grandal should have gotten D's.
Before moving to the pitchers, I wanted to take another look at the hitters from last season, seeing where they ranked at their position in WAR. What is WAR? Well, you can read more about it at fangraphs.com, but basically Wins Above Replacement is a stat designed to tell you: "If this player got injured and his team had to replace him with a minor leaguer or a player from the bench, how much value would the team be losing?" This value is expressed as wins, so if Player X is worth 4.3 wins to his team while Player Y is worth 1.5 wins, it is highly likely that Player X has been more valuable than Player Y.
Of course, there is no one stat that is a perfect indication of a player's value, but WAR uses offense, baserunning and defense as part of its overall total, so it is one of the better ones. Below you will find the top 10 at each position in the National League last season, with a minimum of 250 plate appearances required.
Catcher
1. Buster Posey, Giants, 4.7
2. Wilson Ramos, Nationals, 3.3
3. Yadier Molina, Cardinals, 2.9
4. Yasmani Grandal, Dodgers, 2.8
5. J.T. Realmuto, Marlins, 2.6
6. Welington Castillo, Diamondbacks, 2.4
7. Jonathan Lucroy, Brewers, 2.3
8. Willson Contreras, Cubs, 1.8
9. Francisco Cervelli, Pirates, 1.6
10. Cameron Rupp, Phillies, 1.3
More evidence that Grandal is underrated.
First Base
1. Freddie Freeman, Braves, 6.5
2. Anthony Rizzo, Cubs, 5.7
3. Paul Goldschmidt, Diamondbacks, 4.8
4. Brandon Belt, Giants, 4.3
5. Joey Votto, Reds, 4.0
6. Wil Myers, Padres, 3.2
7. Adrian Gonzalez, Dodgers, 2.1
8. Mark Reynolds, Rockies, 1.5
9. Justin Bour, Marlins, 1.2
10. John Jaso, Pirates, 0.9
Gonzalez was fourth in 2015.
Second Base
1. Jean Segura, Diamondbacks, 5.7
2. DJ LeMahieu, Rockies, 5.2
3. Daniel Murphy, Nationals, 4.6
4. Ben Zobrist, Cubs, 3.8
5. Cesar Hernandez, Phillies, 3.3
6. Neil Walker, Mets, 2.4
7. Derek Dietrich, Marlins, 2.4
8. Chase Utley, Dodgers, 2.0
9. Josh Harrison, Pirates, 1.8
10. Ryan Schimpf, Padres, 1.9
Third Base
1. Kris Bryant, Cubs, 7.7
2. Nolan Arenado, Rockies, 6.5
3. Justin Turner, Dodgers, 4.9
4. Anthony Rendon, Nationals, 4.1
5. Martin Prado, Marlins, 3.8
6. Jake Lamb, Diamondbacks, 2.6
7. Jung Ho Kang, Pirates, 2.3
8. Yangervis Solarte, Padres, 2.2
9. Hernan Perez, Brewers, 2.0
10. David Freese, Pirates, 1.8
Bryant and Arenado are on a different level than the other third basemen.
Shortstop
1. Corey Seager, Dodgers, 6.1
2. Brandon Crawford, Giants, 4.5
3. Addison Russell, Cubs, 4.3
4. Jonathan Villar, Brewers, 3.9
5. Aldemys Diaz, Cardinals, 3.5
6. Trevor Story, Rockies, 3.1
7. Asdrubal Cabrera, Mets, 2.7
8. Zack Cosart, Reds, 2.0
9. Danny Espinosa, Nationals, 1.7
10. Chris Owings, Diamondbacks, 1.6
Seager would also rank first if you included American League shortstops. Too bad he's so old and past his prime.
Left Field
1. Christian Yelich, Marlins, 5.3
2. Starling Marte, Pirates, 4.9
3. Ryan Braun, Brewers, 4.4
4. Adam Duvall, Reds, 3.2
5. Yoenis Cespedes, Mets, 2.9
6. Melvin Upton, Padres, 1.8
7. Alex Dickerson, Padres, 1.1
8. Angel Pagan, Giants, 1.0
9. Brandon Moss, Cardinals, 0.8
10. Howie Kendrick, Dodgers, 0.5
Now you can see why so many fans want the Dodgers to trade for Braun.
Center field
1. Charlie Blackmon, Rockies, 4.4
2. Odubel Herrera, Phillies, 4.2
3. Dexter Fowler, Cubs, 4.2
4. Ender Inciarte, Braves, 3.8
5. Trea Turner, Nationals, 3.5
6. Joc Pederson, Dodgers, 3.4
7. Billy Hamilton, Reds, 2.8
8. Randal Grichuk, Cardinals, 2.7
9. Marcell Ozuna, Marlins, 2.5
10. Travis Janikowski, Padres, 1.1
Right field
1. Stephen Piscotty, Cardinals, 2.9
2. Curtis Granderson, Mets, 2.5
3. Giancarlo Stanton, Marlins, 2.5
4. Carlos Gonzalez, Rockies, 2.2
5. Hunter Pence, Giants, 1.9
6. Nick Markakis, Braves, 1.7
7. Gregory Polanco, Pirates, 1.6
8. Bryce Harper, Nationals, 1.6
9. Jason Heyward, Cubs, 1.5
10. Ichiro Suzuki, Marlins, 1.5
The highest Dodger Yasiel Puig, who is 11th at 1.4. Matt Kemp, whom many Dodgers fans still love, is 16th with a 0.0 WAR, mainly because it would be more effective to have Venus de Milo playing defense in the outfield than Kemp.
Where's Dozier?
The Dodgers' anticipated trade for Twins second baseman Brian Dozier has hit a brick wall, with the Twins apparently believing that Jose De Leon isn't enough of a return for Dozier. The Dodgers do not want to trade Cody Bellinger or Alex Verdugo, so trade talks have stalled, leaving the Dodgers with no one to play second base. Sure, they could stick Enrique Hernandez out there, but that's not a big step above no one if he continues to play like he did last season. The Dodgers designated Micah Johnson for assignment earlier this week to make room on the 40-man roster for Kenley Jansen, which leaves their options at second base as basically Hernandez and Chris Taylor. So, even if they pull off a surprise and trade for Ryan Braun, they still need a reliable second baseman.
So what now? The Dodgers could always talk to the Tigers about acquiring Ian Kinsler, or they could bring back Chase Utley. And there are free agents out there. If the Dozier deal is a no go, I'd go after Kinsler. And for those of you clamoring for Willie Calhoun, remember he is only 22 and hasn't played above double A. Sure, he hit 27 homers in double-A Tulsa last season, but his on-base percentage was only .318, and, the Dodgers certainly aren't in a rush to start his free-agent clock ticking. And many of the ballparks in the Texas League are homer friendly.
And finally
Let's all watch as Joc Pederson does his hair in the dugout before a game last season. Joc, I have one word for you: Supercuts. Watch it here.
Have a comment or something you'd like to see in a future Dodgers newsletter? Email me and follow me on Twitter: @latimeshouston
---
Get our Dodgers Dugout newsletter for insights, news and much more.
You may occasionally receive promotional content from the Los Angeles Times.