Dodgers Dugout: Is Scott Kazmir on the comeback trail?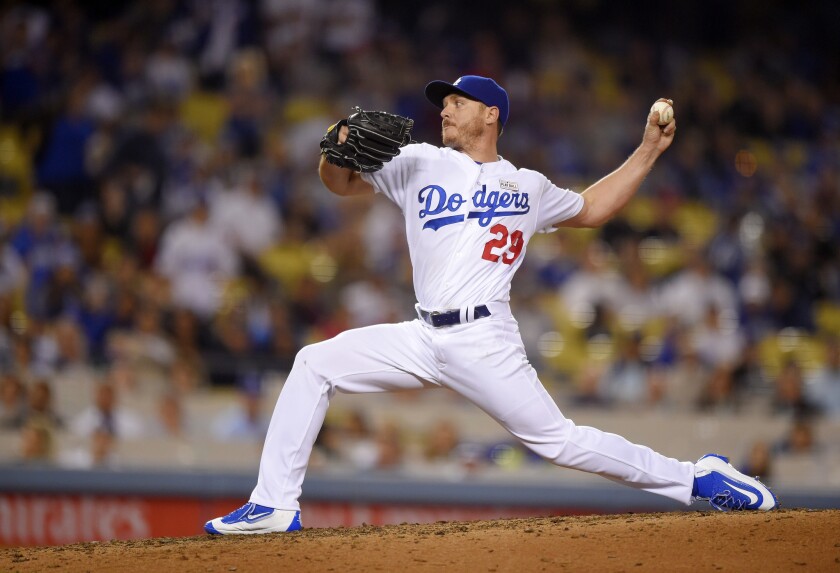 Hi, and welcome to another edition of Dodgers Dugout. My name is Houston Mitchell, and I can't believe Yasiel Puig didn't thank me for motivating him into hitting a home run Friday night.
Back in the swing of things
There were two good things that happened as the Dodgers were winning two of three from St. Louis over the weekend.
First, Scott Kazmir showed why the Dodgers signed him. In Saturday's 5-3 victory, he pitched 8 2/3 innings and when he was removed, he got a well-deserved standing ovation. Kazmir gave up only two earned runs and five hits while striking out seven and walking one. Better yet, he reached 94 mph on his fastball, the first time that has happened this season and a sign his thumb injury is subsiding.
"He wasn't throwing his changeup as much with the injury," Manager Dave Roberts said after the game. "But now he feels confident, and the velocity's coming back."
The other good thing is the offense showed signs of life, scoring 20 runs in their last four games, getting three homers from Corey Seager and homers by Puig, Adrian Gonzalez, Yasmani Grandal and Chase Utley. Yes, the offense stumbled again on Sunday, but things are heading in the right direction after pretty much a team-wide slump.
When did those guys get there?
One of the reasons the Cardinals were able to score three runs in the seventh inning Sunday was because J.P. Howell tried to field a bouncer hit up the middle, but deflected the ball, allowing Jeremy Hazelbaker to get an infield hit. Seager was ready to make the play and would have thrown out Hazelbaker if Howell hadn't deflected the ball, which he had to leap high to reach. Why did Howell reach for the ball when Seager was ready to make a play?
Howell does not study the infielders behind him when he pitches, so he was unaware Seager was in position. He was quickly told about it when he reached the dugout though.
'They were like 'Man!'" Howell said. "I was like, 'Cool. That's cool. Great to hear. Would have been an out every way, except for what I just did.' So that's cool. Cool to hear."
J.P., you might want to look around occasionally the next time you are on the mound. There's a lot going on behind you.
In case you hadn't noticed
Joc Pederson, still a target of criticism from many readers of this newsletter, is hitting .245 with a .359 on-base percentage and a .500 slugging percentage. He also leads the team with a 133 OPS+. His walks and power counteract his relatively low batting average. If he continues the give that kind of production, I don't care if he does strike out a lot (37 times so far in 117 plate appearances).
Urias update
Julio Urias continues to make it difficult for the Dodgers to keep him in the minors. He pitched six scoreless innings Saturday for triple-A Oklahoma City, extending his scoreless-innings streak to 22. He made a season-high 82 pitches in the six innings.
For the season, Urias is 3-1 with a 1.25 ERA in 36 innings. He has given up 21 hits and eight walks while striking out 39.
Roberts has mentioned the possibility of bringing him up and putting him in the bullpen. It's a tough choice. Though he hasn't really been stretched enough to be an every-fifth-day starter (which would mean reaching 100 pitches consistently), it seems like the Dodgers may be better off leaving him in the minors until he can do that. If he can come up later this season and take a permanent rotation spot, the team would get a huge boost.
Then again, after watching the bullpen melt down again Sunday, perhaps they should bring him up immediately and make him the set-up man for Kenley Jansen.
Ryu on the comeback trail
Hyun-jin Ryu is finally nearing his return. He will make four or five rehab starts in the minors as the team tries to build his stamina. If all goes well, he could return to rotation in mid-June.
Let's take a look at the rotation right now.
Clayton Kershaw, 5-1, 1.74 ERA, 0.726 WHIP
Scott Kazmir, 3-3, 4.89 ERA, 1.283 WHIP
Kenta Maeda, 3-2, 2.30 ERA, 1.023 WHIP
Alex Wood, 1-3, 4.17 ERA, 1.301 WHIP
Ross Stripling, 1-2, 4.26 ERA, 1.316 WHIP
The top candidates to lose their spot are Wood and Stripling, with the betting money on Stripling right now. They may want to look at their next few starts as auditioning for a rotation spot.
De Leon update
The other top pitching prospect for the Dodgers, Jose De Leon, has a sore arm and has had his spot in the Oklahoma City rotation skipped twice. He hasn't pitched since May 3, so don't look for him in L.A. anytime soon as team officials will be extra cautious with his workload.
The magic number
Each week I will look at a uniform number a current Dodger is wearing and go through the history of that number with the Dodgers. When I was a kid and went to games, I was always curious as to who wore the number of my favorite players. Then again, I was a strange kid. For "best Dodgers to wear the number," only the stats a player compiles while he was with the team and wearing that number count.
Next up is:
No. 14 (Kiké Hernandez)
Best Dodgers to wear No. 14: Freddie Fitzsimmons (1938-43), Gil Hodges (1947-61), Mike Scioscia (1980-92).
Before we get to the other to wear No. 14 with the Dodgers, let me just say that Gil Hodges should be in the Hall of Fame, and his number retired by the Dodgers.
Others to wear No. 10 with the Dodgers: High Pockets Kelly (1932), Bud Clancy (1932), Del Bissonette (1933), Joe Hutcheson (1933), Wally Millies (1934), Frank Skaff (1935), Frank Lamanske (1935), Harry Eisenstat (1936), Ox Eckhardt (1936), Roy Spencer (1937), Gene Hermanski (1943), Chris Haughey (1943), Rube Melton (1944), Lee Pfund (1945), Ferrell Anderson (1946), Dick Whitman (1947), Ken McMullem (1962), Bill Skowron (1963), Johnny Werhas (1964-67), Len Gabrielson (1967-70), Tom Haller (1971), Chris Cannizzaro (1972-73), Ivan de Jesus (1974-76), Von Joshua (1979), Delino DeShields (1994-96), F. P. Santangelo (2000), Jeff Reboulet (2001-02), Larry Barnes (2003), Bill Mueller (2006), Mike Lieberthal (2007), Pablo Ozuna (2008), Chin-lung Hu (2008), Juan Castro (2009), Jamey Carroll (2010-11), Mark Ellis (2012-13), Dan Haren (2014).
What Vin Scully means to me
I asked you to tell me your best Vin Scully memory, and I got a lot of responses. I will publish selected ones in each newsletter. And keep emailing them to me.
Ray Smith: I met Vin Scully once, while a friend and I walked an empty cart path during the old Bob Hope Desert Classic golf tournament. "Hey," my friend said to me as he looked ahead. "Behind that tree. That's Vin Scully!" As we approached we called out, "Hi Vin." "How ya doing fellas?" Vin responded. Honestly, how else would Vin Scully respond? He was standing just about where a rocketing drive might start to decelerate down the fairway, or where a slice might scream into the rough. It was the same conversation he'd probably had a million times over the years.
"We love listening to you call games."
"Well, thanks."
"Great day isn't it?"
"Beautiful, couldn't be better."
Then the conversation subtly shifted gears. "Heads up," he quietly cautioned. "Amateur."
That's why Vin was behind the tree. He had staked out a vantage point from which he could safely watch tee shots by pros and by amateurs. We jumped in behind him and shared the tree until the group finished teeing off. No damage, no ducking.
"Well, fellas, I gotta get going. Enjoy the rest of the day." Like he'd known us for years.
"You too, Vin." That brief encounter confirmed every nice-guy story about Vin I'd ever heard before ... and since.
The TV situation
If you would like to complain about the Dodgers' TV situation, you have three options: The Dodgers, Time Warner Cable and whatever local cable or satellite provider you have that doesn't carry the Dodgers. Here's who to contact:
For the Dodgers, click here or call (866) DODGERS ([866] 363-4377). (I hope you like form letters).
For Time Warner, click here.
For your local cable or satellite provider, consult your bill for the customer service number and for the website.
And finally
Our Dodgers beat writer, Andy McCullough, wrote a great story about Dan Haren and the inner turmoil that drove him to retirement. Read all about it here.
Have a comment or something you'd like to see in a future Dodgers newsletter? Email me and follow me on Twitter: @latimeshouston
---
Get our high school sports newsletter
Prep Rally is devoted to the SoCal high school sports experience, bringing you scores, stories and a behind-the-scenes look at what makes prep sports so popular.
You may occasionally receive promotional content from the Los Angeles Times.