Dodgers Dugout: A look at the Joe Kelly signing; also, who are the best 3 shortstops in team history?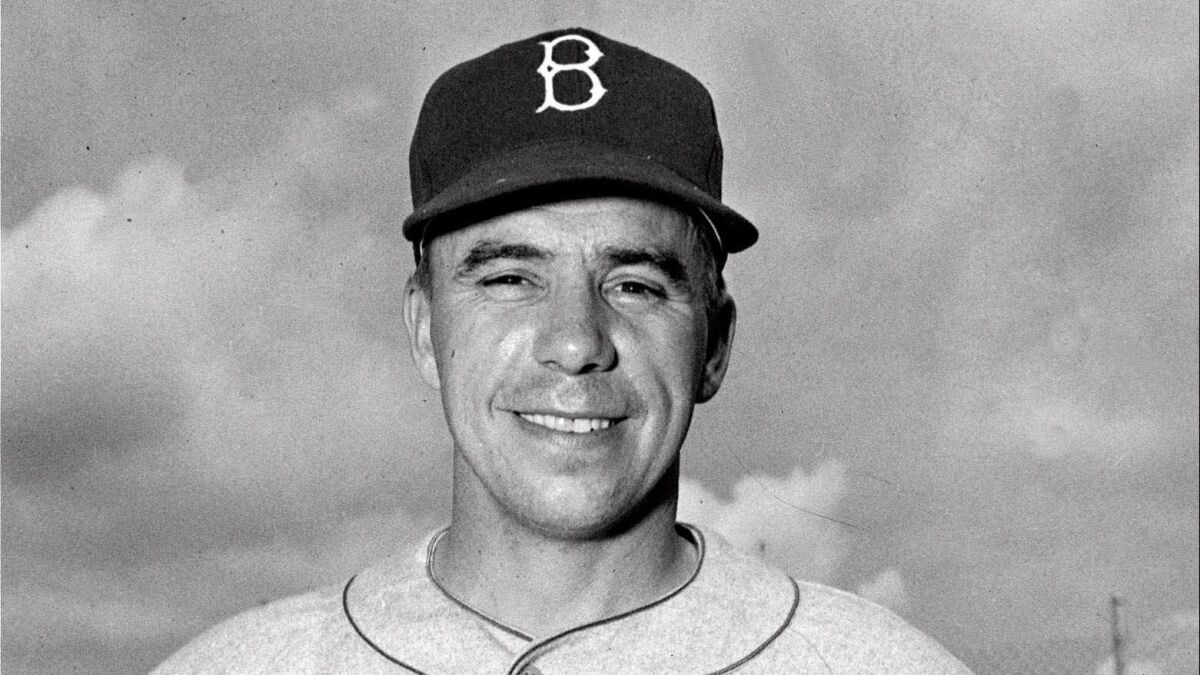 Hi, and welcome to another edition of Dodgers Dugout. My name is Houston Mitchell and it's time to continue selecting the all-time 40-man roster for the Dodgers.
But first …
Let's talk about all the action from the winter meetings: The Dodgers signed Boston reliever Joe Kelly. That was about it as far as the Dodgers go.
You may remember Kelly for two reasons: 1. He pitched very well against the Dodgers in this year's World Series. 2. He broke one of Hanley Ramirez's ribs while pitching for St. Louis in Game 1 of the 2013 NLCS, hampering Ramirez for the rest of the series, which the Cardinals won in six games.
Kelly got three years and $25 million, which is more than the Dodgers have spent recently on any relief pitcher not named Kenley Jansen. This seems to indicate he will be the primary setup man for Jansen. And Kelly has been outstanding in the postseason, giving up one earned run in his last 17.2 innings spread over three years.
Kelly is 33% in Inherited Runners Scored, which is slightly below average. His fastball reaches 100 mph and he has a great slider, but he walks a lot of guys, averaging 4.6 walks per nine innings over the last three seasons. To me, it's a strange choice of a reliever to finally open the piggy bank for, but he could prove invaluable in the playoffs, if the Dodgers make it.
In other Dodgers news, it appears that Chase Utley will be staying with the team in an undetermined front-office role. For those of you hoping he would be a coach, remember that one of the reasons he retired was so he could spend more time with his family. Coaching would prevent that. But a front-office role is the best of both worlds. He can still be around the players and give advice if he wants, and be home in time for dinner with the kids.
Andrew Friedman also said that the Dodgers probably would not hire a general manager this season to replace Farhan Zaidi. They named Jeff Kingston, who was a key member of the Seattle front office, as an assistant general manager.
Finally, it appeared for a little while that the team was on the verge of trading Yasiel Puig or Joc Pederson to Cleveland for pitcher Trevor Bauer, but that didn't happen, perhaps because the Indians wanted Alex Verdugo. There was no real movement on the Bryce Harper front, and an attempt to acquire Miami catcher JT Realmuto apparently fell apart when Miami asked for Cody Bellinger.
The all-time team, shortstop
Before we get to shortstop, let's again lay down the ground rules on who is eligible for the polls.
First, we are only counting what they did as a Dodger. Frank Robinson is one of the greatest players of all time, but he only played one season with the Dodgers, so he won't be appearing here.
Second, position players had to play at least 500 games with the Dodgers, or have had such an iconic moment or season with the team that it wouldn't make sense to leave them off. (It's the Kirk Gibson rule.)
Third, only games played since 1901 count. My apologies to those who played before then.
Fourth, players who competed at multiple positions will be listed at the position where they played the most games for the Dodgers. For example, Jim Gilliam played multiple positions for the Dodgers, but he played the most games at second base, so he was listed there.
Finally, vote for three players at each position. There will be a link to a site where you can make your selections at the end of each player list. With that, let's get to it. There are 10 shortstops who meet the criteria for the Dodgers.
Let's look at them using three stats: OPS+ (on-base percentage plus slugging percentage, which compares them to the league-average hitter each season, making it easier for us to do cross-era comparisons; a league-average hitter will have an OPS+ of 100), WAR (wins above placement, which shows career value) and defensive WAR (which gives a general idea of how well they fielded). Those three stats don't give a complete picture, but it should give you an overall sense of the value of each player. I encourage you to do further research on each player if you are unsure about them.
OPS+
Rafael Furcal, 100
Pee Wee Reese, 99
Maury Wills, 87
Jose Offerman, 87
Bill Russell, 83
Phil Lewis, 80
Alex Cora, 77
Dave Anderson, 77
Ivy Olson, 76
Cesar Izturis, 68
WAR
Pee Wee Reese, 66.3
Maury Wills, 32.1
Bill Russell, 31.3
Rafael Furcal, 15.7
Dave Anderson, 4.7
Ivy Olson, 4.4
Alex Cora, 3.9
Cesar Izturis, 3.8
Jose Offerman, 2.1
Phil Lewis, 1.4
Defensive WAR
Pee Wee Reese, 25.6
Bill Russell, 19.4
Maury Wills, 11.3
Cesar Izturis, 6.3
Rafael Furcal, 5.7
Ivy Olson, 4.4
Alex Cora, 2.7
Dave Anderson, 2.6
Phil Lewis, -0.9
Jose Offerman, -3.2
A closer look at the players (statistics are with Dodgers only):
Dave Anderson (1983-89, 1992, .242/.312/.318): Anderson was once the shortstop of the future. That future lasted about five seconds. He hit .165 in 1983 and .199 in 1985. He was one of the "Stuntmen" on the 1988 Dodgers, one of the guys on the bench who was able to fill in at a moment's notice and play effectively for a game or two if you needed him. If Kirk Gibson had been unable to hit in Game 1 of the 1988 World Series, Anderson would have been the one to hit. And you know how the new baseball analytics movement is always warning you about "small sample size"? Well, Anderson is a prime example as to why. He hit .350 in 1990 with the Giants. But it was in only 100 at-bats. Anderson wasn't a .350 hitter, but almost any major leaguer can put together 100 at-bats where he looks like a .300 hitter. Most can't do it consistently though.
Alex Cora (1998-2004, .246/.316/.351): Cora played 338 games at short for the Dodgers and 335 at second, so he appears here. He was the stereotypical good glove, no hit player who is probably best remembered, strangely enough, for an incredible 18-pitch at-bat against Matt Clement that ended in a home run. You can watch that at-bat here (look for a cameo from Dave Roberts as one of Cora's teammates who leaps off the bench in celebration). Of course, Cora also managed the Boston Red Sox over the Dodgers in the World Series, but we can't hold that against him. Can we?
Rafael Furcal (2006-11, .283/.351/.406): After great success with the Braves, Furcal signed as a free agent with the Dodgers before the 2006 season and put together his best season, when he hit .300 with 32 doubles, 15 homers and 113 runs scored. He regressed a bit in 2007 before injuries really began to derail his career. He played in only 36 games with the team in 2008, but the Dodgers re-signed him to a three-year deal after the season. He played in 150 games in 2009 and scored 92 runs, but played in only 97 games the following year and in 37 in 2011 before he was traded to St. Louis for Alex Castellanos.
Cesar Izturis (2002-06, .260/.296/.336): He couldn't hit, but Izturis is easily the best defensive shortstop I've ever seen play for the Dodgers. He could go in the hole at short and throw the ball on a line to first like it was shot out of a cannon. When he played short and Adrian Beltre played third, no balls were getting by the left side of the Dodger infield. He won a Gold Glove in 2004 and would have won more if he could hit well enough to stay in the lineup. The Dodgers dealt him before the trade deadline in 2006 for Greg Maddux. His son, Cesar Jr., is in the minors with the Seattle Mariners.
Phil Lewis (1905-08, .242/.281/.282): Lewis played only four seasons with Brooklyn. He joined them fresh out of Cornell as a 21-year-old, but was overmatched at the plate and on defense. He made five errors in one game in his first season and was let go after the 1908 season. He played in the minors for several years and served in World War I. He eventually became a logger and died in 1959 in Port Wentworth, Ga., at the age of 75.
Jose Offerman (1990-95, /.256/.344/.325): Offerman hit a home run in his first at-bat with the Dodgers, and it was all downhill from there. He was brutal on defense, leading to Dodger fans calling him Jose Awful-man and asking "How many E's in Offerman?" He made 42 errors at short in 1992, 37 in 1993 and 35 in 1995. The Dodgers finally decided they couldn't put up with the errors and traded him to Kansas City. He eventually reinvented himself as a first baseman and DH and put together a nice career, leading the AL in triples in 1998 and 1999.
Ivy Olson (1915-24, .261/.295/.325): You are probably asking yourself, "Who is Ivy Olson?" Well, he is one of only four people to play at least 800 games at short for the Dodgers, joining Pee Wee Reese, Bill Russell and Maury Wills. He also is the Dodger all-time leader in at-bats per strikeout (26.8) and holds the season record for the team too (55.1 in 1922). Olson played at a time when a fiery disposition was considered almost as important as actual playing ability. He was involved in several fights a season, spiked players on slides, and generally was hated by all opponents. That seemed to cover up the fact that Olson generally wasn't a good player. He couldn't hit, he was an OK fielder, but that didn't make up for his bat. But he was quite a character. He retired after the 1924 season and lived on the West Coast for the rest of his life, dying in Inglewood in 1965 at the age of 79.
Pee Wee Reese (1940-42, 1946-58, .269/.366/.377): Reese is a 10-time All-Star and captain of the "Boys of Summer." He lost three years of his career to service during World War II. Reese drew a lot of walks, including a league-high 104 in 1946 and was frequently among the leaders in on-base percentage. He received MVP votes for 11 straight seasons from 1946-56 and was one of the first Dodgers to welcome Jackie Robinson and try to make him feel part of the team. Once, during a game in Cincinnati (some sources dispute the location and date, but no one denies it happened), fans were shouting horrible, racist things at Robinson while the team was taking infield practice. Reese, a Southerner from Kentucky with friends attending the game, walked over to Robinson and put his arm around him while talking to him, a gesture that silenced much of the crowd. Years later, when asked about it, Reese said: "I was just trying to make the world a little bit better. That's what you're supposed to do with your life, isn't it?"
Reese died in 1999. At his funeral, Joe Black, one of the first African American pitchers in the majors and a former teammate of Reese, said: "Pee Wee helped make my boyhood dream come true to play in the majors, the World Series. When Pee Wee reached out to Jackie, all of us in the Negro League smiled and said it was the first time that a white guy had accepted us. When I finally got up to Brooklyn, I went to Pee Wee and said: 'Black people love you. When you touched Jackie, you touched all of us.' With Pee Wee, it was No. 1 on his uniform and No. 1 in our hearts."
For more on the life of Pee Wee Reese, read this article by Rob Edelman.
Bill Russell (1969-86, .263/.310/.338): Russell was a converted outfielder who went on to become one of the longest-tenured Dodgers in history, second all-time in games played for the team with 2,181, trailing Zack Wheat (2,322). If there is one word to describe Russell, it's "steady." He never was the best shortstop in the NL, and was never the worst. He never led the league in anything, made the All-Star team three times, seldom struck out, didn't have a lot of power. But he went out there every day and rarely cost his team a game, and also was known among fans as the best clutch hitter on the team. He replaced Tommy Lasorda as manager of the team in 1996 and was fired in 1998 during the infamous Fox era. He works as an umpire checker for MLB and can frequently be seen at Dodger Stadium.
Maury Wills (1959-66, 1969-72, .281/.331/.332): Another former Dodger who should be in the Hall of Fame, Wills is the man who had the biggest influence on making the stolen base a weapon. Wills led the league in steals six consecutive seasons, including a then-record 104 in 1962 (with only 13 times caught stealing). He won the MVP award that year and finished third in 1965, when he stole 94 bases. Was he just an average hitter? Yes. Was he a defensive whiz? Not a whiz, but he did win two Gold Gloves. And, if you will allow me to get on my soapbox for a moment ... I understand why modern analytics tell us that the stolen base is often not worth the risk. I understand why, from a logical point of view, you don't want guys stealing 20 bases and getting caught 10 times, because the 20 times you pick up an extra base isn't worth the 10 times you lose the runner entirely. But speaking from a fan standpoint: There are few things more exciting in baseball than having a guy on first who you know can steal second. Every pitch becomes a focus, as fans wonder if he's going now or going to wait. Now, a guy gets on first, you know he's not going anywhere. Wills made the game exciting, and in the haste to make everything about the game analytical, some of that excitement is being stripped from the game.
Now it's time for you to vote. Remember to vote for three. You can click here to vote, or you can email me your three choices. Ties are not allowed, and you have to vote for three. Vote for more or fewer and your vote won't count.
Next week: Left field. I'm predicting a landslide win for Billy Ashley.
Who were the three best third basemen?
You voted. Here are the results, after receiving 13,836 ballots:
1. Ron Cey (named on 97.7% of ballots)
2. Justin Turner (88.2%)
3. Adrian Beltre (55.6%)
4. Pedro Guerrero (48.1%)
5. Billy Cox (4.6%)
6. Cookie Lavagetto (4.5%)
7. Frenchy Bordagaray (0.6%)
8. Mike Sharperson (0.3%)
9. Dave Hansen (0.3%)
10. Lenny Harris (0.1%)
11. Joe Stripp (0.1%)
12. Jimmy Johnston (0.1%)
The 40-man roster so far:
Catchers
Roy Campanella
Mike Piazza
Mike Scioscia
Infielders
Adrian Beltre
Ron Cey
Steve Garvey
Jim Gilliam
Gil Hodges
Davey Lopes
Wes Parker
Jackie Robinson
Justin Turner
Coming up
Dec. 26: Left field
Jan. 2: Center field
Jan. 8: Right field
Jan. 15: Wild-card
Jan. 22: Starting pitchers
Jan. 29: Relief pitchers
Feb. 5: Managers
And finally
Next week's voting will begin on Wednesday. In the meantime, I hope you have a Merry Christmas and Happy Holidays, and here's a video of Pee Wee Reese giving his Hall of Fame induction speech. Watch it here.
Have a comment or something you'd like to see in a future Dodgers newsletter? Email me and follow me on Twitter: @latimeshouston.
Get our Dodgers Dugout newsletter for insights, news and much more.
You may occasionally receive promotional content from the Los Angeles Times.