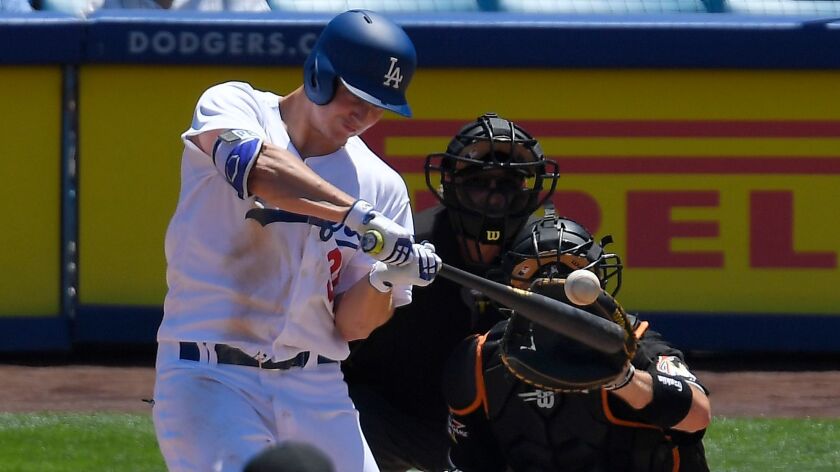 Hi, and welcome to another edition of Dodgers Dugout. My name is Houston Mitchell and whatever you do Dodgers, please don't let Cody Bellinger take part in the Home Run Derby at the All-Star game.
What, me worry?
The Dodgers just came off a six-game winning streak, won two of three from Cleveland and are on pace to win 99 games. The team is a lot of fun to watch, comes from behind to win and has the best ERA in baseball. In short, there is a lot to praise, far more than there is to criticize. I still think this is the team to beat in the West, but a good GM studies ways to improve their team, so let's take a look at some problem areas as we get close to the halfway point of the season.
The outfield
With left field mainly belonging to Cody Bellinger and Chris Taylor, it is in good hands. But center field and right are problematic. Let's take a look at the slash line numbers for the main players there.
Joc Pederson: .198/.309/.310
Yasiel Puig: .244/.315/.421
Of the two, Pederson is the bigger concern. He said playing in the minors while rehabbing from an injury allowed him to work with swing coach Shawn Wooten. But he's two for 11 since coming back, which is admittedly an extremely small sample size.
As I said before the season, a lot of people underrated Pederson the last couple of seasons because they only look at batting average. His walk rate and power numbers were always good. Not anymore. There's really no defending a slugging average of .310.
Puig, however, is hitting .289/.372/.447 in June and .271/.333/.471 since being switched mainly to the No. 8 spot in the batting order. Plus, his defense makes him more valuable. So there is reason for optimism. If he keeps hitting like he has been this month, then right field is not a big problem.
That brings us back to Pederson. How much longer do the Dodgers stick with him at center? Do they trade for Lorenzo Cain (.272/.351/.426) from the Royals? Who do you give up to trade for him? Do they bring up Alex Verdugo (.314/.390/.433 at triple-A) and go with an outfield of Verdugo, Taylor and Puig?
I think, with the team playing so well, they let it ride with Pederson until at least the All-Star break.
Rich Hill
Hill gave up seven runs in four innings against Cleveland on Thursday, giving him a 3-3 record with a 5.14 ERA. He has had several starts this season where he has pitched well, but when you can never get past the fifth inning all you are doing is taxing the bullpen. Here are his innings pitched in each start this season: 5-3-5-4-5-4-5-4.
I don't think that's what they expected when they gave him a big off-season contract. So what to do? Well, there's not much to do. You just keep throwing him out there and hope he figures it out. You could try him in the bullpen, but is warming up three our four times a week conducive to his blister problems?
He's not a No. 2 starter, at least not now. And on this team, he may not even be the No. 3 starter.
Parts of the bullpen
The Dodgers bullpen still has the best ERA in the NL, but it has a 4.30 ERA in June. Chris Hatcher has an 11.82 ERA this month, Ross Stripling, 11.13, Josh Fields, 7.20. It may be time to come up with some sort of 10-day DL injury for Stripling to get some rest while someone like Josh Ravin comes up from the minors.
It's also time to just part ways with Hatcher. He had a 5.53 ERA last season. It is 4.88 this season. Unless they are keeping him around to make blowouts close so Kenley Jansen can get a save, I fail to see the reason for his continued appearance on the roster.
Logan Forsythe
He's hitting .190 and went 0 for 3 with three strikeouts in Thursday's loss. As a veteran, he'll get more time to work his way out of this. After all, everyone was ready to dump Chase Utley after his horrid April, and he certainly turned things around. Forsythe was hitting .295 before going on the disabled list in April. He is hitting .114 with 26 strikeouts in 61 at-bats since coming off the DL on May 23.
That pretty much sums it up. There's no reason to panic, but there are some issues to think about, even on a team on pace to win 99 games.
Comparison
The Dodgers are trying to win their fifth consecutive division title. Let's take a look at this year's record and how it compares through the same point in the last four seasons.
2017: 41-26, second place in NL West, 1 game behind Colorado
2016: 35-32, second place, 6 games behind San Francisco
2015: 38-29, first place, 2 1/2 games ahead of San Francisco
2014: 35-32, second place, 8 games behind San Francisco
2013: 29-38, fifth place, 7 1/2 games behind Arizona
Ask Ross Porter
Tom Miller asks: One of the most rare plays in baseball is an unassisted triple play. Has anyone on the Dodgers ever made one? How many have there been in baseball history? Thanks, Ross, for all the baseball knowledge you share with us.
Ross: Thanks, Tom, for your gracious comment. It's a pleasure to communicate with good fans An unassisted triple play occurs when a defensive player makes all three putouts by himself in one continuous play without his teammates making any assists. 15 players have fielded an unassisted triple play: eight shortstops, five second basemen, and two first basemen. In 1927, there were two turned in 24 hours. It was 41 years until the next one. The last time it happened was in 2009. Bill Wambsganss of Cleveland made what might be the most famous unassisted triple play because he did it in the 1920 World Series against the Brooklyn Dodgers. No Dodger has ever done it.
Next series
Friday, 4 p.m. PT, Dodgers (Alex Wood, 6-0, 2.01) at Cincinnati (Asher Wojciechowski, 1-0, 5.21)
Saturday, 1 p.m. PT, Dodgers (Hyun-jin Ryu, 2-6, 4.42) at Cincinnati (Tim Adleman, 4-2, 4.34)
Sunday, 10 a.m. PT, Dodgers, (Clayton Kershaw, 9-2, 2.23) at Cincinnati (Bronson Arroyo, 3-5, 7.01)
Note: Pitchers are subject to change
And finally
Julio Urias has no structural damage in his shoulder, but Dodgers are unsure when he will return. Read it here.
Have a comment or something you'd like to see in a future Dodgers newsletter? Email me and follow me on Twitter:@latimeshouston.
Twitter: @latimeshouston
---