Dodgers acquire second baseman Logan Forsythe for top pitching prospect Jose De Leon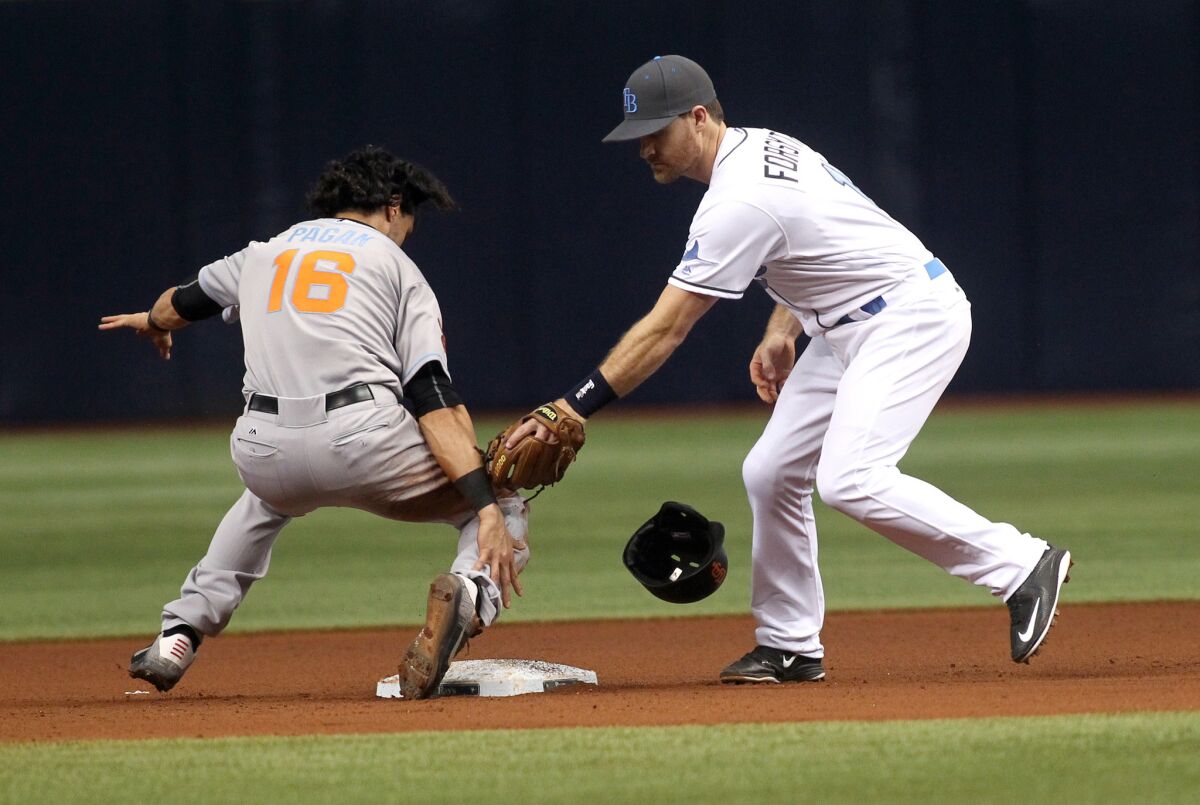 The Dodgers' search for a second baseman, a months-long endeavor that featured endless negotiations with Minnesota over All-Star Brian Dozier, ended Monday when the team found a reasonable alternative to Dozier: Tampa Bay infielder Logan Forsythe.
The Dodgers agreed to send pitching prospect Jose De Leon to the Rays in exchange for Forysthe, 30, who hit 20 homers last year and 17 in 2015, with a combined .791 on-base-plus-slugging percentage in those seasons.
As a right-handed hitter, Forsythe checks an additional box on the off-season shopping list of Andrew Friedman, the Dodgers' president of baseball operations.
"He's a grinder," Friedman said. "A professional hitter. Can really handle left-handed pitching, as well as right-handed. Has some versatility. Is a good baserunner. We felt like he was the type of player that we needed to be aggressive and go out and add to our current group."
Forsythe is owed $5.75 million for 2017, with a $9 million team option for 2018 that includes a $1 million buyout. He lacks the power of Dozier, who hit 42 homers for Minnesota in 2016, but he still slugged .444 the past two years. Forsythe can also play first base and third base.
The Dodgers haggled with Minnesota over Dozier since baseball's winter meetings in early December. The Twins sought a package that included De Leon and an additional high-level prospect. The Dodgers lacked interest in parting with assets such as first baseman Cody Bellinger, outfielder Alex Verdugo or pitcher Yadier Alvarez. When the discussions petered out, the Dodgers pivoted to Tampa Bay.
After stockpiling prospects for years, the team feels it can utilize its surplus of young talent to improve the big league roster. By bringing back 36-year-old left-hander Rich Hill on a three-year, $48-million deal, Friedman felt there was enough depth to handle losing De Leon.
"He's got a chance to be a really good major league pitcher," Friedman said of De Leon.
The 24-year-old right-hander posted a 6.35 earned-run average in four starts in the majors in 2016, but scouts still consider his future bright. Even after his departure, the Dodgers still have young pitchers such Julio Urias, Ross Stripling and Brock Stewart to aid the big league staff.
The acquisition of Forysthe makes the likelihood of a reunion with second baseman Chase Utley look more remote. Though his skills have declined from his All-Star peak in the 2000s, Utley was a widely adored veteran who commanded respect inside the Dodgers clubhouse.
However, Utley bats from the left side, so his utility on the roster is limited.
"You never say never with a guy like Chase, just because of the type of guy he is, and the impact that he has," Friedman said. "But it's one of those things where we probably would have re-signed Chase months ago if our lineup was more balanced."
Twitter: @McCulloughTimes
---
Get our Dodgers Dugout newsletter for insights, news and much more.
You may occasionally receive promotional content from the Los Angeles Times.