How a stare from Yasiel Puig inadvertently led to a stirring Dodgers comeback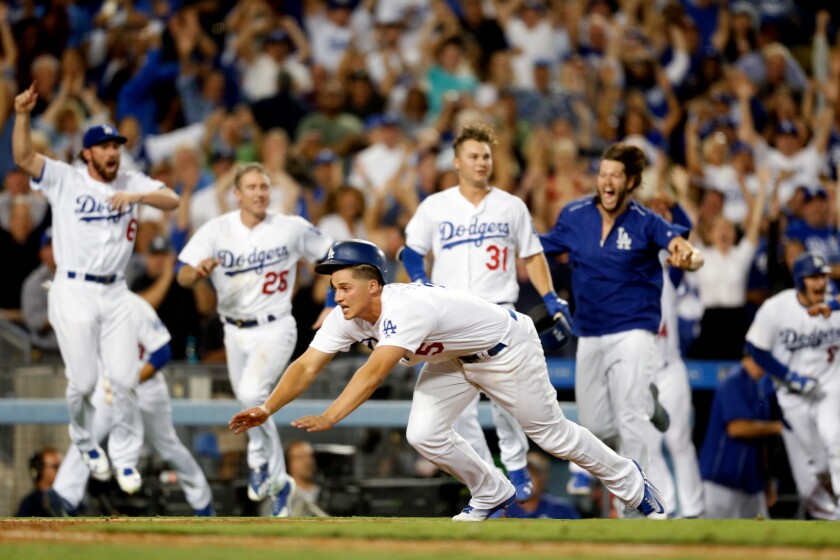 The eyes of Yasiel Puig sparked it all, inspiring the fracas that ended an ace's bid for a shutout, opened the door for a ninth-inning comeback and handed the Dodgers a stranglehold on the National League West after a 2-1 victory over San Francisco on Monday night.
The comeback came in the bottom of the ninth, after a game-tying RBI single by Justin Turner and a game-winning RBI double by Adrian Gonzalez. Corey Seager swam across the plate as a swarm of Dodgers engulfed Gonzalez near second base.
In the middle of the pack was Puig, who created an opening for this madness two innings prior. And all it took was a sideways glance at Madison Bumgarner, triggering the events that led to a six-game lead in the division with 12 games to play.
"Don't look at me," Bumgarner barked after Puig ran through first base and stared at Bumgarner as the seventh inning came to a close. "Don't look at me."
Puig did not break eye contact. He had jousted with Bumgarner verbally before, when Bumgarner hollered at him after a home run in 2014. This time was different. Bumgarner was in the midst of a one-man demolition of the Dodgers, with 10 strikeouts recorded and one hit allowed. But his night was about to end.
"What?" Puig said. "What are you going to do to me?"
The two men mixed expletives into their speech, heightening the rhetoric as they drew closer. All around them, the benches and bullpens emptied. Puig pawed at Giants outfielder Hunter Pence. Puig was escorted toward center field. Bumgarner thrashed in the arms of his teammates near his own dugout.
Nothing came of the row. There were no punches, no ejections, nothing but bluster and bile. But a rage-filled Bumgarner did not throw another pitch. San Francisco Manager Bruce Bochy turned to his bullpen. The relievers did what they have done so often in the second half of this season: crumbled.
Bumgarner and Bochy insisted the incident did not lead to Bumgarner's exit. The Dodgers did not seem to care what the explanation was. They just delighted in his departure. Manager Dave Roberts admitted he felt "a little relief" when he saw Bochy send up a hitter for Bumgarner in the eighth.
"It actually was in our favor, because he was taken out of the game," Puig said. "He was pitching well. And in the end, we won."
After turning in six innings of one-run baseball, Clayton Kershaw placed responsibility on Bumgarner.
"That wasn't Puig's fault," Kershaw said. "It looked like he was saying 'Don't look at me.' We all know Bum's pretty intense out there, but he definitely stirred the fire on that one. He was asking for it."
The Dodgers capitalized in the ninth. Bochy maneuvered his bullpen in puzzling fashion. He let right-hander Derek Law face left-handed-swinging pinch-hitter Andrew Toles; Toles got a single. He sent lefty specialist Javier Lopez to face Seager; Seager scratched off another single.
Then Bochy decided to use right-hander Hunter Strickland against Turner. To do so, he ignored a critical component of Turner's game: He is much better against right-handed pitchers than left-handers. Turner hit an RBI single. Gonzalez crushed a hanging slider to end it.
"I think that 'resilient' is completely an understatement," Roberts said.
The late-night comeback overshadowed a quality outing from Kershaw. He logged six innings and allowed one unearned run. Kershaw struck out seven and yielded three singles while throwing 88 pitches.
The lone, unearned run galled Kershaw. It resulted from an infield single by third baseman Eduardo Nunez, a stolen base, a throwing error by catcher Yasmani Grandal and a wild pitch. No other Giant reached second base against him.
In three starts back from the disabled list, Kershaw continues to show promising life on his fastball and faltering command on his offspeed pitches. Neither his slider nor his curveball cooperated in reliable fashion Monday. He managed to secure better results in his final two innings, retiring the last seven batters he faced.
"You're not going to have your best stuff every time," Kershaw said. "But physically, I feel good. No complaints."
By the seventh, Kershaw had left the game, and his team trailed Bumgarner. Puig owned the only hit of the evening, a double off the wall in the second. This time, he tapped a grounder toward the mound. Bumgarner spun and made the throw.
As he headed for his dugout, Bumgarner celebrated the end of the inning by screaming an expletive. The words did not appear to be directed at Puig. That did not stop what followed.
Puig said he saw Bumgarner staring at him. Bumgarner said likewise. It was schoolyard stuff, two men hopped up on adrenaline and the hunt for October. It soon spilled into a brouhaha.
"If [Bumgarner] just keeps walking to the dugout, nothing happens," Gonzalez said.
The antipathy between Bumgarner and Puig is no secret. Puig said he did not know why Bumgarner dislikes him. "Every time I face him," Puig said, "it seems like we have those problems."
"Those two like each other a lot," Turner said. "They probably go out to breakfast every morning they're in town."
Across the building, as the Giants licked their wounds after their 30th blown save this season, there was little room for humor.
"He tried to stare me down or something," Bumgarner said. "I don't know. That's what it looked like to me."
Back in the Dodgers clubhouse, as the players marveled over a sixth walk-off victory in 2016, a reporter posed a question to Turner: Is it considered a breach of etiquette to look at a player on the opposing team?
"I'm not sure," Turner said. "There's a history there between those two. I guess looking at someone, or staring in their direction, might offend some people."
The Dodgers entered Monday as overwhelming favorites to win the division. Before the game began, FanGraphs projected the team's chances of winning the division at 96.5%. Baseball Prospectus opted for a conservative pick: 95.8%. The Giants can alter the arithmetic with a successful series here. But the odds favor their hosts.
Thus the comeback on Monday makes the matter that much closer to being sealed. It also added a new catchphrase for the season. As Turner spoke at his locker after the game, closer Kenley Jansen walked by.
"J.T. is talking to reporters," Jansen said. "Stop looking at them, man!"
Twitter: @McCulloughTimes
MORE DODGERS NEWS
Dodgers catcher Yasmani Grandal gets second day off with sore elbow
Dodgers fans have just a few more days to enjoy Vin Scully as announcer
With its best bullpen arms unavailable, Dodgers blow lead in extra-inning loss
---
Get our high school sports newsletter
Prep Rally is devoted to the SoCal high school sports experience, bringing you scores, stories and a behind-the-scenes look at what makes prep sports so popular.
You may occasionally receive promotional content from the Los Angeles Times.