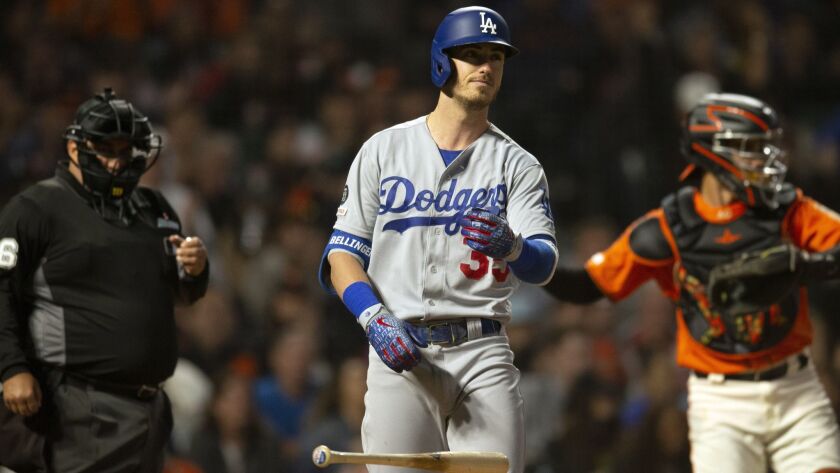 Reporting from SAN FRANCISCO —
There was no full moon above Oracle Park on Friday night. If there had been, that might have explained some of the oddities that transpired on the field below, where the Dodgers experienced something that happens once in a blue moon:
They lost a game Clayton Kershaw started.
The San Francisco Giants snapped a scoreless tie with two runs in the sixth inning off the Dodgers left-hander and held on for a 2-1 victory before a crowd of 35,157, marking the first time since Aug. 13 against San Francisco — a span of 17 regular-season starts — that the Dodgers lost a game Kershaw started.
Kershaw pitched well, giving up two runs and six hits in seven innings, striking out four and walking one, and suffered his first loss since last July 21 at Milwaukee, a span of 21 regular-season starts.
"For a streak like that to happen you have to be on a great team, because there are gonna be games where you pitch bad and get a win or a no-decision," said Kershaw, who fell to 5-1 with a 3.14 ERA. "And sometimes, nights like these happen."
The word peculiar would only begin to describe a night in which the Dodgers extended their losing streak to two, the first time they've lost back-to-back games since April 23-24 in Chicago against the Cubs.
It began with Dodgers slugger Cody Bellinger stepping to the plate in the first inning and getting serenaded by "MVP! MVP!" chants … in San Francisco, where fans usually greet their hated rivals with chants of "Beat L.A.!"
Then there was the prolific Dodgers offense loading the bases with one out in the first against a pitcher with a 1-6 record and an 8.08 ERA … and not scoring, as David Freese and Corey Seager struck out against Drew Pomeranz.
And second baseman Max Muncy, not exactly known for his defensive prowess, making three Gold Glove-caliber plays in the first four innings … and the Giants employing a four-man outfield against Seager, who grounded a fourth-inning single through a vacated shortstop hole … and Seager tripping on the first-base bag on a seventh-inning infield single and getting a mouthful of dirt.
Seager's stumble wasn't even the worst face-plant of the night. That honor went to left fielder Chris Taylor, who tripped on a bullpen mound in pursuit of Brandon Belt's sixth-inning foul pop that could have been caught but instead allowed the go-ahead run to reach base.
"It was the Twilight Zone out there, man," Dodgers manager Dave Roberts said. "It was a weird night."
Kershaw had an 0-and-2 count on Belt when the San Francisco first baseman sent a high fly ball down the left-field line. Taylor closed on the ball and seemed poised to make the catch when he hit the back of the bullpen mound and was sent sprawling into the dirt as the ball dropped.
Did Taylor think he was going to get to the ball?
"Yeah," he said. "I mean, you're aware of the mound, but trying to watch the ball and be aware of your peripherals is easier said than done. I don't know if maybe the better approach is to look down and take your eye off the ball. I was trying to high-step, but it's a pretty steep back edge of the mound."
Taylor was fortunate to escape serious injury on the play, but the Dodgers were still hurt by it. Belt went on to draw a leadoff walk, and Evan Longoria singled to put two on with no outs.
Sign up for our daily sports newsletter »
Kershaw got Tyler Austin to fly out to right, the runners holding, but Kevin Pillar dug out a low slider and dunked a run-scoring single to left-center field for a 1-0 lead. Kershaw's next pitch sailed over the head of catcher Austin Barnes and to the backstop, allowing both runners to advance.
The Dodgers brought their infield in for Brandon Crawford, who grounded to second. Longoria, running with contact, beat Muncy's throw home for a 2-0 lead.
Asked if he was a fan of the bullpen mounds being in the field of play, Kershaw poked some fun at Farhan Zaidi, the former Dodgers general manager who is now the Giants' president of baseball operations.
"Yeah, I'm glad C.T. is OK, but let's go, Farhan, clean it up over here," Kershaw said. "It's a relatively new ballpark. They should have thought about it, but I bet Farhan will make a change here soon."
Roberts thought Taylor had a good chance to make the play.
"It absolutely changed the complexion of that inning," he said.
Taylor hit a one-out solo homer to center field off Giants reliever Tony Watson in the eighth, cutting the deficit to 2-1. Muncy followed the homer with a single, but Justin Turner lined out to third and Bellinger flied out to center to end the inning.
San Francisco closer San Francisco closer Will Smith struck out two of three in the ninth for the save.
Pomeranz gave up three hits, struck out and seven and walked one in five innings, retiring 14 of the last 15 batters he faced. Kershaw matched Pomeranz zero for zero with an assist from Muncy.
Joe Panik opened the first with a tapper to Muncy, who made a bare-hand grab and off-balance throw to first. Crawford hit a hard second-inning grounder that Muncy stopped in shallow right field before firing to Kershaw covering first for the out.
Positioned on the shortstop side of second in a fourth-inning shift, Muncy ranged to his left and made a sliding stop of Longoria's grounder behind the bag before firing to first for the out.
"It was a highlight reel on defense for Max," Roberts said. "Not only did it keep us in the game, but it allowed Clayton to go seven innings."
---