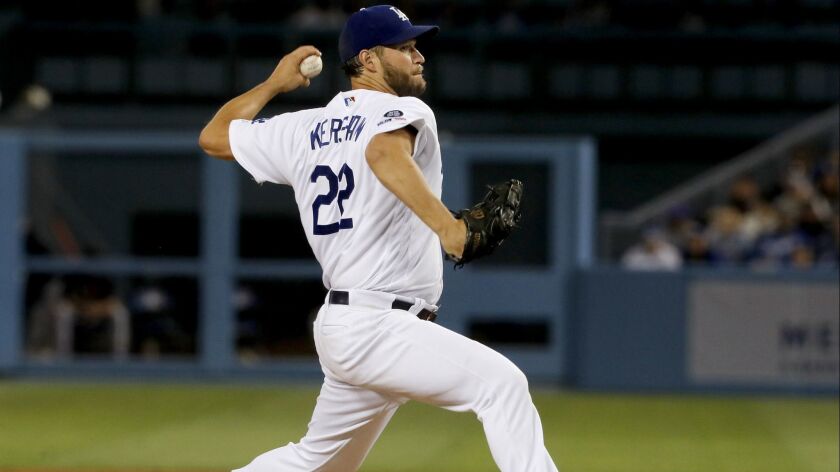 On the fifth anniversary of his 15-strikeout no-hitter against the Colorado Rockies, a different Clayton Kershaw, an evolved version successfully adapting to the sobering constraints of a decade of intense mileage on his left arm, trotted out to the mound at Dodger Stadium on Tuesday night while two special guests roamed behind home plate.
Four-year-old Cali and 2-year-old Charley Kershaw, his two children, both born after that historic evening in 2014, were being guided off the field as their father emerged to work.
They had thrown out the ceremonial first pitches on Kershaw's bobblehead night commemorating his pitching masterpiece and Cali declared it was time for Dodger baseball, momentarily seizing the spotlight.
Their father took it from there, continuing his dominance of the Dodgers' staunchest rival in their 9-0 win over the San Francisco Giants.
"I tried to stay as focused as best I can," Kershaw said of preparing to pitch with his children enjoying themselves on the field, "but a little pride there, for sure."
Kershaw (7-1) logged seven scoreless innings, striking out six to two walks. He gave up three hits. One was a double on a line drive that Alex Verdugo misread with two outs in the seventh inning. It was Kershaw's 12th start this season. All 12 have gone at least six innings — the second longest streak of his career to begin a campaign — and 11 of the outings reached the quality start criteria.
His ERA sunk to 2.85. In 47 career games against the Giants, his ERA drops lower to 1.68.
"He just wills his way to be efficient, to get outs," Dodgers manager Dave Roberts said. "The pace of play is always good when he's in there and I thought he was really good. He's just getting to a good place. He really is. And it was fun to watch him."
The Dodgers (49-25) welcomed Justin Turner back to their lineup after he was limited to a pinch-hit appearance in Monday's loss as the club handles the third baseman with care while he nurses hamstring discomfort. The additional firepower Tuesday helped the Dodgers match Monday's run total before recording an out.
First, Joc Pederson poked his 15th career leadoff home run — moving him into second place in franchise history — that barely cleared the left-field wall off right-hander Shaun Anderson. It was his 19th home run this season — all against right-handed pitchers — and came a day after his infield single snapped an 0-for-29 skid.
Verdugo followed with a line-drive single, and he scored from first on Turner's double down the left-field line, just beating shortstop Brandon Crawford's relay throw with a headfirst slide. The Dodgers padded the lead again in the sixth when Chris Taylor's safety squeeze baffled the Giants. Max Muncy scored and Taylor reached base.
The Dodgers busted the contest open with a six-run seventh inning against the Giants' bullpen. Austin Barnes supplied an RBI single after going one for his previous 23 and Enrique Hernandez landed the final thump in the pummeling with a grand slam off right-hander Trevor Gott. Hernandez, who entered the game earlier as a pinch-hitter, had been snarled in a dreadful six-week slide featuring a .161 batting average and 32 strikeouts since May 4.
Sign up for our Dodgers newsletter »
"Individually," Roberts said, "I think those guys really needed it."
Kershaw observed with jubilation from the Dodgers' dugout, his night over after Kyle Garlick hit for him during the onslaught. His exit did not come without some late angst.
In the sixth inning, Tyler Austin lashed a fly ball that carried to the wall in right field, where Cody Bellinger made a leaping catch. Kershaw next picked off Donovan Solano for the third out to preserve his pitch count for another inning.
His outing appeared complete in the seventh when Kevin Pillar cracked a liner to center field with two outs . But Verdugo's first steps were in and he couldn't recover. The ball sailed over his head and to the wall. Pillar wound up at second base, becoming the Giants' second runner in scoring position, and a nervousness abruptly filled the ballpark.
Crawford was the batter standing between Kershaw and a scoreless outing. The count went full and the uneasiness amplified. On the eighth pitch of the at-bat and his 100th pitch of the night, Kershaw reached back and fired an 87-mph slider to the top of the strike zone. Crawford tipped it back to the catcher for the strikeout to conclude a memorable performance for a proud father a half-decade after cataloging another one.
"It doesn't seem that long ago," Kershaw said. "Your career goes fast. It's a blink of an eye."
Twitter: @jorgecastillo
---