Dee Gordon, Dan Haren can make Dodgers pay; in fact they already have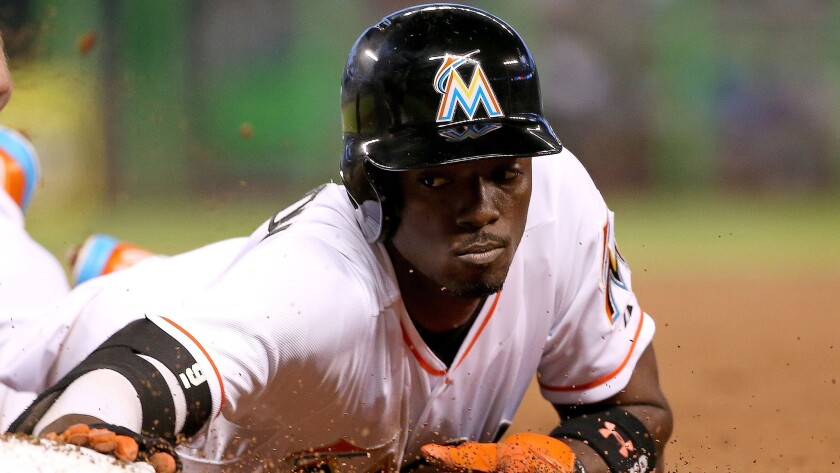 Reporting from San Francisco —
For the Dodgers' new front office, this could have been a coup. Dee Gordon is the most productive player in the major leagues, and the Dodgers are paying him.
Except, of course, that Gordon plays for the Miami Marlins.
The Dodgers so wanted to bolster their depth last December that they traded Gordon and pitcher Dan Haren — and the $12.5 million to cover their 2015 salaries — for four members of a supporting cast. The Dodgers flipped one of them, pitching prospect Andrew Heaney, to the Angels for second baseman Howie Kendrick.
The Dodgers are happy with Kendrick, who has ably filled the middle of their lineup in the absence of the traded Matt Kemp and the injured Yasiel Puig. But take a look at Fangraphs' WAR — the "wins above replacement" number that purports to be a catch-all for player value — and as of Saturday, Kendrick ranked No. 10 among second basemen, No. 112 overall.
Gordon ranked No. 1 overall. Mike Trout of the Angels ranked second, followed by Joc Pederson and Adrian Gonzalez of the Dodgers.
It's not hard to see why. Gordon began the weekend batting .437. That all but laps the field, with Gonzalez second in the majors at .373.
In Gordon's first 28 games, he has 52 hits. The only players in the past 85 years with more hits in their first 28 games: Hank Aaron (1959) and Rod Carew (1983).
Gordon and the Marlins open a three-game series at Dodger Stadium on Monday. He said the Marlins have not made any radical change to improve his game.
"They just told me to be Dee," Gordon said. "Just go play. That's it."
Said Haren: "I think this is kind of a fresh start for him. I've been traded many times. You always kind of get a chip on your shoulder. You want to prove the other team wrong."
Gordon, 27, was a revelation last season. He came to camp hoping to win a job as a utility player, won the Dodgers' second-base job, made the All-Star team and led the majors with 64 stolen bases — the most by a Dodger since Juan Pierre stole 64 in 2007.
Gordon is not going to bat .400; no one has since 1941. The question for him is the same as it was for Pierre: can he get enough hits to overcome relatively few walks so he can be an elite leadoff hitter?
No one is close to Gordon in batting average, and yet he does not lead the majors in on-base percentage. But the Marlins won a World Series with Pierre leading off, and they're delighted to have Gordon.
"He's been everything we could have imagined and could have hoped for," Marlins General Manager Michael Hill said. "We knew that the speed was a game-changer. We knew that his speed would affect the defense. That was something we wanted to inject in our lineup.
"He's gotten the flak about his on-base percentage. I'm very familiar with Juan Pierre, whose on-base percentage was driven by his hits. From our standpoint, we were very comfortable with where [Dee] was at as a player, just knowing that he was still growing. That's why we were so excited — we knew what he could do, but we also felt like there was more that was there with him. We still aren't there yet."
Gordon is barely one month into his second season as an everyday player. The walks will come over time, Manager Mike Redmond said.
"Right now, I don't care," Redmond said, "because he's hitting four-whatever."
Gordon batted .289 for the Dodgers last season — .292 with a .344 OBP before the All-Star break, .284 with a .300 OBP after it. Although conventional analytical wisdom says he faded badly in the second half, he isn't buying it.
"I don't know that dropping off from .294 to .285 is a huge drop-off," Gordon said. "I'm sorry, but anybody writing about it probably can't hit .285 in the major leagues. "
As the summer dragged on, the Dodgers encouraged him to take more pitches and try to draw more walks.
"It's easy to say, 'Oh yeah, you want to take a couple walks' when you're in a two-for-20 slump,' " Haren said. "The last thing you want to do is be taking pitches and be falling behind in the count. So it's kind of a catch-22 there."
Gordon said he tried the Dodgers' suggestion but decided it made little sense. He is a 170-pound slap hitter. Who would pitch him on the corners of the strike zone for fear of an extra-base hit?
"It doesn't work at all for me," Gordon said. "Nobody is going to go out there and walk me. I have to earn my keep."
Gordon acknowledged to Miami reporters that he got tired at the end of last season — in part, he said, because the Dodgers had sent him to winter ball in the Dominican Republic and Puerto Rico. When we asked whether he had harbored any doubt he could repeat his first-half success of 2014, he politely decided he had talked enough about the Dodgers.
"Honestly? I'm a Marlin now," he said. "That's all that matters."
Haren's homecoming
With Brandon McCarthy and Hyun-Jin Ryu on the disabled list, the Dodgers desperately need a reliable starter or two for the back end of their rotation.
Haren would be perfect. He is 4-1 with a 2.68 earned-run average, which ranks No. 1 on the Marlins and No. 13 in the National League. He has made 30 starts in each of his 10 full seasons in the majors.
The Dodgers opted to sign McCarthy and Brett Anderson, each of whom had started 30 games once in his career.
"I know both of them have had their problems staying healthy in the past, but the Dodgers were willing to take that risk," Haren said. "When those guys are on, they are top-of-the-rotation guys."
Haren, 34, grew up in the San Gabriel Valley, attended Pepperdine and lives in Orange County. He announced last fall he might retire if the Dodgers traded him out of Southern California — his way, he says now, of trying to dissuade teams from a deal since he did not have the leverage of a no-trade clause.
"I was doing what I could to stay home," he said. "I think some of the fans in Miami thought it was something personal with the Marlins, so that was unfortunate. I was portrayed like I was snobby or stuck up."
Hill, the general manager, said Haren asked for no considerations — financial or otherwise — to report to Miami. Once the shock of the trade wore off, Hill said, Haren had done his research on the Marlins' talent and was excited for spring training.
Haren is expected to start Tuesday at Dodger Stadium — against the team that pays his salary.
"I know I make a lot of money," he said, breaking into a laugh. "But I don't think the Dodgers really care about $10 million."
Twitter: @BillShaikin
---
Get our high school sports newsletter
Prep Rally is devoted to the SoCal high school sports experience, bringing you scores, stories and a behind-the-scenes look at what makes prep sports so popular.
You may occasionally receive promotional content from the Los Angeles Times.