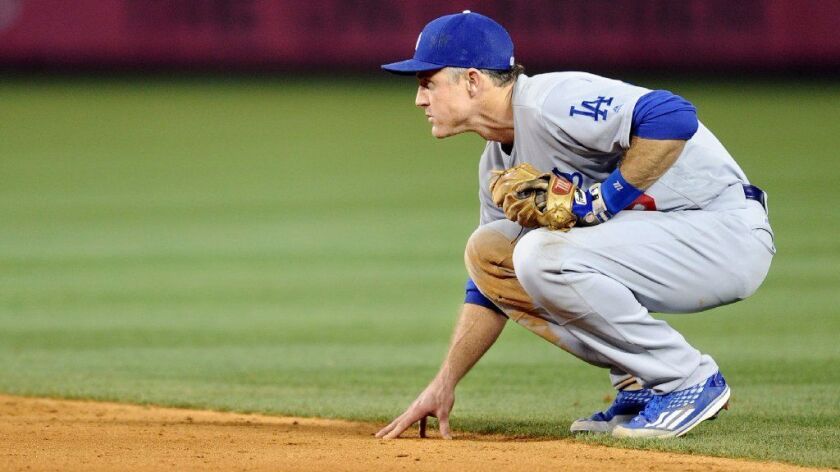 When the Dodgers acquired Tampa Bay second baseman Logan Forsythe in January, president of baseball operations Andrew Friedman was asked about the dwindling likelihood of re-signing veteran infielder Chase Utley.
"You never say never with a guy like Chase," Friedman said, "just because of the type of guy he is, and the impact that he has."
Even with Forsythe installed into the lineup, the Dodgers kept the door open for Utley. Utley kept his ears open for a reunion. And when the team reports for spring training next week, Utley will be there. He turned down several offers from other clubs in order to sign a one-year deal with the Dodgers, according to people familiar with the situation.
Utley, 38, expects to play a smaller role than he did in 2016, when he appeared in 138 games, often as the club's leadoff man. But his presence on the roster extends beyond the diamond, as Dodgers players, coaches and executives view him as a vital component to the team's clubhouse chemistry. A six-time All-Star in Philadelphia who will merit serious consideration for the Hall of Fame upon retirement, Utley will likely aid the club as a left-handed batter off the bench.
Utley hit .252 in 2016 with 14 home runs and a .716 on-base-plus-slugging percentage. The Dodgers had intended for Utley to split time with Howie Kendrick, but injuries in the outfield led Kendrick to convert to left field, and forced Utley into a full-time role.
His return makes the Dodgers' roster even more crowded as the team prepares for 2017. The club has also agreed to a one-year, $2.6-million contract with outfielder Franklin Gutierrez, according to people familiar with the situation. Gutierrez must pass a physical before the deal is finalized.
Gutierrez, 33, was once an elite center fielder. But his primary value arises from his ability to hit left-handed pitchers, a quality the Dodgers sorely lacked last season. Gutierrez posted an .884 OPS against left-handers for Seattle in 2016.
Follow Andy McCullough on Twitter @McCulloughTimes
---