Reporting from Cincinnati —
Hyun-Jin Ryu didn't feel right in the first inning Sunday. His velocity was down. His stuff wasn't crisp. His start began with the kind of battle he had eluded for weeks. The first pitch he threw was smacked to right field for a single. He walked the third batter. It was, by the lofty standard he's set since the calendar flipped to May, a downright struggle. And his scoreless innings streak was in jeopardy.
But the result didn't deviate. Ryu escaped the inning at Great American Ball Park unscathed, thanks to Enrique Hernandez's nifty unassisted double play.
"If that didn't happen, you never know what could've happened," Ryu said through an interpreter. "But after that double play, I was able to create momentum and cruise through the later innings."
It was the only time the Cincinnati Reds had two runners on base against Ryu. They put a runner in scoring position twice more and failed to capitalize as Ryu focused on throwing harder and became more efficient. After seven scoreless innings in the Dodgers' 8-3 win, Ryu's scoreless streak stood at 31 frames. It is tied for the 10th-longest streak in Dodgers history — and still 28 innings shy of the 59 scoreless innings Orel Hershiser strung together in 1988.
"He's just locked in right now, with everything," Dodgers manager Dave Roberts said. "His entire pitch mix, left versus right, the secondaries, the fastball in all quadrants. It's fun to watch a player like that in a zone."
Ryu hasn't allowed a run since San Francisco Giants first baseman Brandon Belt recorded a sacrifice fly against him in the first inning May 1. He logged eight innings that night. He tossed a shutout in his next start and carried a no-hitter into the eighth inning the start after that to earn National League player of the week honors. On Sunday, he extended the streak again.
Sign up for our Dodgers newsletter »
A week after flirting with a no-hitter against the Washington Nationals, there was no such drama Sunday. Nick Senzel roped Ryu's first pitch to right field to call off the watch. It was the first of five singles the Reds (21-26) registered in the first five innings. Those were the only hits Ryu allowed. He issued his only walk in the first inning. He struck out five. He needed 88 pitches to secure 21 outs before he was replaced with a pinch-hitter in the eighth inning.
"I don't think there's ever been a roll like this," Ryu said.
His earned-run average dropped to an NL-best 1.52. His strikeout-to-walk ratio is a stupefying 59 to four. Opponents are zero for 24 against him with runners in scoring position. They're batting .190 overall. Ryu has been the best of a recently dominant bunch; Dodgers starters have posted a 2.05 ERA in 140⅓ innings with 144 strikeouts and 18 walks over the last 22 games. Los Angeles is 16-6 during the stretch.
"He can find different ways to get the same guy out, which is pretty impressive," catcher Russell Martin said of Ryu. "Most guys have their couple areas they like to go to or the couple pitches that work in a certain area. But he can go to different areas throughout the whole game and it just makes it really, really tough to put a good at-bat against a guy like that."
The Dodgers (31-17) cashed in two walks against Reds right-hander Tanner Roark to claim a two-run lead after the third inning. The score remained that way until two outs in the seventh inning. Justin Turner had just struck out looking on a pitch he thought was outside. A chance to supply some insurance was slipping away.
Cody Bellinger loomed, and Reds manager David Bell countered by bringing in left-hander Wandy Peralta. Bell, looking for any kind of edge against baseball's best player this season, played the matchup. The edge, it turned out, was irrelevant. Bellinger lifted the first pitch, a 96-mph fastball low in the zone, over the wall in straightaway center field for a two-run home run and a 4-0 Dodgers lead.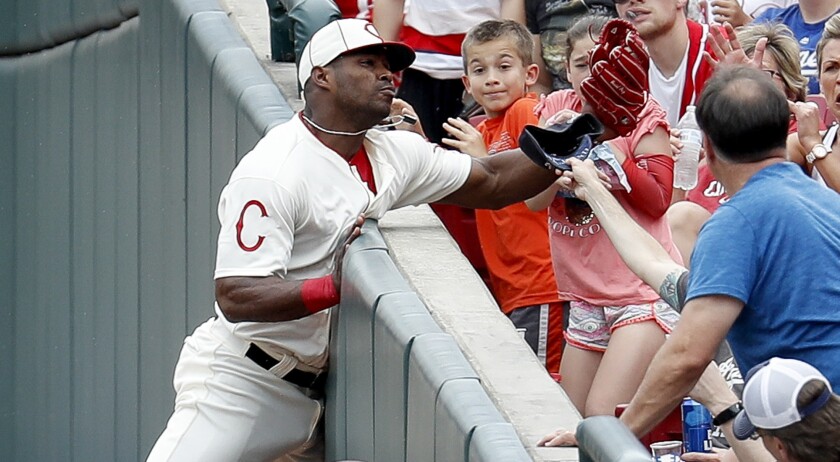 It was the 17th homer for Bellinger, who has reached base in each of his 44 starts this season. Last season, he hit his 17th home run July 2 in the Dodgers' 83rd game. He leads the majors in hits, batting average, on-base percentage, slugging percentage, total bases, and times on base. He is second in home runs.
"With Cody right now, it doesn't really matter who's coming in the game," Roberts said.
For a moment, it appeared as though Ryu's outing could end after 65 pitches in five innings. Up two, the Dodgers had runners on first and second with two outs when Russell Martin stepped into the batter's box and Matt Beaty stepped onto the on-deck circle seemingly to pinch-hit for Ryu. But a passed ball opened first base, prompting the Reds to intentionally walk Martin and force Roberts to make a choice. Roberts elected to call Beaty back and send Ryu to the plate.
"It's just a little gamesmanship," Roberts said. "At times, I'll pull the trigger and go to the 'pen. But at 60-something pitches I felt that Hyun-Jin was in compete control."
The at-bat ended with right fielder Yasiel Puig banging into the wall in foul territory to reach over and snag a catch on a fly ball hit into the stands. The former Dodger dropped to the ground, holding his left elbow in pain, with the ball in his glove. Puig left the game in the eighth inning and was diagnosed with a right shoulder sprain.
Ryu, undeterred, delivered his first 1-2-3 inning in the sixth. He repeated the effort in the seventh, retiring the final six batters he faced to keep his streak alive until he takes the mound again next Sunday in Pittsburgh.
Twitter: @jorgecastillo
---