Utilizing Julio Urias to benefit the Dodgers while protecting his arm is difficult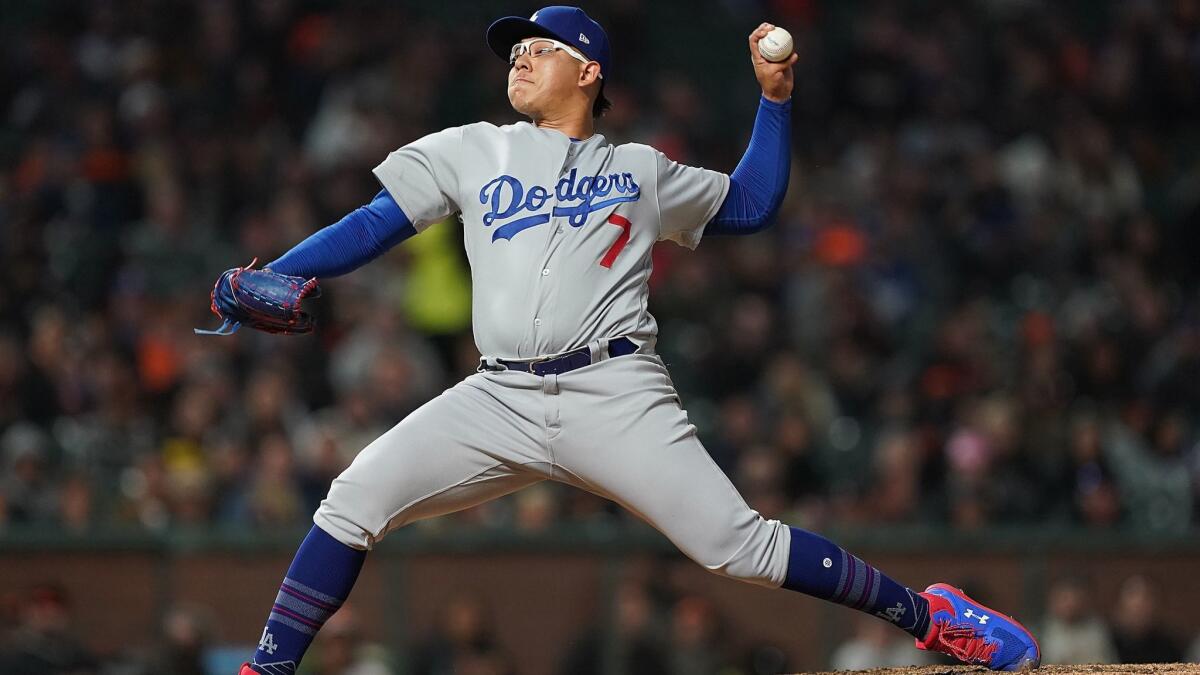 It wasn't the ideal spot for Julio Urias. The Dodgers would prefer to unleash the prized 22-year-old left-hander in two- or three-inning stints, with more advance notice to give him ample time to warm up.
But with left-handed reliever Scott Alexander unavailable because of hamstring tightness and three left-handed hitters due up for the San Francisco Giants in the ninth inning of a 1-1 game Wednesday night, Dodgers manager Dave Roberts felt Urias, who was moved from the rotation to the bullpen in late April, was his best option.
Urias warmed in the Oracle Park bullpen while starter Hyun-Jin Ryu completed the eighth inning. Had the Dodgers scored in the ninth, closer Kenley Jansen would have entered. Austin Barnes grounded into a double play with two on to end the inning, and Roberts summoned Urias.
Pablo Sandoval grounded out. Steven Duggar and Gerardo Parra singled. Urias struck out Brandon Belt with a 97-mph fastball and was replaced by Pedro Baez, who gave up Buster Posey's RBI single that gave the Giants a 2-1 walk-off victory.
The sequence illustrated the difficulty of utilizing Urias in a way that benefits the Dodgers while protecting his health.
"Honestly, it's like, you've got to do it at some point," Roberts said of his decision to use Urias in a role more suited for a setup man or left-handed relief specialist. "His stuff is good, and the head? He's just unfazed by it."
Most teams would love this dilemma. The Dodgers are trying to protect Urias' bright future by managing his workload while pursuing their immediate goal of winning a World Series, a balancing act made more difficult by the shoulder surgery that sidelined Urias for most of 2017 and 2018.
The Dodgers, who open a three-game series at San Diego Friday night, expect Urias to be a front-of-the-rotation starter, perhaps as early as next season. However, he won't be permitted to throw enough innings to supplant Kenta Maeda as the fifth starter.
Urias can be valuable in the bullpen, as he showed last October when he allowed two earned runs and four hits, struck out five and walked one in 6 1/3 innings of seven postseason appearances.
But the Dodgers don't want to risk another arm injury, so they won't deploy Urias like a regular reliever. He won't pitch on consecutive days. He will be given at least two, usually three and sometimes four days rest between appearances.
"He's special in a sense that he's going to be able to get lefties and righties out, and he's different in a sense that I don't envision him pitching one inning when he does come into a game," Roberts said. "So now, you're looking at a two- or three- inning stint, and after that, kind of seeing how we want to go with his recovery."
Kershaw (shoulder) and Hill (left knee) began the season on the injured list. Urias opened in the rotation and went 1-1 with a 3.66 ERA in four starts, striking out 22 and walking seven in 19 2/3 innings.
Urias threw two innings in each of his first two relief appearances against the Chicago Cubs on April 23 and Pittsburgh last Sunday, giving up one earned run and three hits in four innings, striking out seven and walking two. He took the loss Wednesday night.
The Dodgers believe Urias can still have a significant impact in a reduced role. They envision something similar to what David Price did for Tampa Bay in September and October of 2008, after the Rays used the first pick of the 2007 draft to select the left-hander out of Vanderbilt.
Price was called up in September 2008 and made one start and four relief appearances. He entered three games as a reliever in the American League Championship Series against Boston and finished all three, throwing 2 1/3 scoreless innings. In the World Series against Philadelphia, Price entered in the seventh inning of Game 2 and threw 2 1/3 one-run innings to get the win. He entered in the eighth inning of Game five and threw one inning in a loss.
Urias, with proper rest, can enter in the seventh inning of a close game and possibly serve as middle reliever, setup man and closer, a luxury that could help preserve the Dodgers bullpen.
Sign up for our daily sports newsletter »
"Kenley is our closer, but when you talk about getting later into the season and not using or abusing him too much, to have a guy like Julio, who you feel can finish a game, that's a good thing," Roberts said.
Urias is game for anything.
"Whatever role they need from me is what I'm going to give them," Urias said through an interpreter. "As long as I'm healthy, as long as I'm able to go out there and do my job, I'm going to try to contribute in whatever way they need me, whether it's the seventh or eighth or ninth inning."
Urias looks forward to a time when his contributions will come in the first through sixth innings and beyond. He understands the Dodgers are trying to protect him, but he's also eager to become a starter.
"Yeah, it's hard not to get impatient sometimes, but that's the way my career has gone," Urias said. "It's always required a lot of patience, so I'm just going to follow what they say.
"Their plans are made for a reason, and even if I feel that day that I'm ready to go and I feel good enough to pitch, I'm going to respect whatever decision they make, because they're doing it for a reason."
Get our Dodgers Dugout newsletter for insights, news and much more.
You may occasionally receive promotional content from the Los Angeles Times.