Column: Matt Kemp's game — and his life — have been on the upswing since his return to the Dodgers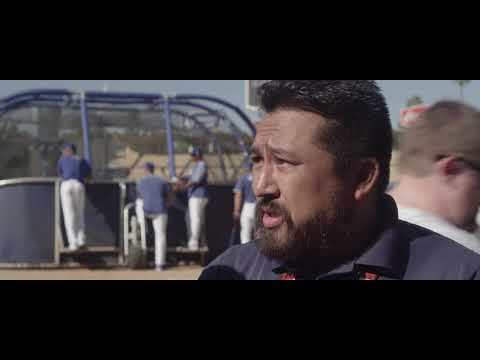 Los Angeles Times sports writer Andy McCullough and columnist Dylan Hernandez discuss the ever-changing Dodgers season and how look like the best team in the West. Maybe.
The pregame music was loud and energetic, and Matt Kemp was bouncing along to it after taking his turn in the batting cage at Dodger Stadium one day this week. "I'm livin' my best life," he sang, and improbably enough, he is.
Acquired from Atlanta last December in a trade designed solely to get the Dodgers below the luxury-tax threshold this season, Kemp wasn't supposed to be here now. Not in the starting lineup, not among the National League leaders in several key offensive categories, and certainly not in second place among outfielders in NL All-Star balloting. "You didn't get that memo?" manager Dave Roberts said, smiling.
Kemp's return was projected to be a short sequel to the nine-season stay that ended when he was traded to San Diego for Yasmani Grandal in 2014. He's 33 and limited defensively. The Dodgers tried to trade him before the season began but found no takers. In this instance, the best move was the one they didn't make.
Kemp has been their most reliable hitter in a season rutted with batting slumps and injuries, carrying them at the plate with his .311 batting average, .351 on-base percentage, .539 slugging percentage and team-leading 47 runs batted in. He served a one-game suspension Wednesday for his part in a June 13 confrontation with the Texas Rangers. He also has taken the responsibility of coaxing younger teammates past their jitters and doubts. He's home, where he belongs. "He never wanted to leave," closer Kenley Jansen said. "But the business side, you can't control that part. Now he has a second chance to be here and he's happy to be here and you can see what he's doing."
And he appreciates every moment of it.
"When you get older you start to realize you can't take for granted the opportunities that you get as far as living my dream, being in the big leagues and playing for a team I dreamed of winning the World Series with," Kemp said. "I got drafted by these guys. They gave me an opportunity to put on a big league uniform and I'm forever grateful for that. But to be able to come back and try to finish up my career hopefully in L.A. would be a dream come true."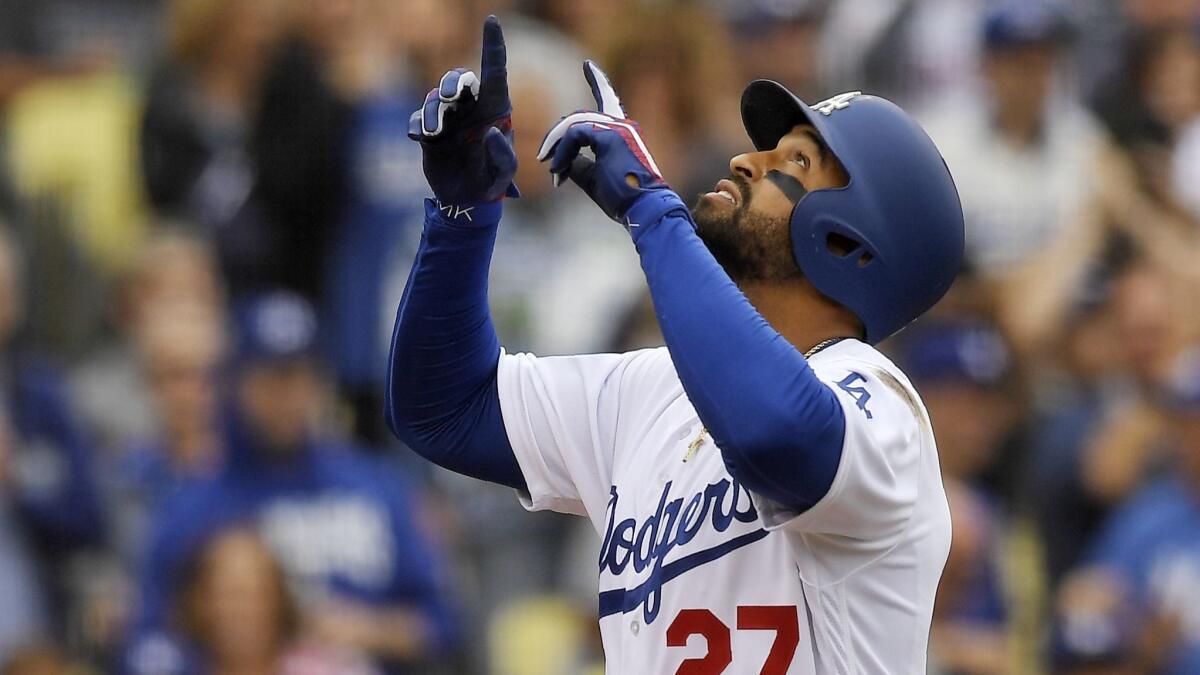 He arrived at training camp 40 pounds lighter than he was in his injury-marred seasons with Atlanta. He was diligent, taking ground balls at 7:45 a.m. and making adjustments in the middle of at-bats so he could be more productive. "Guaranteed, he heard all the rumblings, too, what people were talking about, whether he was even going to be in that uniform," six-time All-Star and current Sportsnet analyst Nomar Garciaparra said. "I think the approaches in the big leagues are so bad, his really stands out because it's a consistent approach, which is great to see. He doesn't have a big swing. He's not taking the big swing. He knows he's strong enough. He knows he can shorten up, put the ball in play and it will carry out for him. And he uses all fields."
Dropping the weight was an easy and necessary decision. "Trying to keep up with these younger guys — they're bigger, stronger, faster," Kemp said while sitting near his locker, which is decorated with a row of bobbleheads and another of baseball cards. "For me, it's just putting myself in position to help this team win, and to win that last game of the season. There's not a lot of people that can say they played the seventh game of a World Series. I'm just trying to be a part of that. It's always been a dream of mine to win a World Series, especially growing up in the system in L.A. I tried to do that in my previous years before I came back here, but now I'm just trying to help them win that last game of the season."
To Clayton Kershaw, another Dodger remaining from Kemp's first stint along with Jansen, Justin Turner and Yasiel Puig, Kemp is the same, yet not. "This is what I remember. He's one of the best hitters in the game and he's showing that here," Kershaw said. "When he left I know he struggled a little bit, but now that he's here I don't think there's much of a difference.
"As a guy around the clubhouse, I've always appreciated how he wants to play every day. That side has never changed. He's always put his work in and taken pride in wanting to be there and wanting to start every day. Maybe he's taking a little bit more of a leadership role, younger-guy-wise, especially the hitters."
Kemp's leadership was crucial during the team's slow start, while such players as Chris Taylor and Cody Bellinger struggled to replicate the success they had last season. "I've been in the same position as some of these younger guys, still learning the game, learning how to handle things," Kemp said. "This is a big market, big city. There is a lot more pressure playing in L.A., but a lot of these younger guys are far more advanced than I was coming up early in my career. Getting to the World Series last year they had to grow up really fast and they handled that pressure really well."
Kemp's success generated considerable media demand for him during the Dodgers' recent trip to New York. The questions he faced at each interview were mind-numbingly similar: Did he think he'd make the team? How much did he think he'd play? Did he expect to come off the bench? Reasonable questions given his past few seasons. But if reporters have been shocked at his revival, at least one other person is not. "If anybody acts surprised, that's crazy. I'm not surprised at what Matt's doing. That's what Matt does," Jansen said. "He showed us what he's capable of doing when he was here, then he got hurt and they decided to trade him and now he's back."
Kemp considers his journey far from complete. "I feel good about how I played this first half, but there's still a lot of baseball left to play," he said. "I've still got a lot more to prove. Just try to stay as consistent as possible and keep this thing going .… L.A. has always been home. I always planned on staying. That got kind of derailed, but now we're back on track. The team's playing good, we're feeling good and we're playing really good baseball."
And he's livin' his best life, where he wanted to be.
---
UPDATES:
5:30 p.m.: The article was updated to report that Kemp did not play Wednesday because he served a one-game suspension.
This article was originally published at 1:40 p.m.
Get our Dodgers Dugout newsletter for insights, news and much more.
You may occasionally receive promotional content from the Los Angeles Times.