Kenley Jansen out of sync with his catchers? Dodgers address mix-ups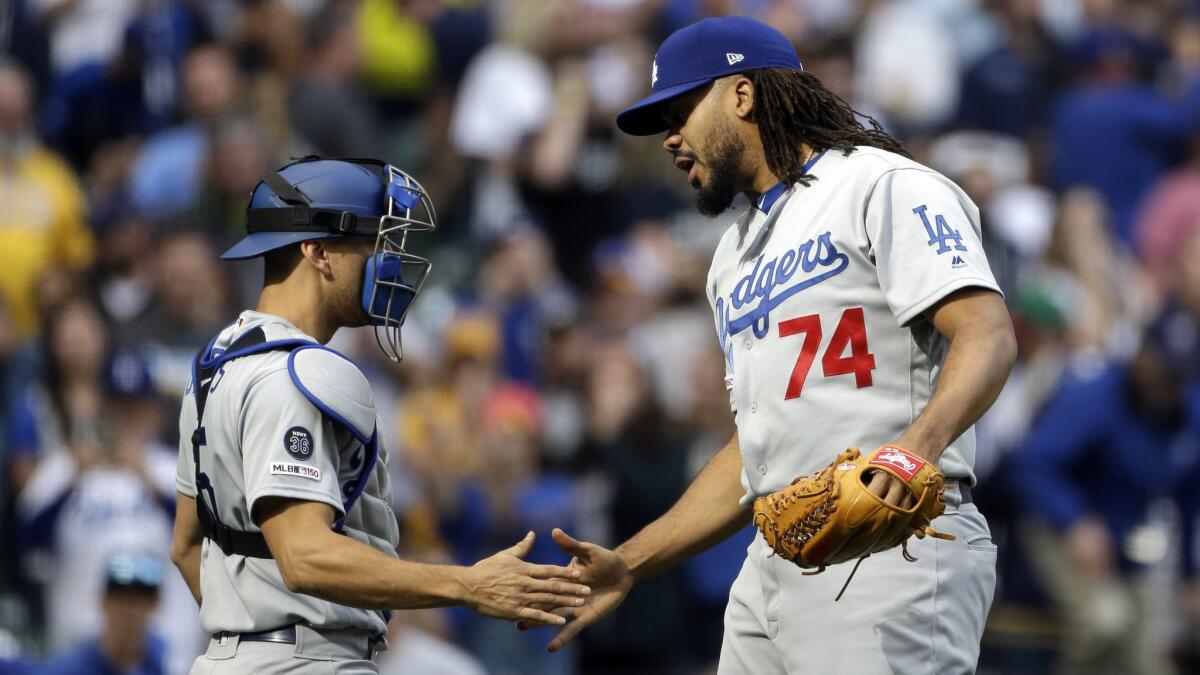 Reporting from Cincinnati —
Before the Dodgers opened their three-game series against the Cincinnati Reds, Dave Roberts and Kenley Jansen met in the manager's office Friday to discuss what prompted mix-ups between Jansen and his catcher in his two ninth-inning outings against the San Diego Padres earlier in the week.
Jansen and Austin Barnes were visibly not on the same page Tuesday. It was Jansen and Russell Martin on Wednesday. Both times Jansen wanted to throw his cutter. Both times the catcher wanted something else. Both times Jansen prevailed, did his job successfully and sealed the save.
After Wednesday's game, Roberts said Jansen "can be stubborn at times." Over the weekend, Roberts and Jansen insisted it was nothing more than miscommunication.
"There's no drama in here," said Jansen, who has converted 14 of 16 save opportunities and allowed nine earned runs in 20⅓ innings. "And there's nothing to talk about, honestly."
Jansen has built his career on getting hitters out with his cutter. That isn't going to change. But pitching coach Rick Honeycutt said he wants Jansen to incorporate his slider and two-seam fastball more to counter his drop in velocity. This season, hitters are batting .254 against Jansen's cutter, according to Brooks Baseball. Last season, they batted .185. In 2017, they batted .189.
Honeycutt explained the slider provides a velocity separator and has "come a long way." He would like to see Jansen work his two-seam fastball — a pitch that darts to the opposite side of the cutter — inside on right-handed batters more frequently. According to Brooks Baseball, 85% of Jansen's 370 pitches this season have been cutters. He's thrown 35 two-seamers and 22 sliders. Jansen hasn't allowed a hit on a two-seamer or slider.
"Truth of the matter [is] we want Kenley to pitch more," Honeycutt said. "We want him to use his two-seam. We want him to use his slider. He throws the cutter to both sides so ... everybody says, 'What's the big deal? You only got two pitches. Your cutter, slider.' Well, he doesn't. He's got more than that.
Honeycutt said that in Tuesday's game Jansen wanted to throw Eric Hosmer up and in with two strikes before going to the slider. The strategy worked; Hosmer took the cutter for a ball before whiffing on a slider under his hands. Honeycutt said the next night's difficulty stemmed from Martin's lack of experience with Jansen, who struck out the final two batters with runners on first and second.
Sign up for our Dodgers newsletter »
"Kenley studies the hitters," Honeycutt said. "Everybody just thinks he's out there chucking cutters. There's a little bit more to it. He's to that point. He's pitched long enough where it's not, 'I'm just sitting here just trying to throw cutters all the time.' "
But Jansen's best pitch remains his cutter. He's going to rely on it with a game on the line. Throwing something different would be like asking Clayton Kershaw to throw a changeup in a big spot, Honeycutt said, and that isn't going to happen.
"It's no big deal," Jansen said. "Trust me, man. I know how to pitch. I'm not going to change anything. I'm going to mix in my sliders, that's something I always mix."
Short hops
Justin Turner returned to the Dodgers' starting lineup Sunday after fouling a pitch off his left shin Friday. The third baseman, who grounded out in a pinch-hit appearance Saturday, went 0 for 4 with a walk and a run batted in. ...Left-hander Caleb Ferguson walked a batter in two-thirds of an inning in his first outing since coming off the 10-day injured list.
Twitter: @jorgecastillo
Get our Dodgers Dugout newsletter for insights, news and much more.
You may occasionally receive promotional content from the Los Angeles Times.